Powerful storm spawns destructive tornadoes in Texas, Oklahoma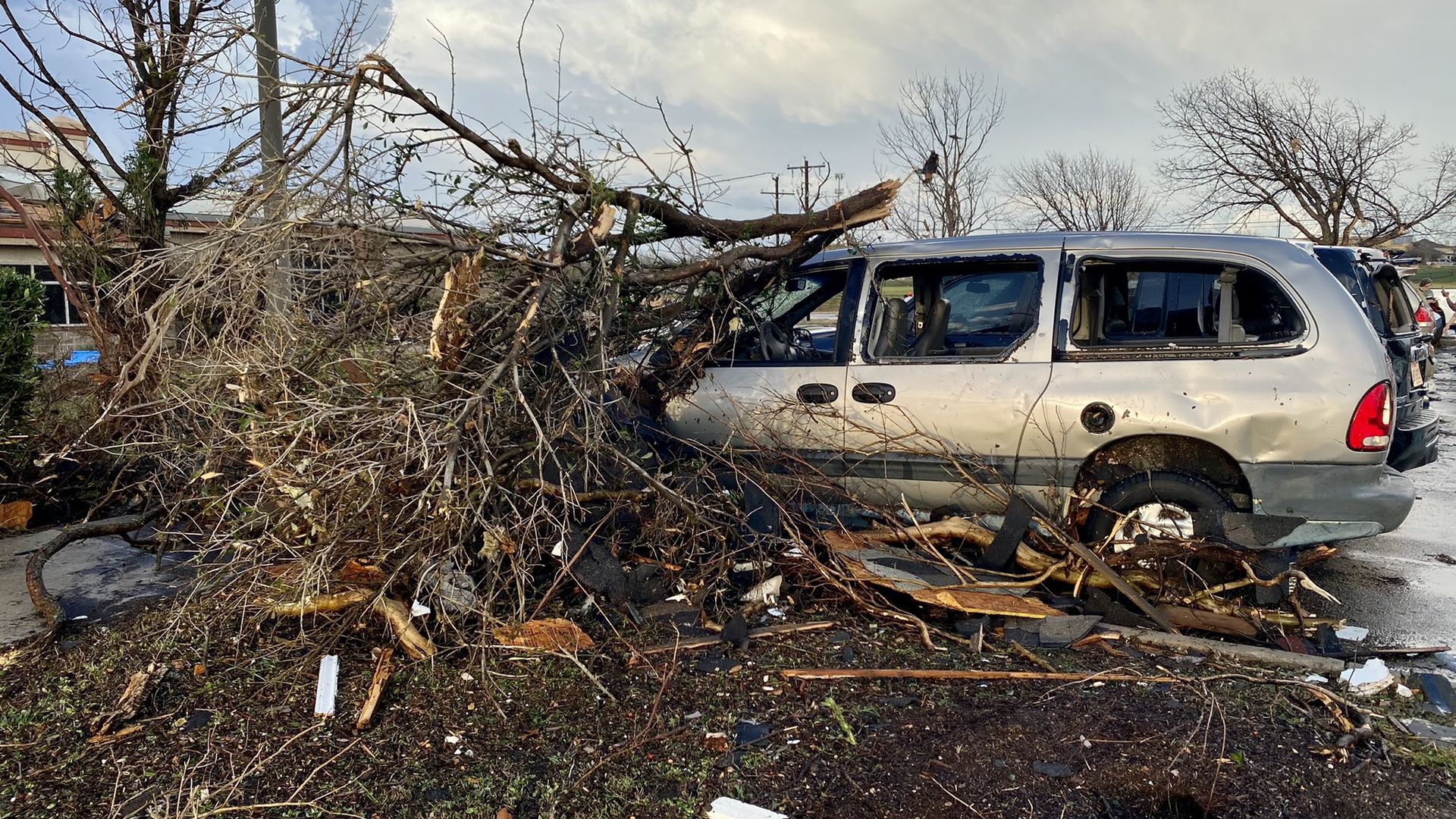 A tornado outbreak was lashing Texas and Oklahoma overnight, as a severe storm system destroyed buildings and triggered tornado warnings across at least two states.
Threat level: Some 22 million people were under threat from the spring storm system in Texas, Oklahoma and Louisiana, per NBC News. It "will bring threats of tornadoes and flooding across the Southern U.S. today into Tuesday," per the National Weather Service.
By the numbers: Nearly 65,000 customers were without power in Texas overnight as the storm unleashed heavy rain and hail, according to utility tracker poweroutage.us.
What's happening: Elgin officials reported at least three injuries, including two people trapped in a collapsed structure. One person was taken to a local hospital.
Elgin Mayor Ron Ramirez told KVUE that residents in rural areas to the south and east of the city "suffered significant damage." Mobile homes and RVs were overturned and several roofs were blown off of homes in rural areas, he added.
Officials confirmed two tornadoes touched down in Williamson County Monday evening. One in Round Rock crossed I-35 at the SH-45 intersection and traveled to north into Granger. Another struck northwest of Jarrell.
Round Rock police said they were assessing damage from a tornado, with reports of structural damage to multiple homes and businesses. Officials shut down roads to clear debris and opened temporary shelters.
Williamson County officials turned off power in much of the area overnight because of downed power lines.
What they're saying: Gov. Greg Abbott called it a "miracle" that so far no deaths had been confirmed Williamson County, where he spoke with local officials in the aftermath of the tornado outbreak there. But he described the structural damage as "devastating."
The big picture: The National Weather Service confirmed tornadoes in Luling, College Station, Bryan and Jarrell. KVUE reporter Hunter Williams also reported a tornado near Taylor, which the NWS retweeted.
As the storm moved toward East Texas, there were reports of tornadoes striking from central Texas to Kingston, Oklahoma.
There were unconfirmed reports of other tornadoes in Texas — including in Jarrell, Taylor and Kingsbury.
Context: The tornado outbreak is hitting a state ravaged by deadly wildfires this week. At one point on Monday afternoon, there were simultaneous warnings for blizzard conditions, tornadoes, red flag conditions for wildfire, flash flood and high winds in different parts of the state at the same time.
What's next: Another severe weather outbreak was forecast for Tuesday, this time focused on the South, including Mississippi and Louisiana. The National Weather Service is forecasting a level 4 out of 5 storm risk for Tuesday.
Editor's note: This article has been updated with new details throughout.
Go deeper