Thousands without power after historic blizzard slams New England
Thousands of customers were without power in Massachusetts after a historic blizzard hit the region on Saturday, with Boston tying its record for the most snow to fall in one day, at 23.6 inches, and recording its sixth-largest snowstorm of all time.
The latest: Authorities in New York's Long Island have confirmed four storm-related deaths over the weekend, including two men who died shoveling snow in separate incidents in the town of Syosset.
Despite up to two feet of snow falling in the Boston area this weekend, Mayor Michelle Wu said the city's schools would open Monday and the snow emergency would lift at 6 am, as work continued to clear streets, ramps, and sidewalks.
Reports of 16-30 inches of snow have come in from parts of southeastern Massachusetts and eastern Connecticut, per the National Weather Service (NWS). Parts of Maine picked up more than a foot of snow.
Nearly 9,000 customers in Massachusetts didn't have electricity Sunday night, per the Massachusetts Emergency Management Agency.
More than a foot of snow fell in coastal New Jersey, with 7.5 to 10 inches in the metro New York City area. Islip Airport on Long Island reported 22.4 inches.
The peak total reached 30.9 inches in Stoughton and 30.4 inches in Sharon, Mass. Both communities are suburbs of Boston.
Travel disruptions: There were about 3,500 flight cancellations Saturday in the Northeast, according to Flight Aware, including 89% of flights going to or from Boston.
Amtrak canceled Acela service between Washington, D.C. and Boston on Saturday due to the storm, and there was no Northeast Regional Service between Boston and New York. Regional New England routes were also canceled.
In a Friday evening press conference, Massachusetts Gov. Charlie Baker asked residents to stay home throughout Saturday. "Two to four inches per hour is basically whiteout conditions," he said, referring to peak snowfall rates.
Travel in southern New England was "very dangerous to nearly impossible," the NWS said Saturday morning.
The big picture: The storm was energized by powerful jet stream winds and a contrast in air masses as Arctic air poured in from Canada. The low-pressure area responsible for this blizzard intensified at an "explosive" rate, the NWS said.
The storm underwent a meteorological process known as bombogenesis, which is why it was referred to as a "bomb cyclone."
Bombogenesis occurs when the minimum central air pressure in a non-tropical storm drops by at least 24 millibars in 24 hours. In the case of this blizzard, the pressure drop was 35 millibars in just 18 hours, which greatly exceeded the definition.
In general, the lower the pressure, the stronger the storm.
As the low intensified throughout Saturday, it pushed intense bands of snow featuring whiteout conditions north-northwestward, into Connecticut, Rhode Island and Massachusetts. Boston saw eight straight hours of heavy snow with near-zero visibility, for example. Heavy snow has affected coastal Maine.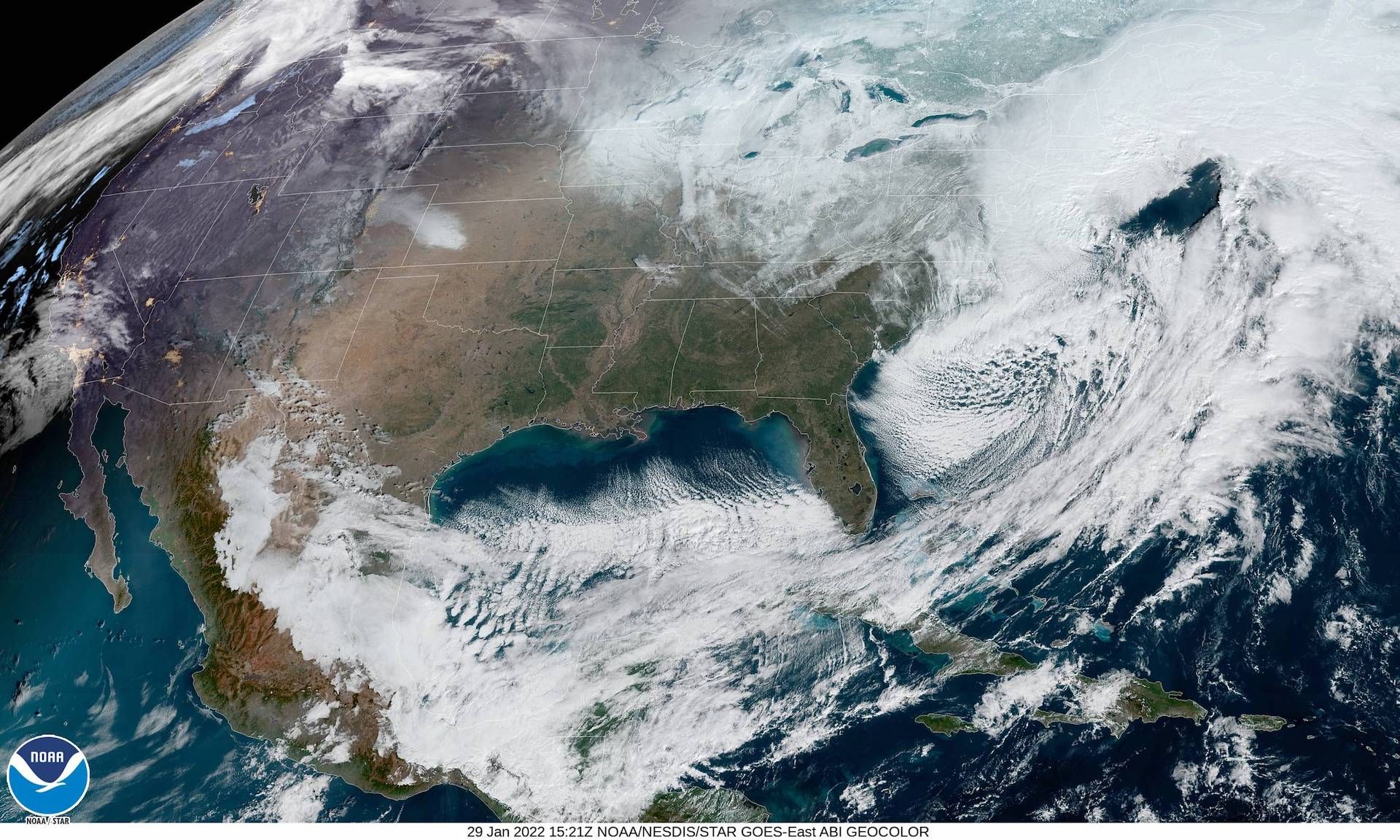 Threat level: NWS forecasters warned localized amounts up to 3 feet were possible in Massachusetts. While Boston did not break its all-time record, it did record a top 10 storm and set a monthly record.
Winds guested between 65 and 75 mph in eastern Massachusetts, particularly Cape Cod and the Islands, which caused widespread power outages.
What's next: The storm drew frigid air from Canada southward behind it, leaving the snowpack locked in place for a few days as multiple states dig out and try to get transportation and other services running again.
Flashback: Many of the Mid-Atlantic and Northeast's biggest snowstorms on record have occurred since 2000, in line with climate change-related trends toward more frequent and severe heavy precipitation events.
Axios' Erin Doherty contributed reporting.
Editor's note: This story has been updated with new details throughout.
Go deeper