Marjorie Taylor Greene suspended from Facebook for 24 hours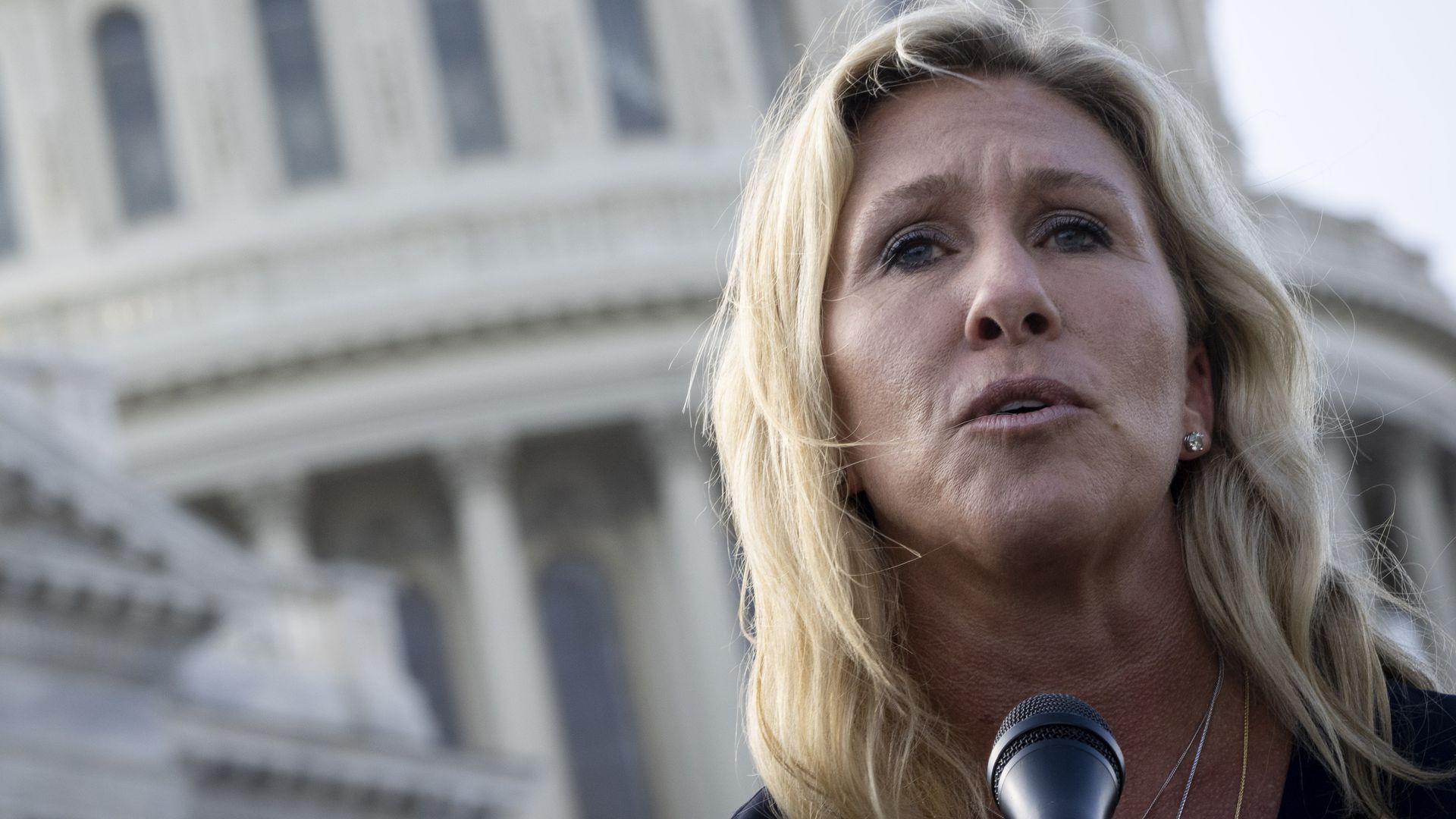 Twitter permanently suspended Rep. Marjorie Taylor Greene's personal account on Sunday, for "repeated violations" of the platform's COVID misinformation policy.
Why it matters: The Georgia Republican is an outspoken critic of coronavirus-related mitigation measures and has posted a slew of false and misleading tweets concerning the virus throughout the pandemic.
Greene's Twitter account had previously been suspended in July for publishing incorrect information on COVID vaccinations and wearing face masks during the pandemic.
Twitter utilizes a strike system to gauge consequences when a user violates the misinformation policy, with five or more strikes resulting in permanent suspension.
Of note: While Greene primarily uses her personal account (@mtgreenee), she does retain access to her official congressional account (@RepMTG).
The latest: Greene on Monday said her Facebook account was suspended for 24 hours, posting a screenshot of a message from Facebook on the alternative media site Telegram, per the New York Times.
Facebook confirmed in a statement they removed a post for spreading misinformation about COVID-19, but did not answer questions from Axios on if they suspended her account.
"A post violated our policies and we have removed it," Facebook spokesperson Aaron Simpson said in a statement. Removing "her account for this violation is beyond the scope of our policies."
Greene did not respond to Axios requests for comment on recent actions by Facebook and Twitter.
What they're saying: "We permanently suspended the account ... for repeated violations of our COVID-19 misinformation policy," Twitter said in an emailed statement to Axios.
"We've been clear that, per our strike system for this policy, we will permanently suspend accounts for repeated violations," it continued.
"Diversity of opinion is the lifeblood of our democracy," House Minority Leader Kevin McCarthy (R-Calif.) said in a statement Monday panning Twitter's decision without mentioning Taylor Greene. "It is clear any speech that does not fit Big Tech's orthodoxy gets muzzled."
"The American experiment is dependent on the freedom and ability of Americans to express themselves, which Republicans are fighting to preserve."
The backdrop: Twitter announced that it was escalating enforcement action on pandemic misinformation over repeated violations of its policy last year, including a 12-hour suspension.
Some conservative lawmakers and media figures have complained that Big Tech companies intentionally censor their viewpoints and use this argument in their push for regulation.
Editor's note: This piece was updated to clarify that Greene said on Telegram that her Facebook account was suspended and that Facebook did not respond to Axios' requests for comment.
Go deeper