Senate cuts deal on Nord Stream 2 to end Cruz blockade of Biden's ambassador picks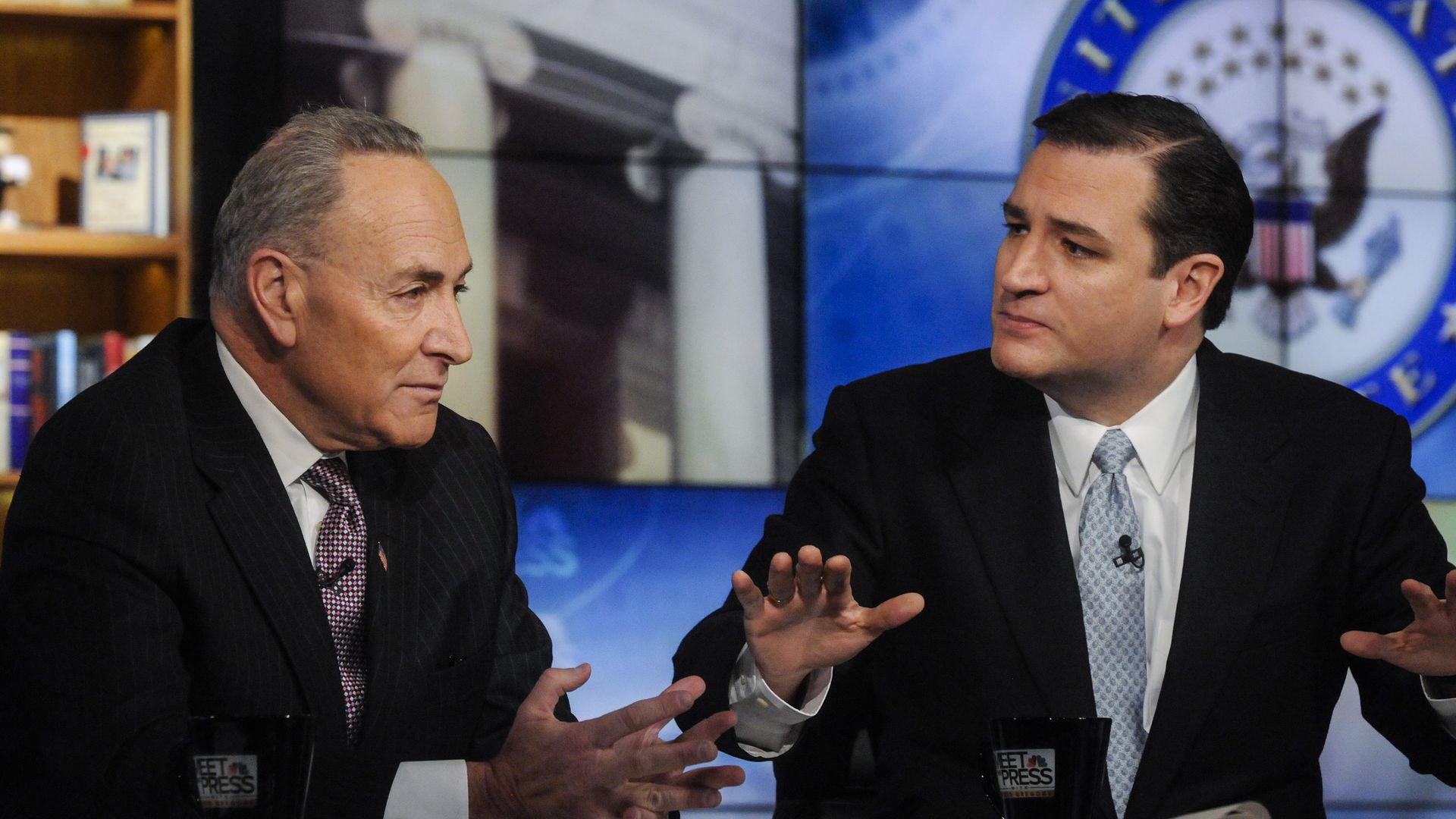 Senate Majority Leader Chuck Schumer and Sen. Ted Cruz (R) cut a deal overnight to hold a vote on Nord Stream 2 sanctions next month in exchange for the Texas senator lifting his hold on more than three dozen of President Biden's ambassador picks.
Why it matters: Biden has fallen far behind his predecessors in the rate at which his ambassadorial and other high-level State Department picks have been confirmed, leaving gaping holes in critical foreign-policy and national-security roles.
Cruz lifted 32 of his holds in exchange for a vote before Jan. 14.
Catch up quick: Biden in May waived sanctions on the operator of Nord Stream 2 as a gesture of goodwill toward long-time U.S. ally Germany, which pledged to act if Russia used energy as a "weapon" to achieve its political goals.
But a growing bipartisan chorus of lawmakers on the hill have aggressively pushed for the U.S. to reimpose sanctions as Russia threatens Ukraine.
Driving the news: The Senate early Saturday confirmed 41 of President Biden's ambassadorial picks, breaking a logjam that critics have said posed a national security risk.
Cruz and Josh Hawley (R-Mo.) have slowed down the process by repeatedly objecting to the Senate moving forward via unanimous consent.
Details: The Senate early Saturday morning voted 48-21 to confirm Rahm Emanuel, the former lawmaker and chief of staff in the Obama White House, as the next U.S. ambassador to Japan.
Eight Republicans crossed the aisle to back Emanuel, who was also mayor of Chicago, while three Democrats — Massachusetts Sens. Ed Markey and Elizabeth Warren and Oregon Sen. Jeff Merkley — voted against his confirmation.
The other ambassadors confirmed include former Delaware Gov. Jack Markell to represent the U.S. in the Organization for Economic Cooperation and Development, and Mark Gitenstein, a former U.S. ambassador to Romania, to be the chief U.S. envoy to the European Union.
Julissa Reynoso Pantaleón, the former U.S. ambassador to Uruguay under President Obama, was confirmed to represent the U.S. in Spain. Sen. Marco Rubio had placed a hold on the nominee, who has been serving as first lady Jill Biden's chief of staff, due to concerns over her approach to Cuba.
Denise Campbell Bauer, former ambassador to Belgium and executive director of Women for Biden, will become the chief envoy to France and Monaco. Meanwhile, Massachusetts state Rep. Claire Cronin, a Biden fundraiser, will become ambassador to Ireland.
Nominees were also confirmed to represent the United States in Argentina, Poland, Sweden, Somalia, Vietnam and elsewhere.
The Senate also confirmed John Bass, the former U.S. ambassador to Afghanistan, Turkey, and Georgia, to become the undersecretary of state for management.
Go deeper