The global decline of democracy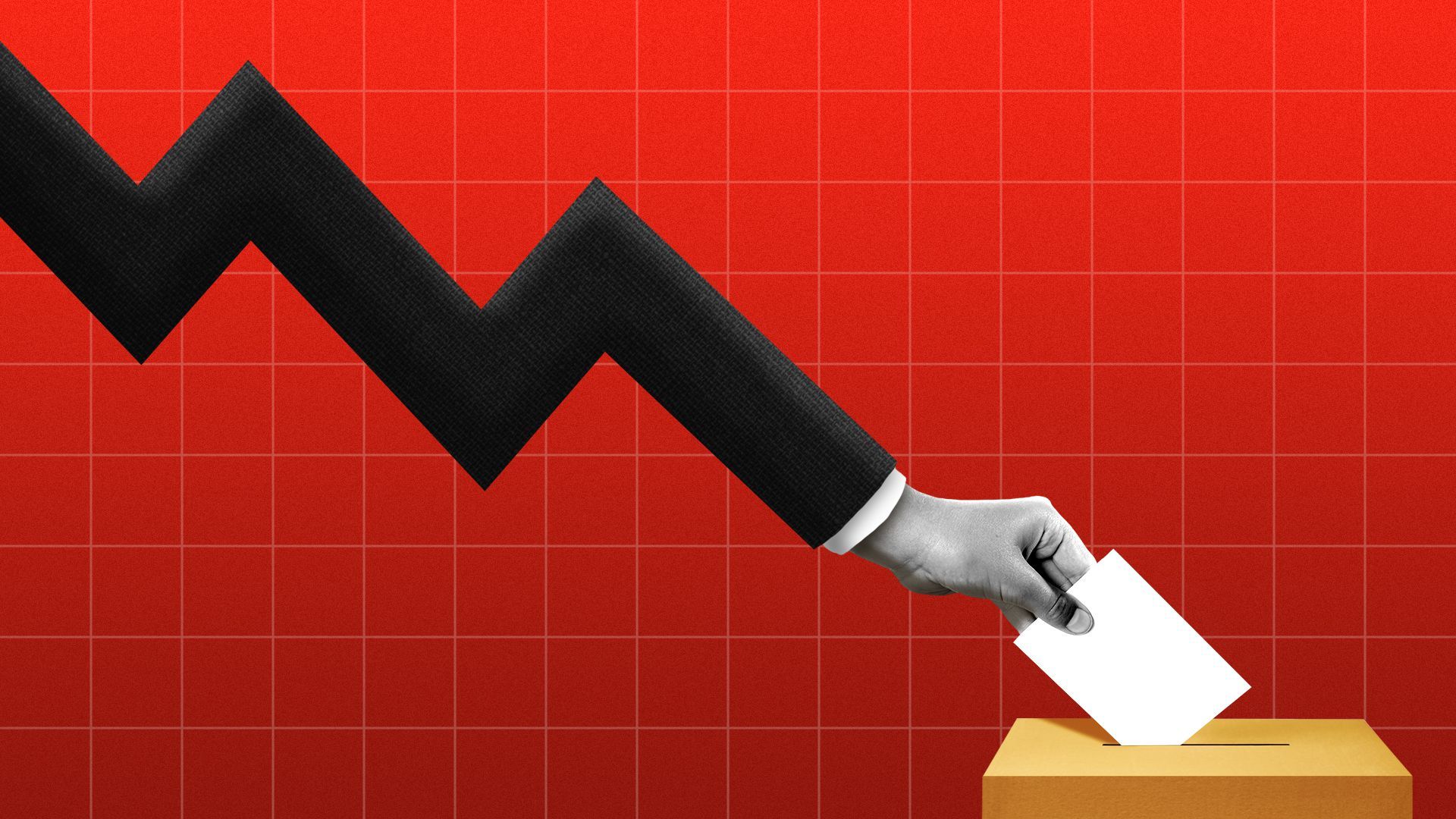 Democratic governance is sliding backward in the U.S. and much of the world, according to a series of recent reports.
Why it matters: The future will be shaped by the push and pull of democratic and autocratic forces within countries and beyond their borders. If supporters of democracies can't halt democracy's retreat, freedom and civil liberties could follow.
Driving the news: President Biden held an online Summit for Democracy at the end of last week against the backdrop of pessimistic assessments about the health of democratic government globally.
In its 2021 report, the nonprofit Freedom House concluded the world is in a "long democratic recession," with democracy improving in only 28 countries while worsening in 73 — the biggest gap of the past 15 years.
A recent report from the European think tank International IDEA found the number of "backsliding democracies" had doubled over the past decade and the number of countries moving in an authoritarian direction since 2020 outnumbered those going in a democratic direction.
Data from the Swedish nonprofit V-Dem that was analyzed by the New York Times found the U.S. and its allies were responsible for an outsized share of global democratic backsliding over the past decade.
Between the lines: The data signals that for all the legitimate concerns about the rise of clearly autocratic countries like Russia and China, when it comes to democratic decline, the alarm is coming from inside the house.
Biden's democracy summit included plenty of steadfast democracies, but also leaders like India's Narendra Modi and Brazil's Jair Bolsonaro who preside over countries that have experienced a steep democratic decline.
American democracy is arguably at risk as well — International IDEA included the U.S. on its "backsliding democracies" list amidst the passage of state laws that make it harder to vote and the installation of partisan loyalists in key election posts.
The world has taken notice of democratic struggles within the U.S. — a recent Pew Research Center study found only 17% of people in surveyed countries called American democracy worth emulating, and 23% said it was never a good example.
What they're saying: In his opening remarks at last week's summit, President Biden called democratic erosion — which he blamed in part on the dissatisfaction of citizens with their democratic governments — "the defining challenge of our time."
The big picture: Democratic decline stems in part from the pandemic, as governments pursue policies to control the virus that involve restricting civil liberties like free movement and as citizens become frustrated that those policies haven't yet brought an end to COVID-19.
But as income inequality and more general feelings of insecurity rise, life in an illiberal democracy may seem preferable to the complexities of living under a full democracy.
That means, as Biden told Congress in an address in April, that democratic leaders have to prove "that our government still works — and we can deliver for our people."
Context: Authoritarian countries like China are taking advantage of democratic woes to tout their own systems, Axios' Bethany Allen-Ebrahimian reported recently.
What to watch: How free and fair U.S. elections in 2022 and 2024 are.
America is still the democratic bellwether, and a repeat of the chaos of 2020 — or something worse — would be a crippling blow to democracies around the world.
Go deeper