OSHA investigating Amazon's warehouse collapse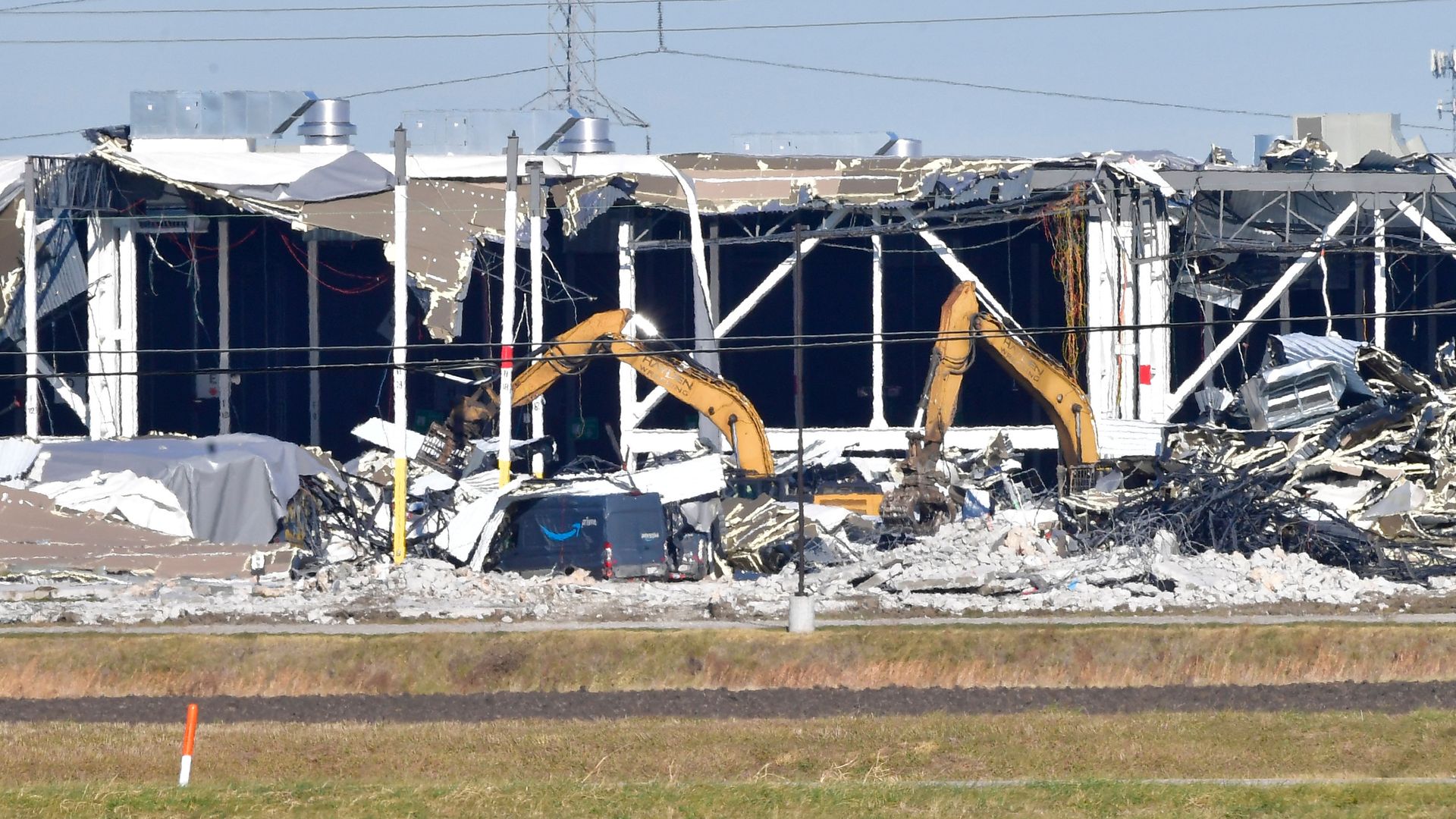 The Occupational Safety and Health Administration (OSHA) is investigating the fatal collapse of an Amazon warehouse that killed at least six workers over the weekend when a tornado struck an Illinois facility, the agency said Monday.
Why it matters: The deaths come as Amazon is in high gear to fill holiday orders and amid ongoing pressure on the company to improve working conditions.
Details: OSHA spokesperson Scott Allen said in an email Axios that they "had compliance officers at the complex since Saturday, December 11," to help with the investigation.
Allen added that OSHA will have six months to complete its investigation and could issue citations and monetary penalties if they find safety violations.
What they're saying: "We're deeply saddened by the news that members of our Amazon family passed away as a result of the storm in Edwardsville, IL. Our thoughts and prayers are with the victims, their loved ones, and everyone impacted by the tornado," Kelly Nantel, an Amazon spokesperson said in a statement to Axios.
"We're continuing to provide support to our employees and partners in the area," Nettel added.
Amazon founder Jeff Bezos tweeted Saturday that "the news from Edwardsville is tragic."
"We're heartbroken over the loss of our teammates there, and our thoughts and prayers are with their families and loved ones."
However, a top union official put the blame on Amazon for having people continue working despite the tornado.
Amazon's U.S. warehouse workers are not currently represented by a union, though there have been organizing efforts.
"Requiring workers to work through such a major tornado warning event as this was inexcusable," said Stuart Appelbaum, president of the Retail, Wholesale and Department Store Union, said in a statement. "This is another outrageous example of the company putting profits over the health and safety of their workers."
Of note: Amazon said that they were donating $1 million to the Edwardsville Community Foundation to support the surrounding community.
They also mentioned that they were providing relief supplies and services to the victims for those in immediate need.
Go deeper