A Rivalry Week for the ages
Rivalry Week delivered an epic end to the regular season, headlined by three marquee matchups that shook up the College Football Playoff race ahead of next weekend's conference championships.
No. 5 Michigan 42, No. 2 Ohio State 27: Jim Harbaugh finally got his first win over the Buckeyes (1-5) and the Wolverines are likely one win away from their first CFP berth.
Stars: Michigan RB Hassan Haskins tied the school record with five rushing TD and DE Aidan Hutchinson notched three sacks, setting a single-season school record with 13.
No. 3 Alabama 24, Auburn 22: With 24 seconds left and their playoff hopes slipping away, Alabama QB Bryce Young tied the game with a 28-yard dime before ultimately winning in quadruple overtime.
Wild stat: Prior to Saturday, Auburn had won 118 consecutive games when leading by double digits in the fourth quarter.
No. 7 Oklahoma State 37, No. 10 Oklahoma 33: Bedlam lived up to its name, featuring a 100-yard kickoff return TD, two muffed punts that led to scores and a safety.
Streak over: The Cowboys beat the Sooners for the first time since 2014, and just the third time since 2002.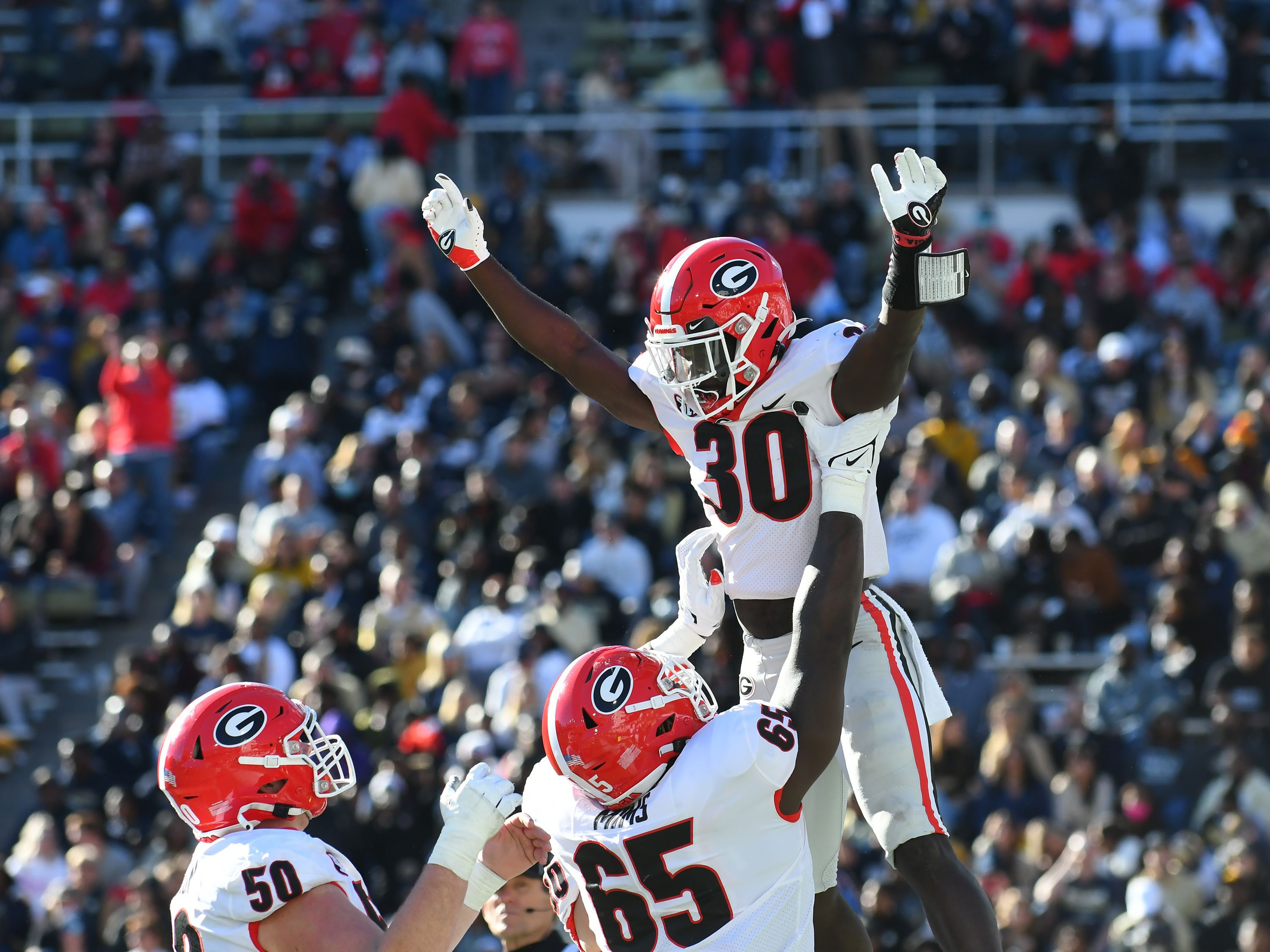 More Rivalry Week: The full slate of games provided plenty more intrigue than just the three games above.
What's next: Conference championship matchups are set. Depending how they play out, it's possible that Alabama, Clemson, Oklahoma and Ohio State — who've combined for 20 of the 28 CFP spots — will all miss the playoff.
SEC: No. 1 Georgia vs. No. 3 Alabama
Big Ten: No. 5 Michigan vs. No. 16 Iowa
Big 12: No. 7 Oklahoma State vs. No. 8 Baylor
ACC: No. 17 Pittsburgh vs. No. 18 Wake Forest
Pac-12: No. 11 Oregon vs. No. 19 Utah
American: No. 24 Houston at No. 4 Cincinnati
C-USA: Western Kentucky at No. 22 UTSA
MAC: Northern Illinois vs. Kent State
Sun Belt: Appalachian State at Louisiana
Mountain West: Utah State at No. 21 San Diego State
Go deeper