Toyota joins the battery-powered EV craze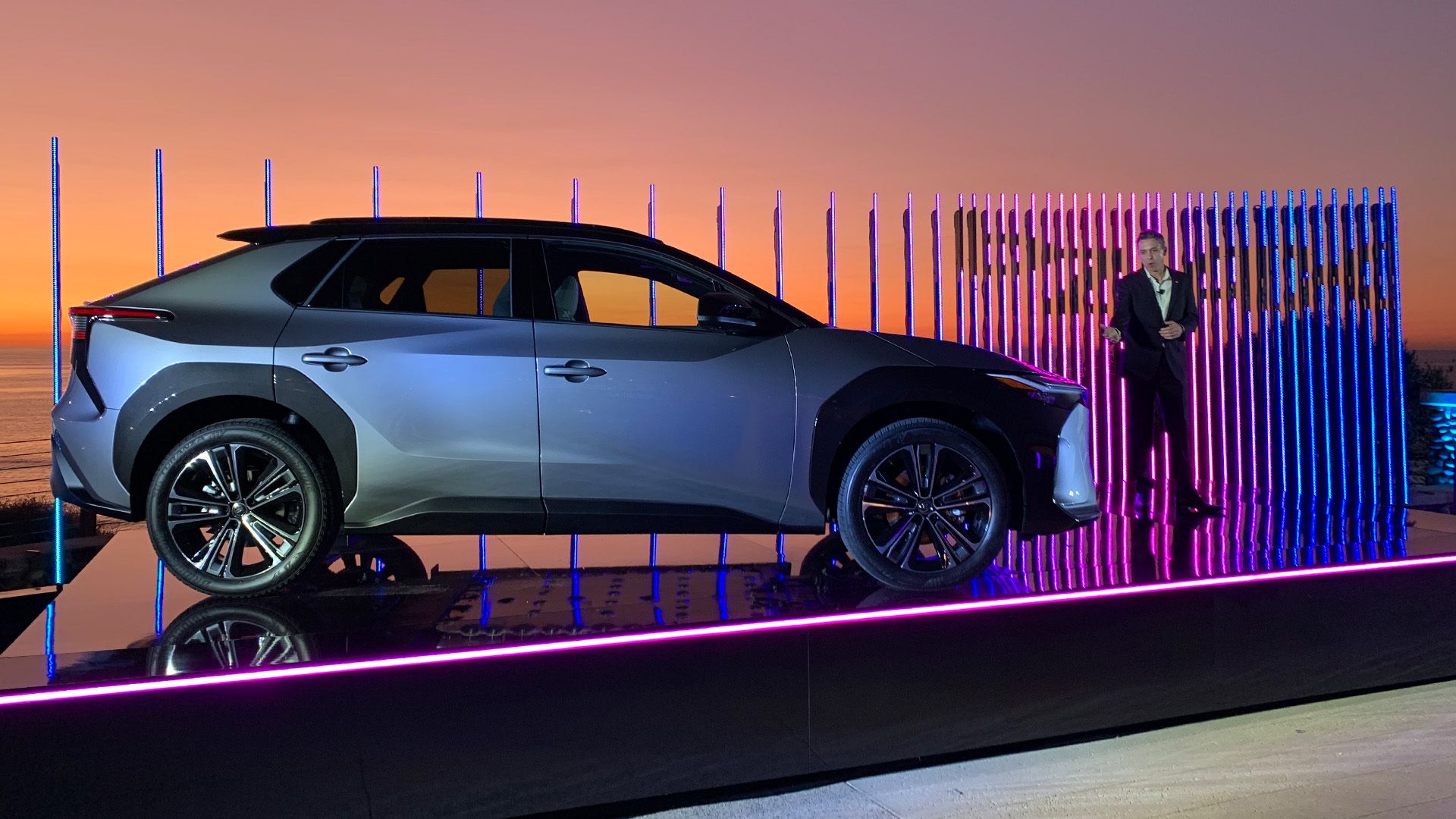 Toyota Motor is finally jumping into the electric vehicle race while defending its continued focus on hybrids as the best way to reduce carbon emissions.
Why it matters: Toyota earned a reputation for environmental leadership with its Prius hybrid back in 1997. But lately, it has been eclipsed by Tesla, the world leader in electric vehicles.
Now, as its biggest competitors vow to dump gasoline cars in favor of battery-powered ones, Toyota finds itself in the unusual position of playing catch up.
Driving the news: Toyota introduced its first battery-electric vehicle, the bZ4X, against a stunning California sunset in advance of this week's AutoMobility LA, the Los Angeles auto show.
The SUV, which arrives at dealerships in spring 2022, will have a driving range of about 250 miles, slightly less than the 300-mile "sweet spot" that other mainstream carmakers are now targeting.
Toyota said it designed the electric powertrain to retain 90% of its battery capacity even after 10 years of ownership.
The bZ4X is the first of 15 battery-electric models Toyota plans to introduce globally by 2025, including seven with the bZ (Beyond Zero) brand moniker.
The big picture: Toyota argues that a mix of hybrids, plug-in hybrids and EVs is better for the environment, and says its strategy will enable the company to achieve carbon neutrality by 2050 as planned.
Toyota says its portfolio of "electrified vehicles" — which includes gas-electric hybrids, plug-in hybrids and hydrogen fuel cells like the Mirai — account for more than 40% of all alternative powertrain vehicles sold in the U.S.
Toyota has 55 "electrified" vehicles globally today and plans to have 70 by 2025.
What they're saying: Toyota is "extremely proud" of its environmental record, Cooper Ericksen, group vice president of product planning and strategy for Toyota Motor North America, told journalists.
"We have nothing to apologize for," Ericksen said, noting that other carmakers are making bold commitments about the future, and then walking them back.
"Talk is cheap. Actions speak louder than words," he said.
"If you've been producing vehicles one way forever, and you don't have a bridge strategy, then the only thing you can talk about is what you're going to do," added Mike Tripp, VP of vehicle marketing and communications at Toyota North America.
The bottom line: Despite all of the attention on electric vehicles, they still only account for about 5% of new car sales. With a broad portfolio of alternative powertrains, Toyota says it is meeting customers where they are.
Go deeper