Staples Center goes crypto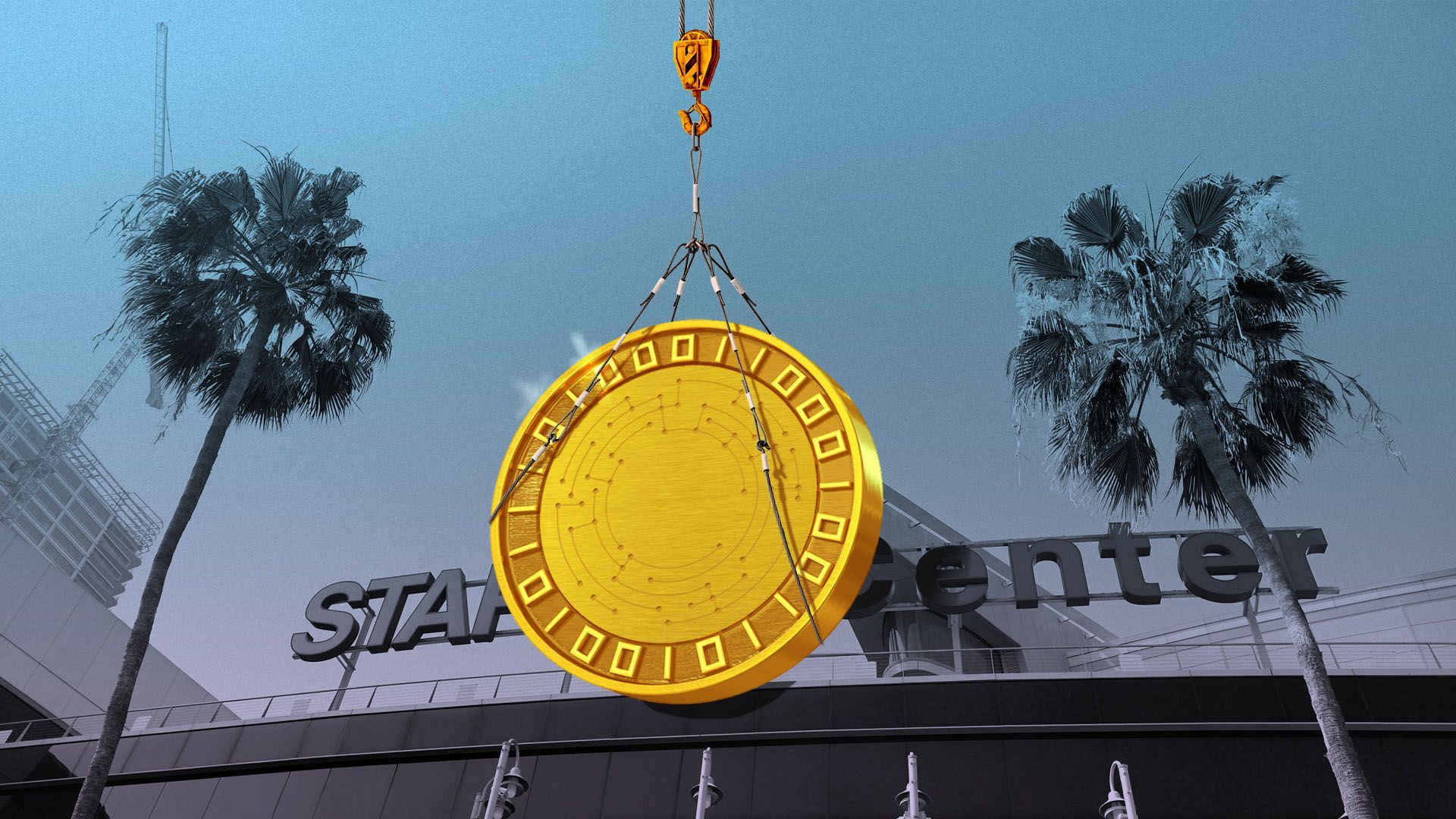 The Staples Center in Los Angeles will be renamed Crypto.com Arena, the arena's owner announced Wednesday.
Why it matters: Cryptocurrencies are pushing deeper into the American mainstream.
It's a 20-year naming rights agreement between Crypto.com, a Singapore-based crypto exchange and mobile wallet provider, and building owner Anschutz Entertainment Group. No financial terms were disclosed, but Axios hears the total value exceeds $700 million.
For context, SoFi paid over $600 million for 20-year naming rights to the new NFL stadium in Los Angeles, where the Chargers and Rams play, while Intuit paid over $500 million for 23-year naming rights to a new arena that will house the Los Angeles Clippers.
The official transfer will occur on Christmas Day, inclusive of the Staples logo being replaced on the building's iconic roof, just before the Lakers host the Brooklyn Nets.
Behind the scenes: Staples originally paid around $120 million for a 20-year naming rights deal in 1999, when it was riding high as one of America's preeminent retailers. Ten years later, it renegotiated for permanent naming rights for an undisclosed amount.
What no one knew, however, was that AEG was eager to bring in a fresher name. In early 2019 it quietly bought back the naming rights from Staples, which by that point was owned by private equity firm Sycamore Partners.
Crypto.com this past summer heard that AEG was seeking out a new sponsor, and the two sides began hammering out a deal that involves several experiential and philanthropic components.
Rationale: AEG gets to rebrand its building with something that feels more like the future than the past. For Crypto.com, it's about elevating its brand in the capital of America's entertainment and creator economy.
Rival crypto exchange FTX earlier this year paid $135 million for 19-year naming rights to the NBA arena in Miami.
If Coinbase.com and Robinhood weren't looking for arena deals yesterday, they probably are today.
Yes, there are some echoes of the dot-com boom, when Internet upstarts entered the naming rights game. One of them, CMGI, faltered before its football field even hosted a single game (instead, the New England Patriots play at Gillette Stadium).
The bottom line: Crypto is in. Retail is out.
Go deeper