Deadly Pacific Northwest flooding seen from space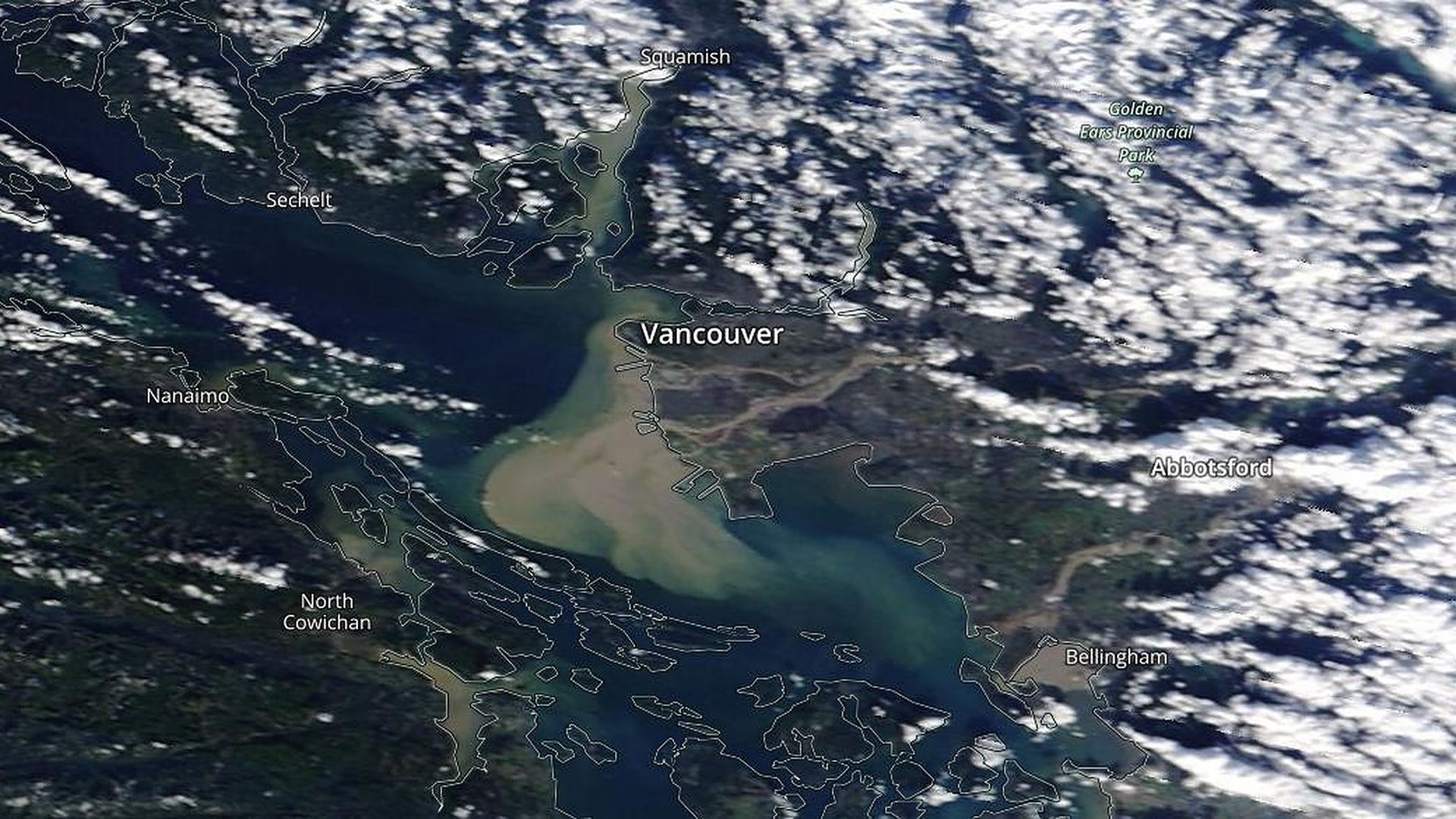 Flooding from the deadly Pacific Northwest storm is so severe, it can be seen from space, according to images captured by NASA on Tuesday.
The big picture: At least one person has died and Canada's largest port was cut off by flood waters after the intense "atmospheric river event" slammed the region, bringing with it record-shattering rainfall and damaging winds, and triggering evacuations. Thousands of people were still without power on Wednesday morning.
What's happening: Staff Sgt. Janelle Shoihet, of the Royal Canadian Mounted Police, said search and rescue teams had recovered the body of a woman on Tuesday after a mudslide "swept across a portion of B.C.'s Highway 99," per CBC News.
Shoihet added the total number of people and vehicles affected by the flooding and landslides across multiple roadways in the region had yet to be determined, but at least two people were missing.
States of local emergency were declared for several B.C. communities and evacuation orders and alerts remained in place across the region, CTV News notes.
The port of Vancouver said in a statement Tuesday that all rail service was halted "due to flooding in the B.C. interior" and would remain on pause until the damage had been accessed. This could impact shipments of products including grain and coal, the Guardian notes.
Of note: The city of Abbotsford, near the border with the U.S., said in a statement it had issued urgent evacuation orders and alerts for several areas after flooding inundated the Sumas Prairie.
"Additional water flow down from Sumas Mountain is also now creating further flooding in the area. This event is anticipated to be catastrophic, said the city, which borders the city of Sumas, in Washington state — where highways were also flooded, the New York Times notes.
Officials in Sumas said in Facebook posts over Tuesday night that the "water level on the east end of town close to the border" had been dropping, but roughly 75% of homes had been damaged by water.
By the numbers: Over 16,000 customers were still without power in Washington state and several thousand others in B.C. also had no electricity Wednesday morning.
Editor's note: This article has been updated with further details on the situation in Sumas and the latest information on power outages.
Go deeper