New details emerge on Beijing's hypersonic weapons test last summer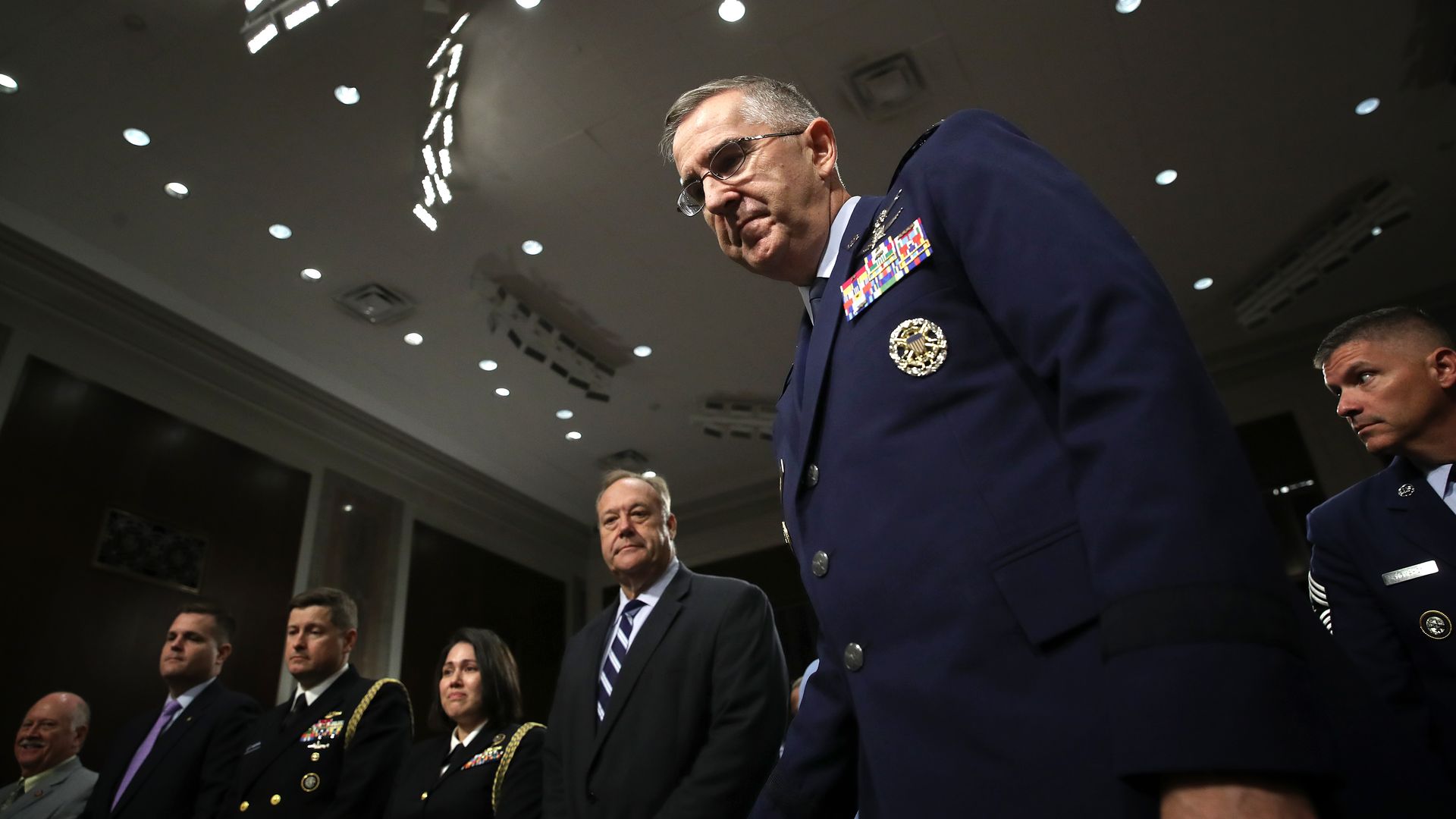 Gen. John E. Hyten, vice chairman of the Joint Chiefs of Staff, warned in an interview with CBS News that the Chinese government's hypersonic weapons test last summer could jeopardize the world order's current nuclear balance.
Why it matters, via Axios' Zachary Basu: Weapons experts caution that China's hypersonic missile test is not a technological game-changer in the same way that Sputnik was. But the fact that the breakthrough caught U.S. intelligence by surprise is raising alarms in Washington, especially in the context of the Chinese government's rapid nuclear expansion and military modernization efforts.
Hypersonic weapons are harder to detect on radars compared to intercontinental ballistic missiles, which has led to concern about the possibility of a surprise nuclear attack on the U.S.
The test last summer launched a missile at more than five times the speed of sound.
What they're saying: "They launched a long-range missile," Hyten, the U.S. military's No. 2, told CBS News in the exclusive interview.  "It went around the world, dropped off a hypersonic glide vehicle that glided all the way back to China, that impacted a target in China." 
When asked if it hit the intended target, he said it was "close enough."
"They look like a first-use weapon," Hyten added. "That's what those weapons look like to me."  
The test sparked comparisons to Sputnik, the Soviet Union's 1957 satellite launch, which raised alarms that the U.S. was falling behind in the technology race.
"Sputnik created a sense of urgency in the United States," Hyten said. "The test on July 27 did not create that sense of urgency. I think it probably should create a sense of urgency."
Between the lines: The pace of China's progress, in tandem with its military aggression toward Taiwan, expansion of nuclear missile silos and broader geopolitical tensions with the U.S., has sparked fears of a new Cold War.
The U.S. is developing its own arsenal of hypersonic weapons, according to Hyten, though not as quickly as China.
Worth noting: National security adviser Jake Sullivan revealed Tuesday that Biden asked Chinese President Xi Jinping during their virtual meeting on Monday night to launch talks on "strategic stability." China has previously refused to join talks on arms control with the U.S. and Russia.
Go deeper