Biden asks FTC to investigate gas and oil companies for "illegal conduct"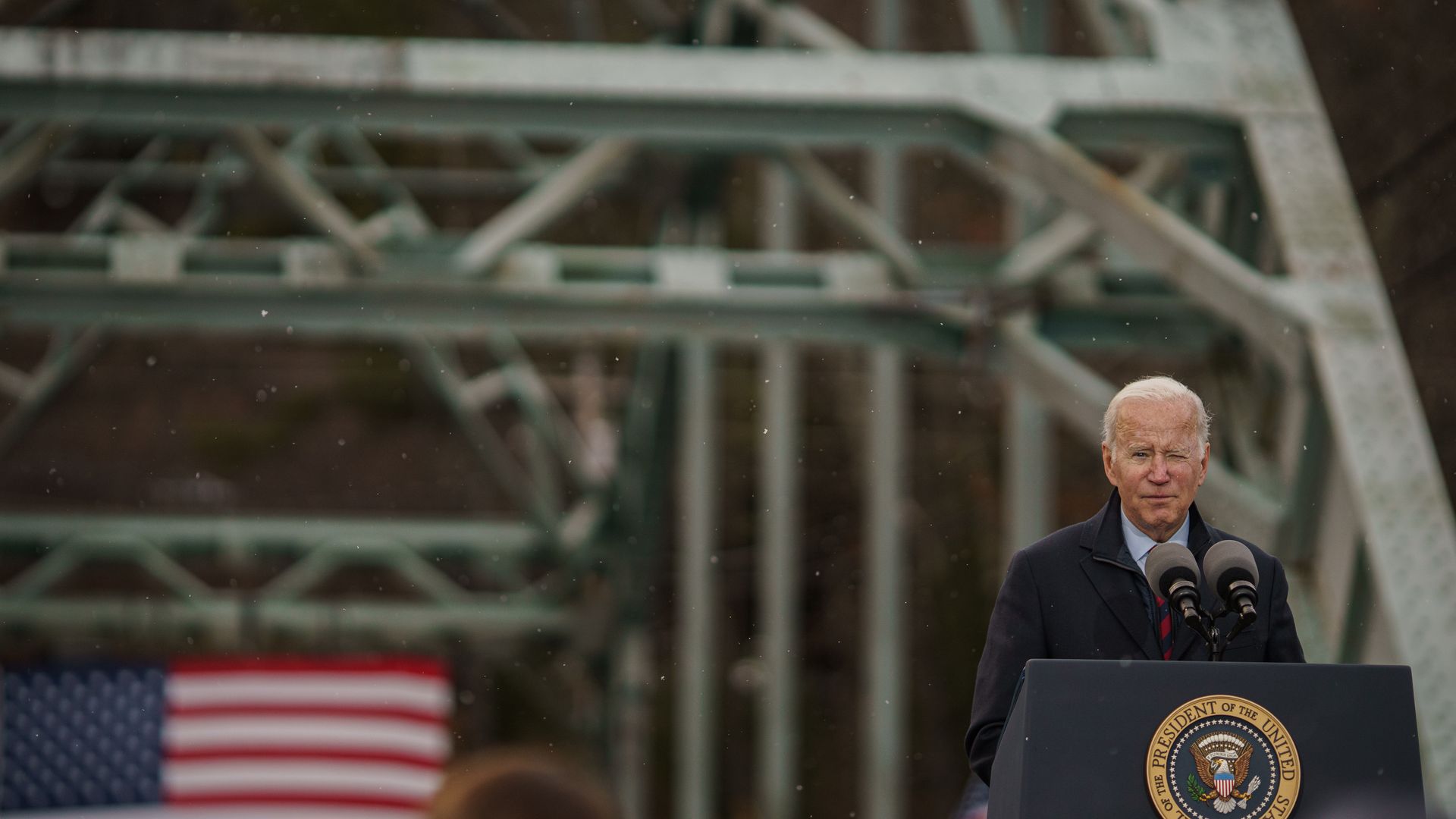 President Biden sent a letter to Federal Trade Commission chair Lina Khan Wednesday asking the agency to determine whether "illegal conduct" by large oil and gas companies is pushing up gasoline prices.
Why it matters: It's unlikely that the letter will bring down gas prices anytime soon, though an FTC investigation could clarify how such companies determine prices.
Thought bubble, via Axios' Ben Geman: The White House is likely concerned about the political fallout from elevated gasoline prices, which move essentially in tandem with crude oil prices.
What they're saying: In the letter, Biden claimed that there is "mounting evidence of anti-consumer behavior by oil and gas companies."
The president questioned why prices have risen when oil and gas companies' costs have declined.
"The Federal Trade Commission has authority to consider whether illegal conduct is costing families at the pump. I believe you should do so immediately," he added.
The other side: "This is a distraction from the fundamental market shift that is taking place and the ill-advised government decisions that are exacerbating this challenging situation," the American Petroleum Institute said in a statement.
"Demand has returned as the economy comes back and is outpacing supply. Further impacting the imbalance is the continued decision from the administration to restrict access to America's energy supply and cancel important infrastructure projects."
By the numbers: The average gallon of gas was almost $3.40 in the U.S. Monday, just slightly lower than average prices a week before then, according to the Energy Information Administration.
The big picture: The rise in gas prices has coincided with another political risk for Biden and fellow Democrats: broader inflation largely set off by supply disruption from the coronavirus pandemic.
Gasoline prices are a visible reminder of inflation that's fueled pessimism about the Biden economy.
Analysts say fuel demand has roared back, but supply is tight and that's behind the price surge.
Context: Washington has in the past turned the glare on the oil industry amid a run-up in gasoline prices. They have come up empty.
"It's the oldest tool in the tool kit and is mainly optical. No anti-competitive behavior was found," says Bob McNally, head of consultancy firm Rapidan Energy Group.
The intrigue, via Axios' Kate Marino: It may seem like U.S. producers are holding back. They're collectively operating one-third fewer rigs now than they were before the pandemic.
But that's partly because investors have called for discipline to put an end to boom-and-bust cycles of overproduction and bankruptcies.
The bottom line: Gas prices are the highest since 2014.
Back in August, the White House called on OPEC to pump more oil. The oil cartel rejected that call.
"There's no magic wand to deliver the lower gas prices that Americans want," GasBuddy's Patrick De Haan tells Axios.
Go deeper: Schumer urges Biden to tap oil reserves in order to lower gas prices
Go deeper