Poll: Majority of Americans oppose Texas abortion law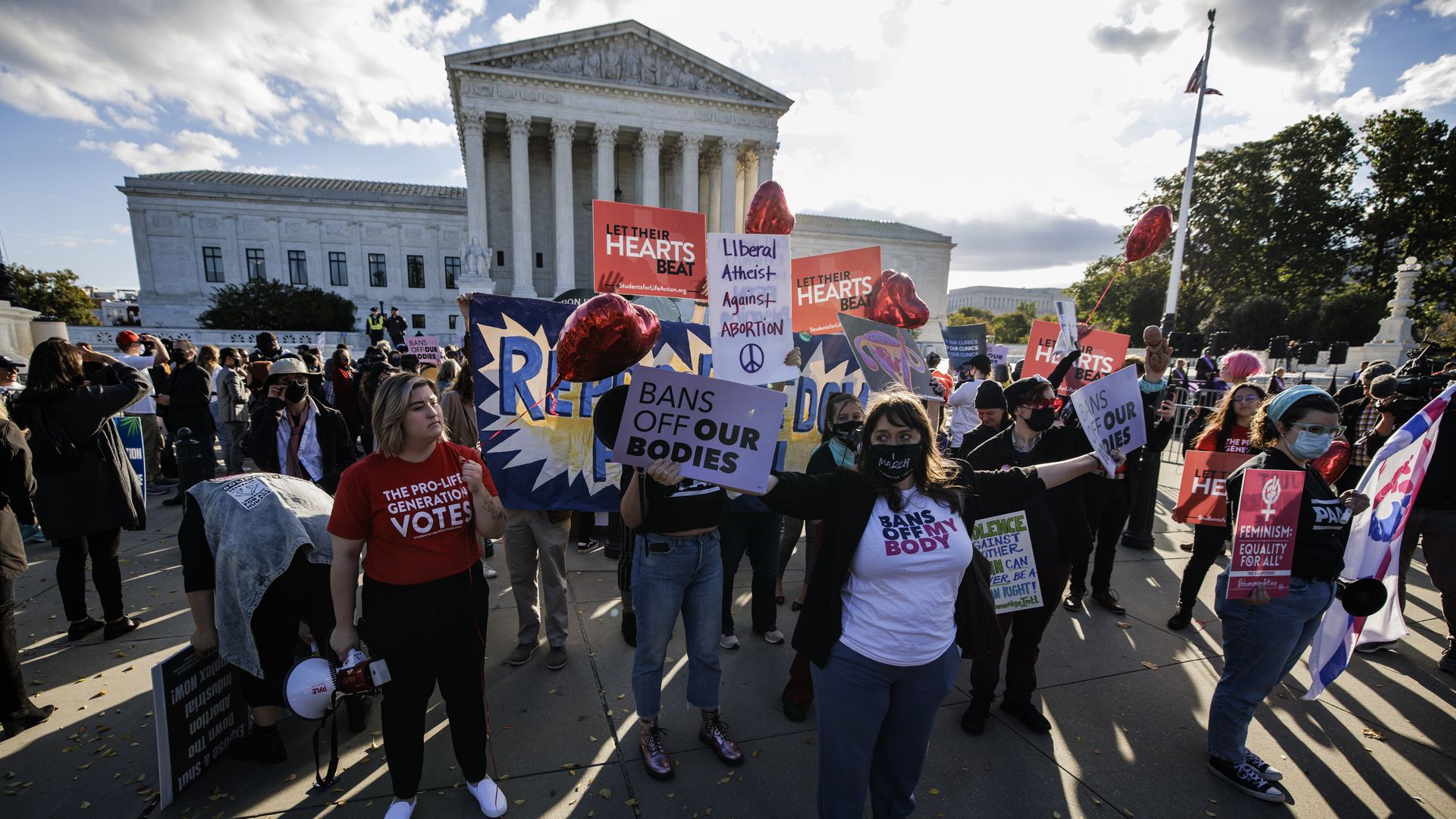 The majority of Americans say the Supreme Court should reject a Texas law banning most abortions after about six weeks of pregnancy, according to a Washington Post-ABC News poll out Tuesday.
Why it matters: The poll comes after the Supreme Court heard two cases on the Texas law earlier this month. It is set to hear a case on Mississippi's 15-week abortion ban — a direct challenge to Roe v. Wade — on Dec. 1.
The Texas law, which does not provide any exceptions for rape or incest, allows people to sue anyone suspected of helping a person to obtain an abortion, regardless of whether they have a direct relationship with the person or not. Those who are successful can be awarded at least $10,000.
The Supreme Court isn't considering the merits of the Texas law, only whether it can be challenged in federal court.
By the numbers: 65% of Americans surveyed said the court should reject the Texas abortion law, compared with 29% who said the law should be upheld, per the Post-ABC poll.
60%, meanwhile, said the court should uphold Roe, while 27% said the landmark ruling should be overturned, views that are consistent with polling dating back to 2005, according to the Washington Post.
The big picture: Americans widely oppose actions by states to increase restrictions on abortions.
36% of Americans surveyed supported state laws that make it more difficult for abortion clinics to operate, while 58% opposed such restrictions, including 45% who said they "strongly" oppose them.
75% of Americans also largely believe that an individual's decision to have an abortion should be left to the individual and their doctors, compared with 20% who said abortion access should be regulated by law.
Between the lines: Views on abortion range sharply along party lines, "though Democrats and Republicans are not mirror opposites," the Post writes.
"Preference for Roe to be overturned peaks at 70% among people identifying themselves as strong conservatives, but drops to 38% among those who are somewhat conservative," according to ABC News.
Roe is supported by the vast majority of people identifying as strong liberals and 79% of those who are somewhat liberal, per the poll.
Go deeper: What abortion access would look like if Roe v. Wade is overturned
Methodology: The Washington Post/ABC News Poll was conducted Nov. 7-10. The poll is based on a random sample of 1,001 adults nationwide on cellphones and landlines. The margin of sampling error is ±3.5 percentage points for overall results and is larger for subgroups, per the Post.
Go deeper