Record-shattering rainfall and flooding slam Pacific Northwest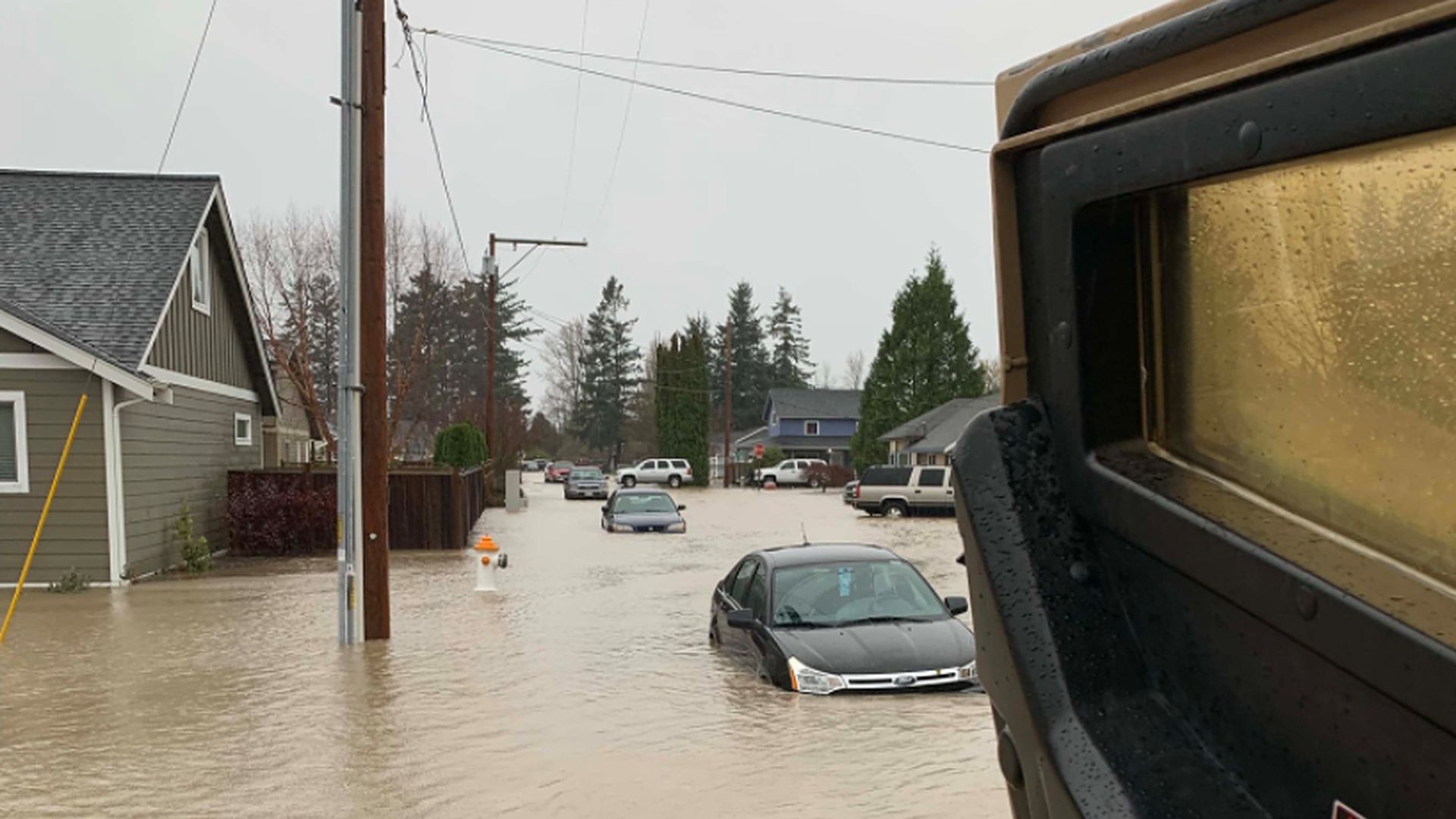 An intense "atmospheric river event" has resulted in extensive flooding and wind damage across parts of the Pacific Northwest, per the National Weather Service.
The latest: The extreme storm has triggered record-shattering rainfall in several cities in British Columbia, namely Hope, which had more than 11 inches of rain between Saturday and Monday.
The flooding has battered much of western Washington, inundating roads and homes in the area, the Washington Post noted. High winds have also cut power to more than 170,000 customers.
Sections of highways and railways have been cut away by raging waters, and the community of Abbotsford, B.C. is experiencing extensive flooding, the scope of which is fully visible from the air.
Why it matters: The NWS warned the tail end of the atmospheric river, packing large amounts of moisture, "is coming with one last strong push." It has been dumping heavy rains over the northwestern U.S. and British Columbia in Canada over the past several weeks.
Tens of thousands of people were without power overnight and at least one person was reported missing, as the extreme storm system struck areas that were enveloped by wildfire smoke and extremely dry conditions this past summer.
In Canada, the entire city of Merritt and several other British Columbia communities were evacuated, as flooding forced the closure of parts of Highway 1 in the province, CBC News reports.
One shelter in the region that's welcoming storm evacuees is still hosting members of Lytton First Nation, who were displaced following a massive summer wildfire, CBS News notes.
What to expect: "A deep low center over southern Canada will continue to produce strong and locally damaging winds over portions of the northern Rockies and northern Plains," the NWS said in an update.
Sustained winds across portions of the northern Rockies and northern Plains may reach as high as 60 to 70 mph, with the winds forecasted to subside by Wednesday.
A new storm system will approach the Pacific Northwest by late Thursday, bringing a new threat of rain and higher elevation snowfall, per the NWS.
The bottom line: The odds are stacked in favor of extremes, including extreme precipitations events, due to climate change, Axios' Andrew Freedman notes.
Go deeper