Xbox chief Phil Spencer reflects on 20 years of Xbox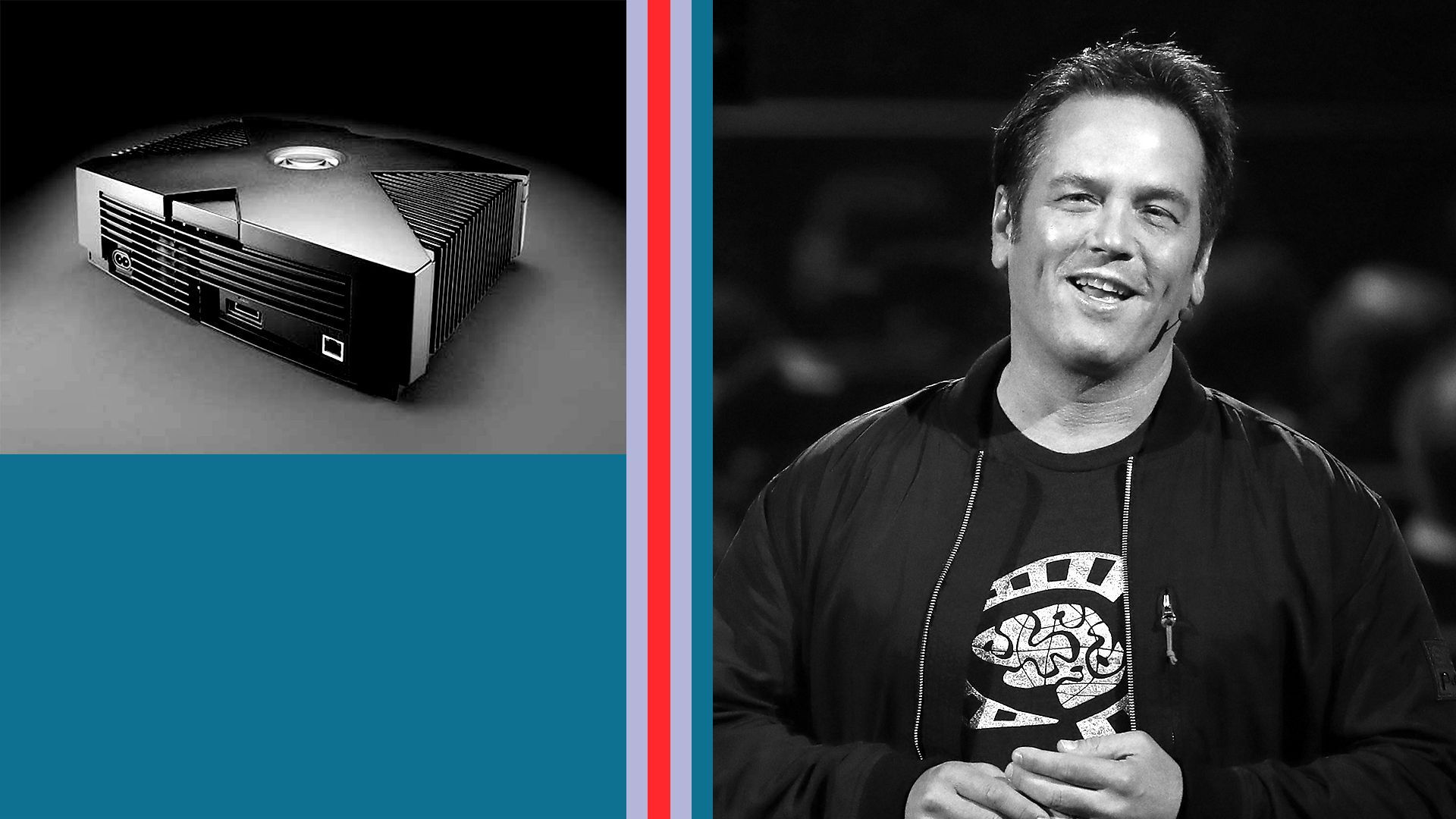 Two decades in, the unexpected consequences of some of Xbox's boldest innovations nudged Microsoft to break away from its initial "gamer" marketing push toward an inclusive approach to gaming, Xbox boss Phil Spencer tells Axios.
Why it matters: Xbox turns 20 today, offering a moment to reflect on what Microsoft has achieved within console gaming and where it may go in the next 20 years.
Spencer discussed Xbox's history — the good and bad — with Axios during a recent video chat. (It began with Spencer dismissing an incoming call from Microsoft CEO Satya Nadella. "I told him I'm doing an interview," he said.)
Microsoft's Xbox journey started with the first Xbox on Nov. 15, 2001, and followed with the successful Xbox 360 (2005), the doomed Xbox One (2013), and the current well-received, but supply-constrained, Xbox Series consoles (2020).
Xbox initially turned heads with games such as "Halo," "Forza" and "Gears of War." It used Microsoft's war chest to buy the makers of "Minecraft" in 2014. And in the past year, it acquired all of the legendary Bethesda family of studios.
What he's saying: Spencer credits Microsoft's online gaming service Xbox Live with expanding his team's view of who plays games and helping them understand barriers to entry.
The service launched in 2002 for the original Xbox, years ahead of rival offerings from console veterans Sony and Nintendo.
"Live gave us a direct, real-time connection to the community of people that play," Spencer said, contrasting it to a model of selling discs in a store and not hearing from the player again.
Microsoft learned from Live's positive and negative feedback: the friendships made by Live users clarified the potential of an online community; toxic online chat showed the obstacles that kept some people from playing.
Spencer also cited the Xbox's largely abandoned Kinect sensor for getting his team to think more about accessibility issues.
Kinect launched as an add-on to the Xbox 360 in 2010, offering a means to control games with body movement and voice, a sort of answer to Nintendo's blockbuster motion-control Wii. A second Kinect was included with every early Xbox One.
Microsoft took note of feedback from parents of children with physical or mental disabilities who told them that Kinect had enabled their child to finally play a video game.
Spencer traces a line from those breakthroughs to Microsoft's current ambition to bring gaming to a bigger, more diverse group of people.
Microsoft describes this push as an attempt to attract some 3 billion potential players, a group Spencer said by definition is "not one gender or race or kind of one anything."
It's a sharp contrast from the original marketing of the Xbox in 2001, which Spencer acknowledges targeted the "canonical example of a slack-jawed teenager in their basement with a headset on, swearing at the person on the other end of the line."
He acknowledges that the image of the gamer as a common industry "caricature" was not even accurate then.
There were some big setbacks along the way:
In 2007, the 360's "red ring of death" manufacturing error cost Microsoft more than $1 billion to cover repairs.
Another: the disastrous attempt in 2013 to roll out the One as a TV/gaming hybrid entertainment device, which led to Nadella tapping gaming-focused Spencer to take over all of Xbox. (Nadella's directive, according to Spencer: "Let's try to right the ship and then have meaningful discussions about, 'Is there a long-term path for Microsoft in gaming or not?'")
Spencer, unprompted, also mentioned Xbox's 2016 Game Developers Conference party, which featured scantily dressed female dancers and led to an outcry from game makers and an apology from Spencer. "Is that something I regret in our journey as Xbox? Absolutely," he told Axios.
Microsoft's biggest ongoing Xbox bets now are Game Pass and cloud gaming. The former is an all-you-can-play Netflix-style subscription service launched in 2017 that Spencer says is "sustainable" right now.
The service offers 100+ games, including all of Microsoft's marquee new releases on launch day, for about $120 a year (the cost of two full-sized video games). Microsoft said in January it has 18 million subscribers, though it missed a recent growth target.
"I know there's a lot of people that like to write [that] we're burning cash right now for some future pot of gold at the end," Spencer said. "No. Game Pass is very, very sustainable right now as it sits. And it continues to grow."
As for cloud gaming, it goes back to that 3 billion player goal, as Microsoft untethers Xbox gaming from Xboxes.
While all new Xbox games also come to PC, the company also offers much of its Game Pass library on phones via streaming.
That leads to an odd inevitability, Spencer says. "At some point in our future, more people are going to be part of the Xbox community on mobile than they are on any other device, just by the nature of how many mobile phones there are."
Mindful of the Xbox One debacle, he adds that he doesn't want to alienate console players, who he credits for getting Xbox where it is.
What's next: "I can't wait for 20 more years of Xbox," Spencer said.
The question is: If they make it to 2041, what will "Xbox" mean?
Go deeper