The road ahead for Biden's FDA nominee Robert Califf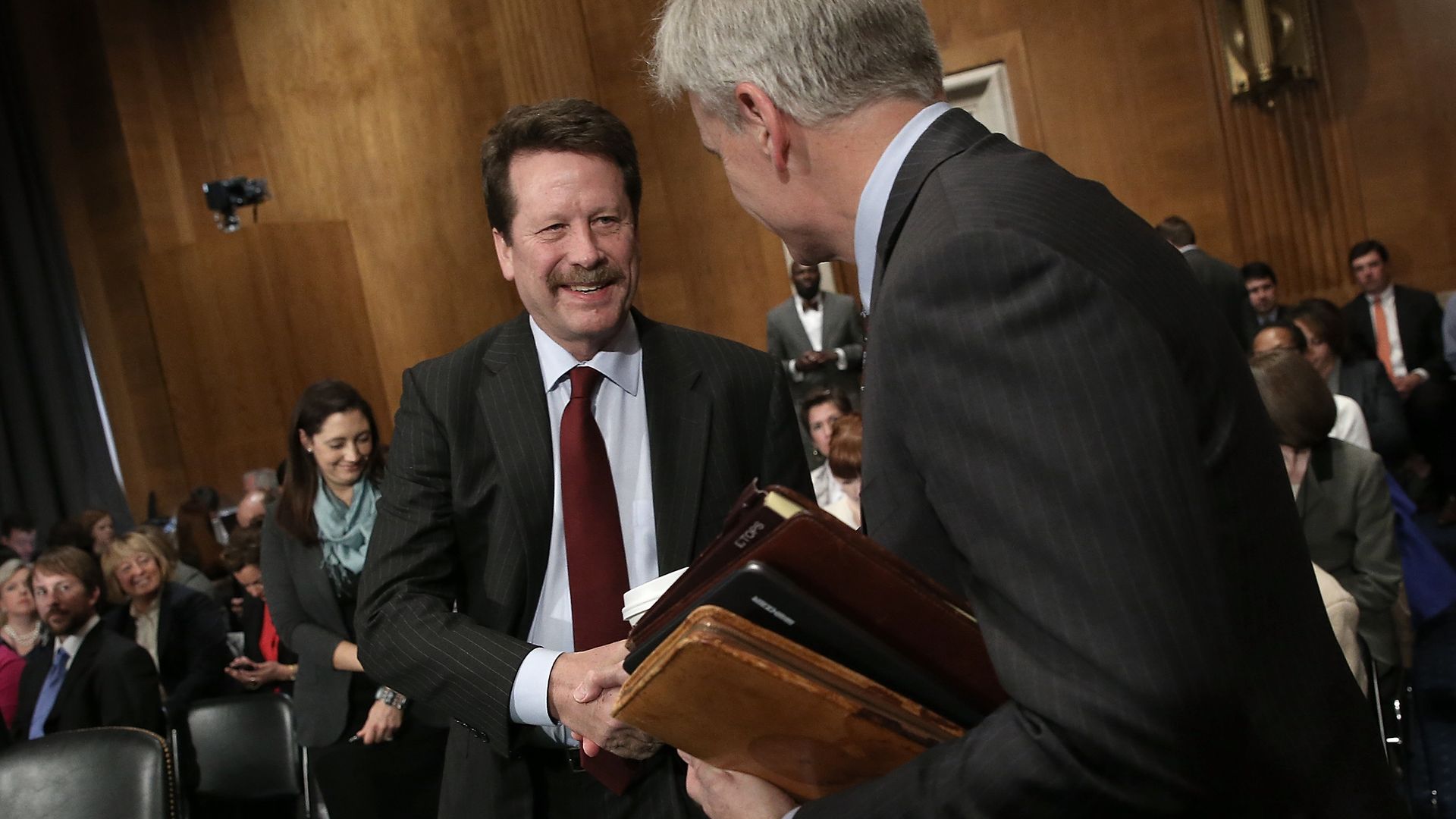 It's taken about 10 months for President Biden to name a nominee for the role of permanent FDA commissioner — former FDA chief Robert Califf — and it's unlikely his confirmation will be complete before the end of 2021.
Why it matters: The agency has been without a Senate-approved commissioner for nearly a year, all while playing a central role in the response to the ongoing COVID pandemic.
The selection of the former commissioner came after the White House dropped several prior candidates, including acting commissioner Janet Woodcock, who faced strong opposition over her pharmaceutical ties, the New York Times reports.
Woodcock plans to remain in her position as the nomination process plays out, a Health and Human Services official tells Axios.
Prior to Biden's announcement on Friday, today would have marked her last day she was able to oversee the agency as acting commissioner under to the Vacancies Act.
What's next: The Senate HELP Committee expects schedule a hearing on his nomination "as soon as possible," a committee aide said.
But he's unlikely to get a floor vote by the end of the year, said Stacy Cline Amin, who co-leads the FDA Regulatory & Compliance practice at Morrison & Foerster and was chief counsel for the HELP committee during Califf's last nomination.
The committee may not feel as much time pressure because [Woodcock] is doing a good job and is generally well-liked," Amin told Axios.
What to watch: Califf was confirmed in 2016 by an 89-4 vote, but he'll still face some questions over his ties to the pharmaceutical industry. Democratic Sens. Joe Manchin, Ed Markey and Richard Blumenthal, who voted against Califf last time, all reiterated their concern on Friday.
He was the founding director of the Duke Clinical Research Institute, where he worked closely with drug companies and received consulting fees prior to his first stint as FDA commissioner. More recently, he's served as a senior adviser for Verily and Google Health.
"The public has been asking if they can trust the FDA to ensure that the benefits outweigh the risks for Alzheimer's drugs, cancer treatments, and implanted devices," Diana Zuckerman, president of the National Center for Health Research, a non-partisan non-profit think tank, told Axios.
The bottom line: "This time has been really really hard for the agency. The staff is working around the clock. They are exhausted," Amin said. "I think it's good they chose a nominee who has experience with the agency. It will be a smooth transition, likely. I think that's important for the workforce there."
Go deeper