Biden moves to block oil, gas drilling near Native American cultural site in New Mexico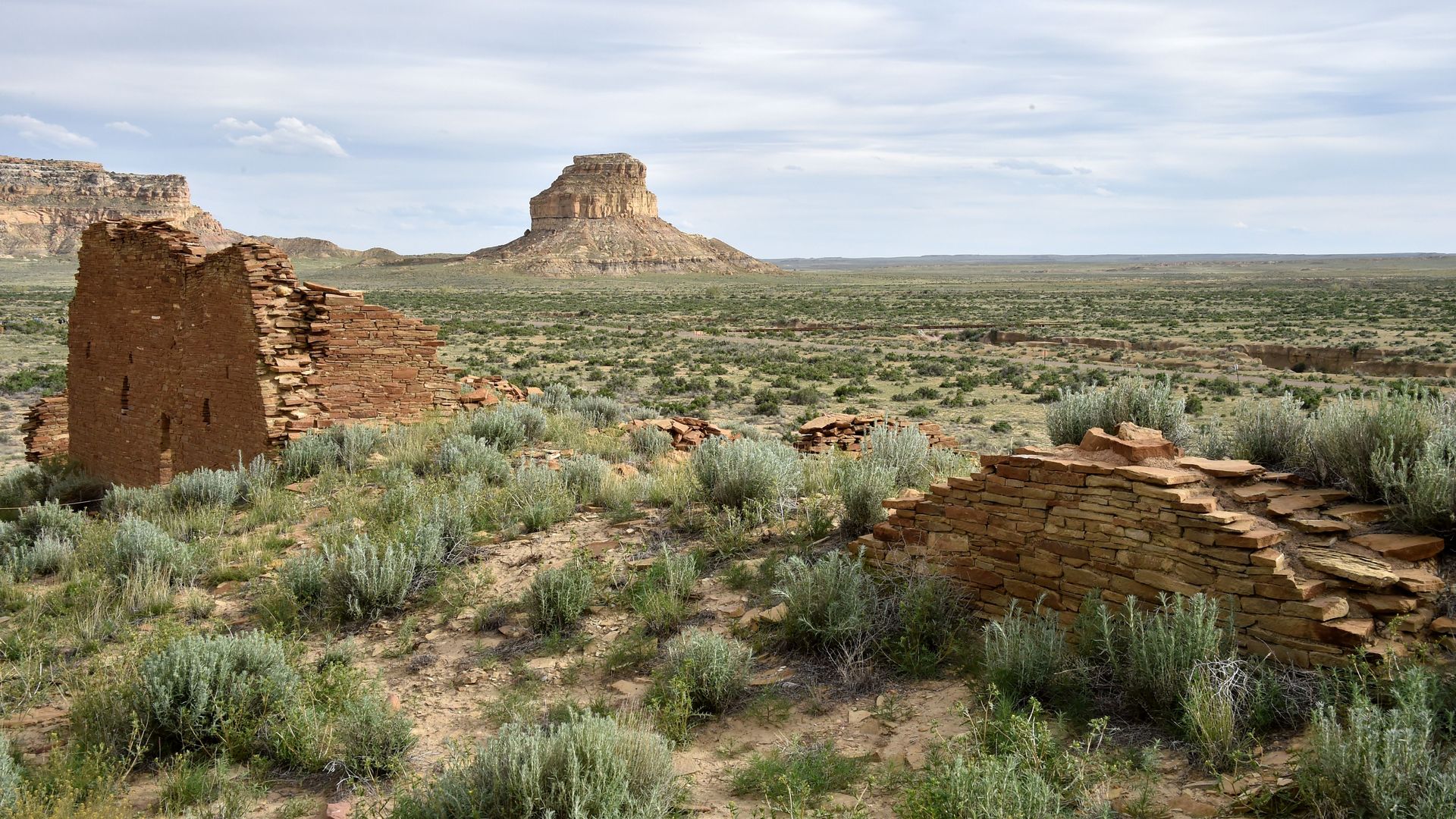 President Biden Monday proposed a 20-year federal oil and gas leasing ban on lands near Chaco Canyon in New Mexico, a site considered sacred and ancestral to members of Pueblo and other Native American tribes.
Why it matters: For years, tribes have requested a drilling moratorium for lands around the Chaco Culture National Historical Park, which is a UNESCO World Heritage site and preserves one of the most important pre-Columbian cultural and historical areas in the U.S.
The move comes after activists have criticized the Biden administration for not acting more aggressively to reverse rollbacks of protections for national monuments that occurred during the Trump administration.
The big picture: Biden unveiled the proposed leasing ban at the start of the White House Tribal Nations Summit — a two-day event in which leaders from more than 570 tribes are expected to participate.
The announcement directs the the Bureau of Land Management to begin consideration of a 20-year withdrawal of federal lands within a 10-mile radius around Chaco Culture National Historical Park.
Land within the park, which is located in the high desert of northwest New Mexico, served as the center of the Chacoan culture for a roughly 400 years.
What they're saying: "Chaco Canyon is a sacred place that holds deep meaning for the Indigenous peoples whose ancestors lived, worked, and thrived in that high desert community," Interior Secretary Deb Haaland, the first Native American cabinet secretary, said in a statement.
"Now is the time to consider more enduring protections for the living landscape that is Chaco, so that we can pass on this rich cultural legacy to future generations," Haaland added.
Haaland, a former New Mexico representative, is a member of the Laguna Pueblo.
"These efforts, to use the word my dad would use so much, is a matter of dignity," Biden said during an announcement Monday. "That's the foundation of our nation to nation partnership."
Of note: This year's summit marks the first time since 2016 that the White House hosted the event.
Go deeper: Native American population jumps to largest size in modern history
Go deeper