NATO chief: Jan. 6 was attack on "core values" of alliance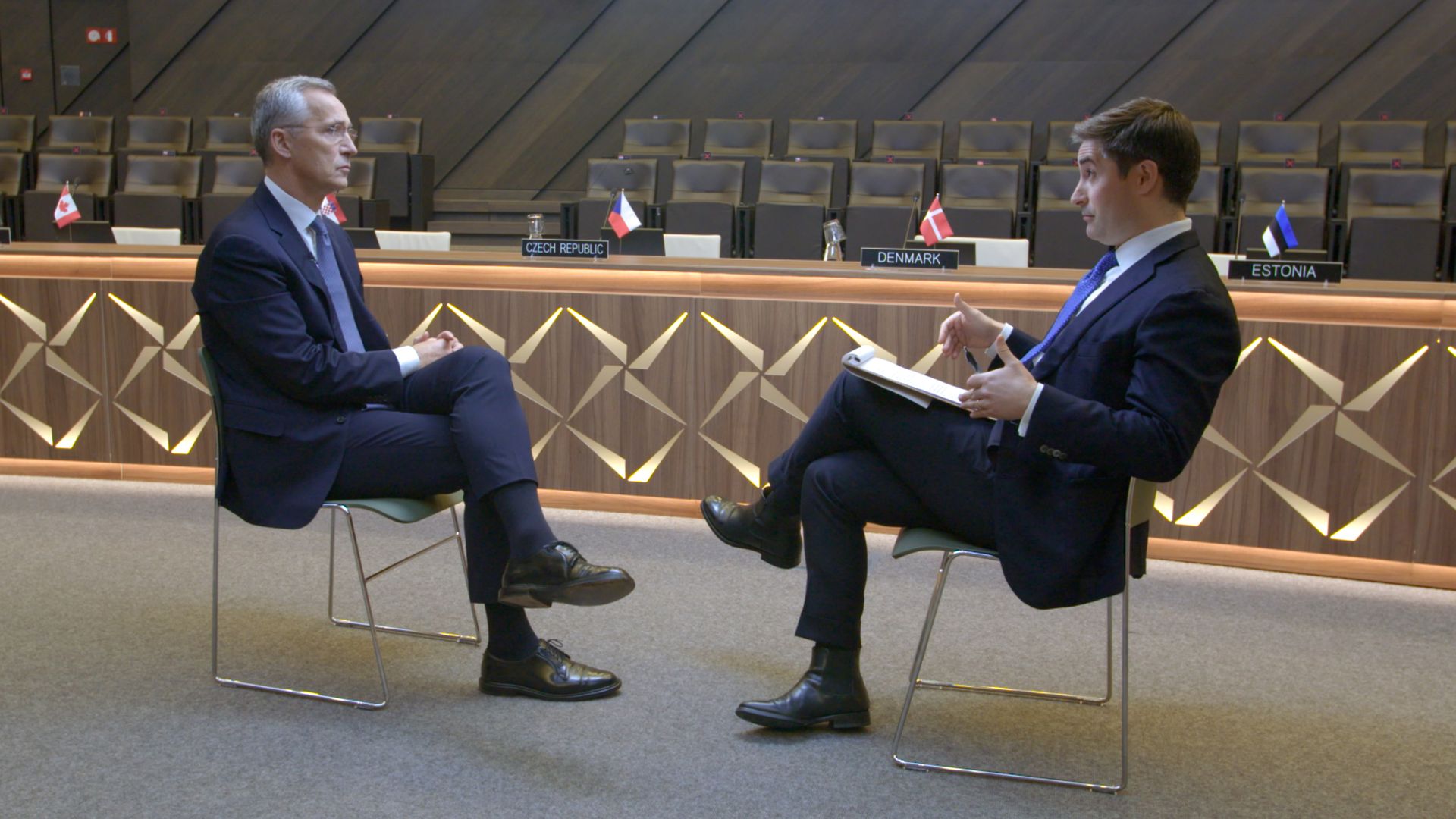 NATO Secretary General Jens Stoltenberg told "Axios on HBO" that the Jan. 6 siege on the U.S. Capitol was also an attack on the core values of the world's biggest military alliance.
Driving the news: "I regard that as an attack on the core democratic institutions of the United States and therefore also on core values of NATO," Stoltenberg said in an interview recorded last Monday at NATO's headquarters in Brussels.
He also touched on Russia, Turkey, Afghanistan and China — but, notably, wouldn't say what NATO would do if China were to invade Taiwan.
The big picture: Despite how unnerved he was watching the events of Jan. 6, Stoltenberg said he continues to believe in America's future as a liberal democracy.
"I'm confident that our biggest ally ... will remain a strong democracy," he said.
The U.S. "has been through difficult times, crises, before and always come out on the other end with a strong commitment to democratic institutions."
More highlights:
Russia-Ukraine: Stoltenberg said NATO was closely monitoring the "unusual" Russian troop movements near Ukraine's border. However, he defended the alliance's unwillingness to grant Ukraine the type of membership that would offer meaningful protection against Russian President Vladimir Putin, pointing out that membership can only be achieved if all 30 member nations support it. However, Stoltenberg acknowledged the disappointment Ukrainians feel about NATO's promise of membership in 2008 that, 13 years later, remains unfulfilled.
China: Stoltenberg has made much, recently, of expanding NATO's mission to include the "systemic challenge" of China. But he would not answer whether NATO would play any role if China invaded Taiwan — a non-NATO member, but a country whose fate is directly tied to the credibility of U.S. and Western deterrence against China's ambitions. "If I started to answer all your hypothetical questions, I will only add to the tensions we see in that region," he argued.   
Afghanistan: Pressed on the U.S.-NATO failure to anticipate the speed of the Afghan security forces' collapse to the Taliban, Stoltenberg said, "There are some serious lessons to be learned. I have launched a 'lessons learned' process at NATO."
Turkey: Stoltenberg hesitated for a moment when asked if he still considered NATO member state Turkey to be a democratic government. "They have elections," he responded after the pause. "The opposition was able to win an election in Istanbul recently. But I think also it's fair to say that, you know, I know that ... several allies have expressed concerns about Turkey."
Between the lines: Turkey has become NATO's biggest problem child. Over the strong objections of NATO allies, President Recep Tayyip Erdoğan has insisted on buying a major air defense system from the Russians.
And Erdoğan has made a mockery of NATO's commitment to "democratic values." He is interfering in the judiciary, locking up his political enemies and rerunning elections.
In 2016 and 2017, the Committee to Protect Journalists ranked Turkey as the world's No. 1 jailer of journalists.
Axios pushed Stoltenberg on the hypocrisy of NATO having the world's top jailer of journalists as a member state and at the same time demanding that nations who want to join the alliance clean up corruption and fine-tune their democracies before being allowed into the alliance.
Stoltenberg acknowledged the concern over journalists' rights but did not address NATO's inconsistent standards.  
The bottom line: Stoltenberg — who became secretary general in 2014 and finishes next year — has led the alliance through arguably the rockiest stretch in its history.
He first had to contend with former President Trump threatening to withdraw the U.S. from NATO — a move that would have ended a military alliance that has held the peace in Europe since 1949.
This year — with President Biden's debacle of a withdrawal from Afghanistan — Stoltenberg is accepting the unhappy reality that NATO's 20-year mission there ended in failure.
The U.S.-NATO mission has left behind a catastrophe in Afghanistan: Total Taliban rule, mass starvation, girls shut out of schools. And Afghanistan is now re-emerging as a terrorist haven. Military leaders say al-Qaeda and ISIS could become a threat to the U.S. homeland in as little as six months.
Go deeper