Teacher burnout leaves schools scrambling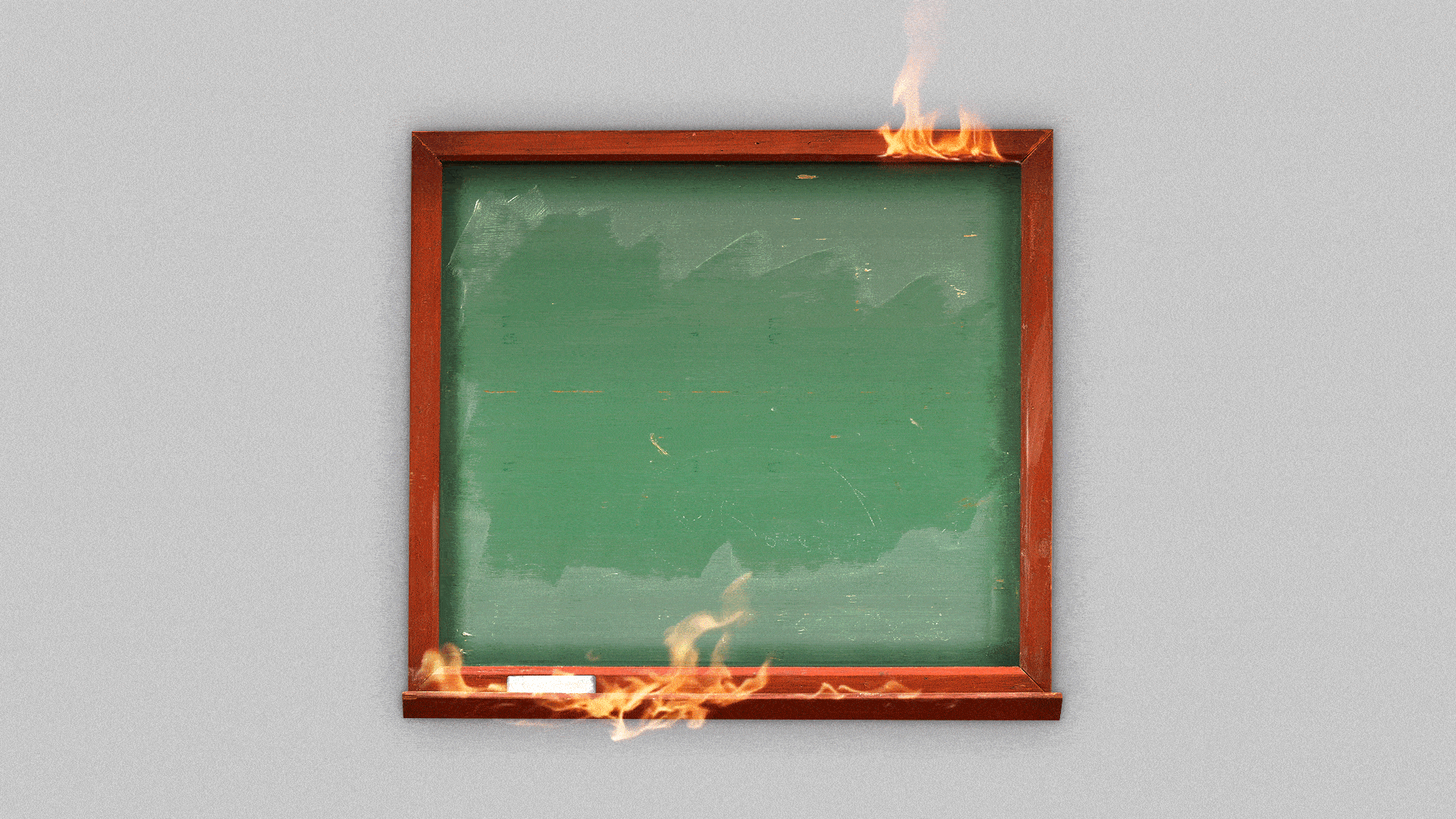 With teachers across the country complaining of extreme burnout, school districts are trying out big changes, including longer holiday breaks and shorter days.
Why it matters: Educators and experts say teachers' severe burnout is raising concerns about turnover — and more broadly, the state of education.
Driving the news: Many educators were happy to get back into the classroom this year, after the challenge of remote learning. But districts across the country faced major staffing crises, forcing some teachers to take on extra roles and give up their planning periods to fill in where needed.
Even back in the classrooms, teachers in many districts are also tasked with navigating COVID protocols, ensuring students social distance and keep their masks on.
What they're saying: "It's sad because I love what I do, but I hate all the extra stuff that we're having to do," said Gail Miller, a special education teacher in Kentucky. She's been a teacher for 22 years, and says she's never felt more exhausted.
"All this extra stuff ... just feels like it's piled on, and it's not like it's not necessary, but it's not the best practice. I just feel like we're trying to go back to normal but normal wasn't great to begin with," Miller said.
"I've got like five years left before I can retire. I'm just like, keep on pushing," she told Axios.
By the numbers: Nearly one in four teachers said they were likely to leave their jobs at the end of last school year, compared with one in six teachers who said the same, on average, before the pandemic, according to a report by the RAND Corporation from March 2021.
Nearly half of Black teachers said they were likely to leave their jobs at the end of the school year, RAND found.
(Data from this school year aren't yet available.)
High levels of teacher turnover and stress can have a negative impact on not only educators, but students as well, according to Elizabeth Steiner, one of the researchers of the RAND report.
Steiner points to emerging evidence that teachers' mental health is associated with the quality of a learning environment.
"We know from many different sources that students are really struggling ... and if they're looking to their teachers for support and their teachers are struggling and unable to provide that, that's problematic," she said.
Between the lines: The stress in the classroom has been further complicated "by the fact that many [teachers] are working in communities that have chosen to politicize what should be public health guidance around their workplace," says Thomas Dee, a professor at Stanford University's Graduate School of Education.
What's next: The known effects of teacher burnout has some districts looking for strategies to better support teachers.
Two school districts in Virginia recently announced early departure plans for students on select Wednesdays as a way to alleviate ongoing teacher stress and fatigue due to the pandemic.
Experts say that's a good start. But leaders also need to equip teachers with better resources and address longstanding issues like pay, said Randi Weingarten, president of the American Federation of Teachers.
"We need to give them the resources that they need to help create a welcoming and safe environment, including ... lowering class size and we need them not to worry about their salaries or not to worry about their health care," Weingarten tells Axios.
Go deeper: America's shadow epidemic
Go deeper