U.S. sanctions Eritrea's military, ruling party over Ethiopia crisis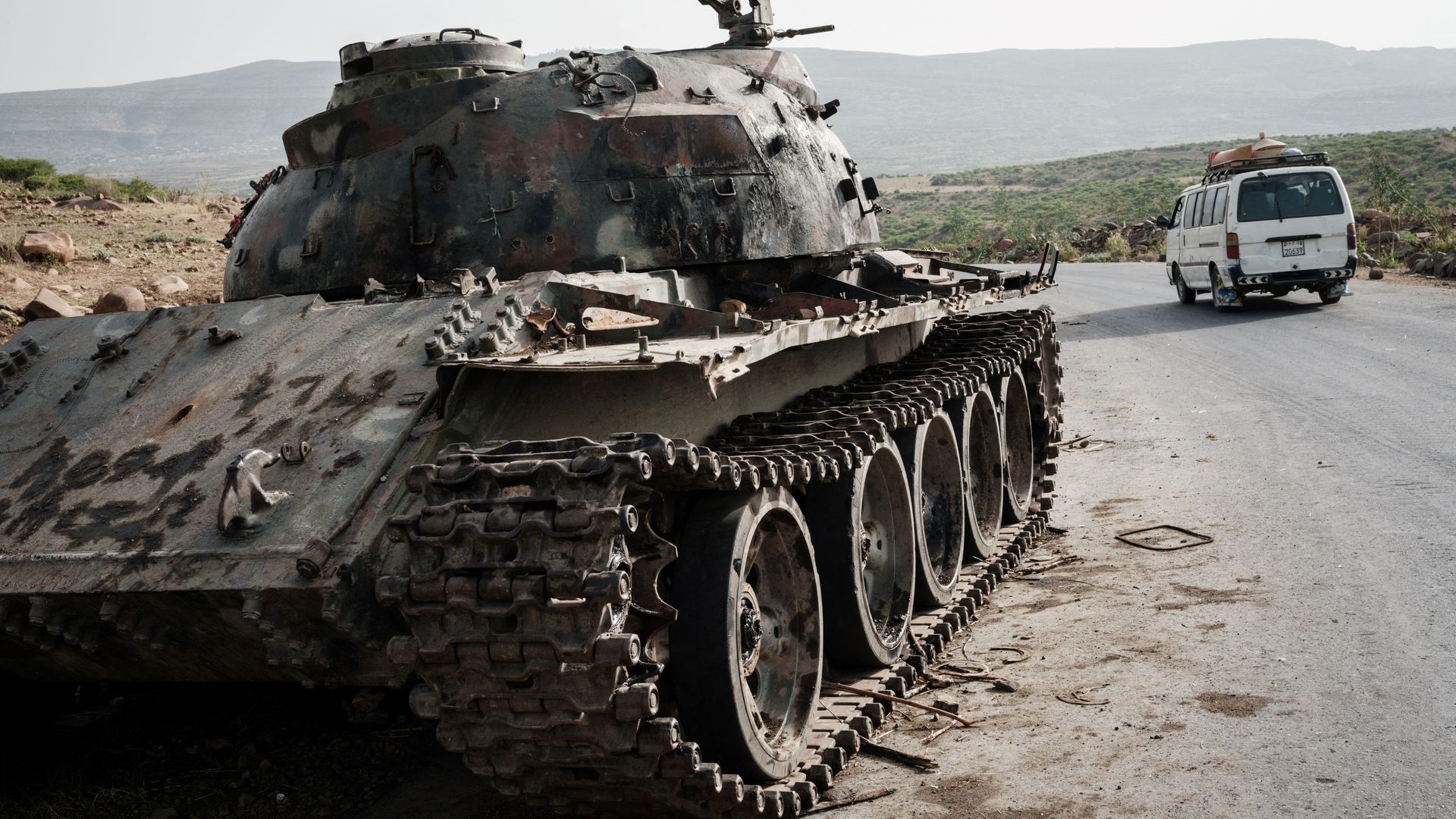 The Treasury Department on Friday imposed sanctions on Eritrea's military and ruling party over the ongoing crisis in neighboring Ethiopia.
Driving the news: The Treasury Department also signaled its willingness to impose sanctions on the Ethiopian government and the Tigray People's Liberation Front if progress isn't made towards a ceasefire in the country's Tigray region.
President Biden in September signed an executive order authorizing the Treasury and State departments to impose sanctions on those involved in the crisis in Tigray.
Details: The U.S. imposed economic sanctions on the Eritrean Defense Force and the country's sole legal political party, the People's Front for Democracy and Justice (PFDJ), as well as Abraha Kassa Nemariam, Hidri Trust, Hagos Ghebrehiwet W. Kidan, and Red Sea Trading Corporation.
The U.S. accused the sanctioned parties of contributing "the crisis and conflict, which have undermined the stability and integrity of the Ethiopian state."
"Eritrean forces have operated throughout Ethiopia during the conflict and have been responsible for massacres, looting, and sexual assaults," Treasury said.
While two individuals with ties to the PFDJ party were named, Eritrean President Isaias Afwerki was not sanctioned.
Eritrean officials did not immediately comment on the announcement.
What they're saying: "We condemn the continued role played by Eritrean actors who are contributing to the violence in northern Ethiopia, which has undermined the stability and integrity of the state and resulted in a humanitarian disaster," said Office of Foreign Assets Control director Andrea M. Gacki.
"Eritrea's destabilizing presence in Ethiopia is prolonging the conflict, posing a significant obstacle to a cessation of hostilities, and threatening the integrity of the Ethiopian state," Secretary of State Antony Blinken said Friday in a separate statement.
The big picture: The yearlong war in Ethiopia has created one of the world's worst crises, with millions of people in need of humanitarian assistance, according to the UN.
Thousands of people have been killed and hundreds of thousands face famine.
The UN has called on warring parties, especially the Ethiopian government, to allow aid to reach those in need. As of Nov. 9, it had been "three weeks since the last overland aid convoy reached Tigray," with hundreds of relief trucks held up in neighboring region, the UN Office for the Coordination of Humanitarian Affairs said.
Last week, Ethiopia's government declared a state of emergency as rebel forces pushed towards the capital.
Go deeper: State Dept. urges all U.S. citizens to leave Ethiopia "as soon as possible"
Go deeper