South Dakota Gov. Kristi Noem announces re-election bid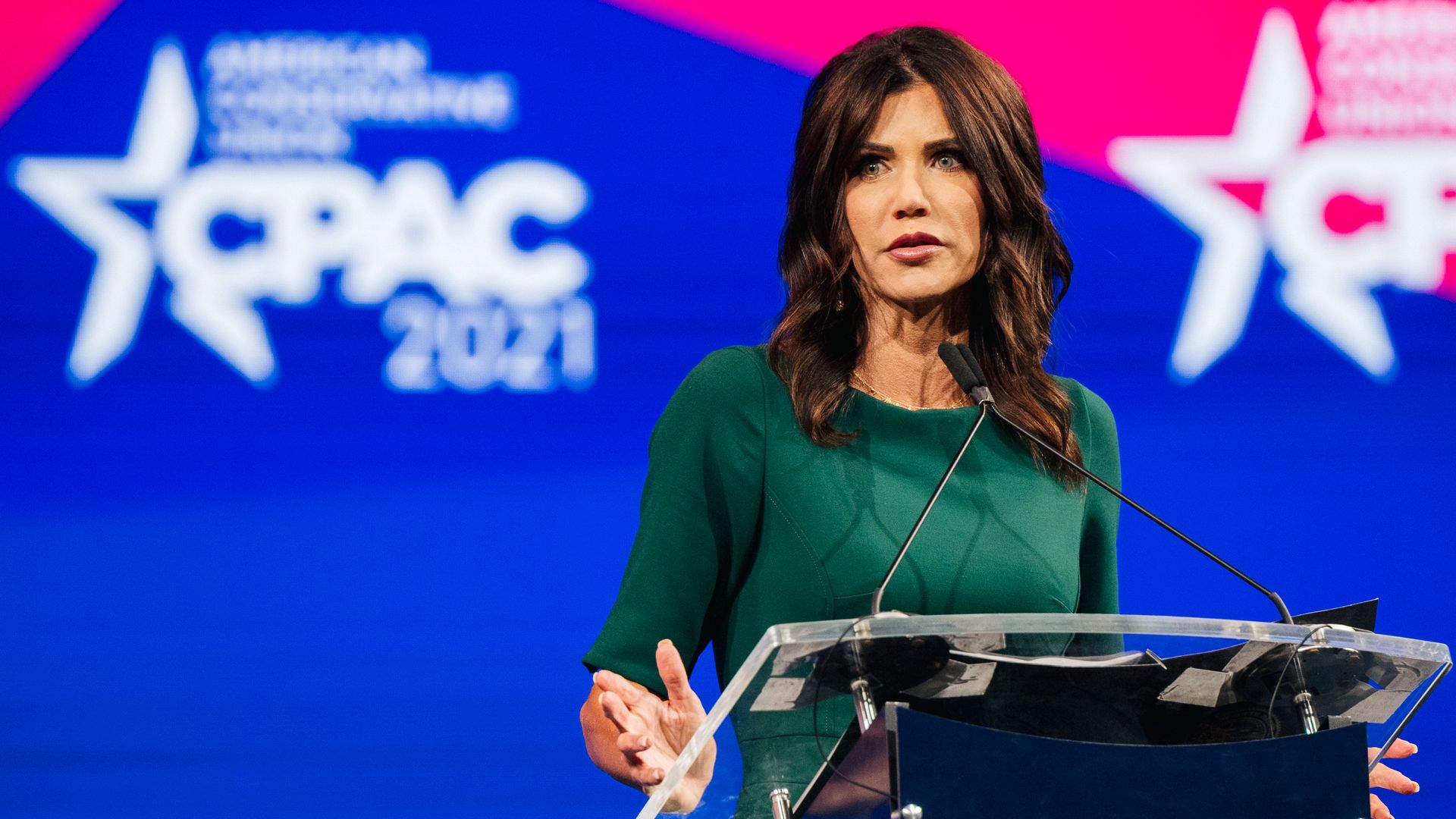 South Dakota Gov. Kristi Noem (R) announced Friday that she will run for re-election in 2022.
Why it matters: Noem has gained attention as a possible candidate in the 2024 presidential election through her lawsuits with the Biden administration and support from former President Trump, and a second term could further bolster her national profile before a competitive Republican nomination race.
What they're saying: "We'll ensure the next generation of South Dakota can grow up happy and free," Noem said in a video announcement.
She enters the race with a formidable war chest, having raised $10 million from some 45,000 donors, giving her roughly $6.5 million in cash on hand.
Yes, but: Noem in the past few months has become embroiled in multiple state and national controversies that could be a danger for her re-election bid.
Noem faced accusations of abusing her power when she held a meeting in November 2020 with an employee who ran the state's appraiser certification program that included Noem's daughter — whose application to become a certified real estate appraiser was denied days before, AP reported in September.
After the meeting, Noem's daughter received her certificate and South Dakota's labor secretary, who also attended that meeting, later demand the retirement of the employee who ran the appraiser certification program.
State lawmakers also accused her of abusing her power by flying to events hosted by political organizations on an airplane owned by the state government.
The big picture: South Dakota's Government Accountability Board is now preparing to determine whether Noem's use of state airplanes broke the law and if she interfered in the state agency's evaluation of her daughter's appraiser application in that meeting, according to AP.
Noem faced national criticism when she announced that a private political donor funded the deployment of South Dakota National Guard troops to the U.S.-Mexico border.
Noem publicly cut ties with her political adviser Corey Lewandowski, Trump's former campaign manager, after he was accused of making unwanted sexual advances toward a GOP donor, according to the Washington Post.
The other side: So far, no Republicans have challenged Noem's re-election bid, and state Democrats also have yet to put up a candidate.
Former state lawmaker Billie Sutton (D), who lost to Noem during the 2018 governors race by around 11,000 votes, has been floated as a possible challenger, though he has not publicly expressed interest in running again, according to the Sioux Falls Argus Leader.
Go deeper: How South Dakota became a global tax haven
Update: This story has been updated with new fundraising numbers.
Go deeper