For this envoy at COP26, negotiations are a "lifeline"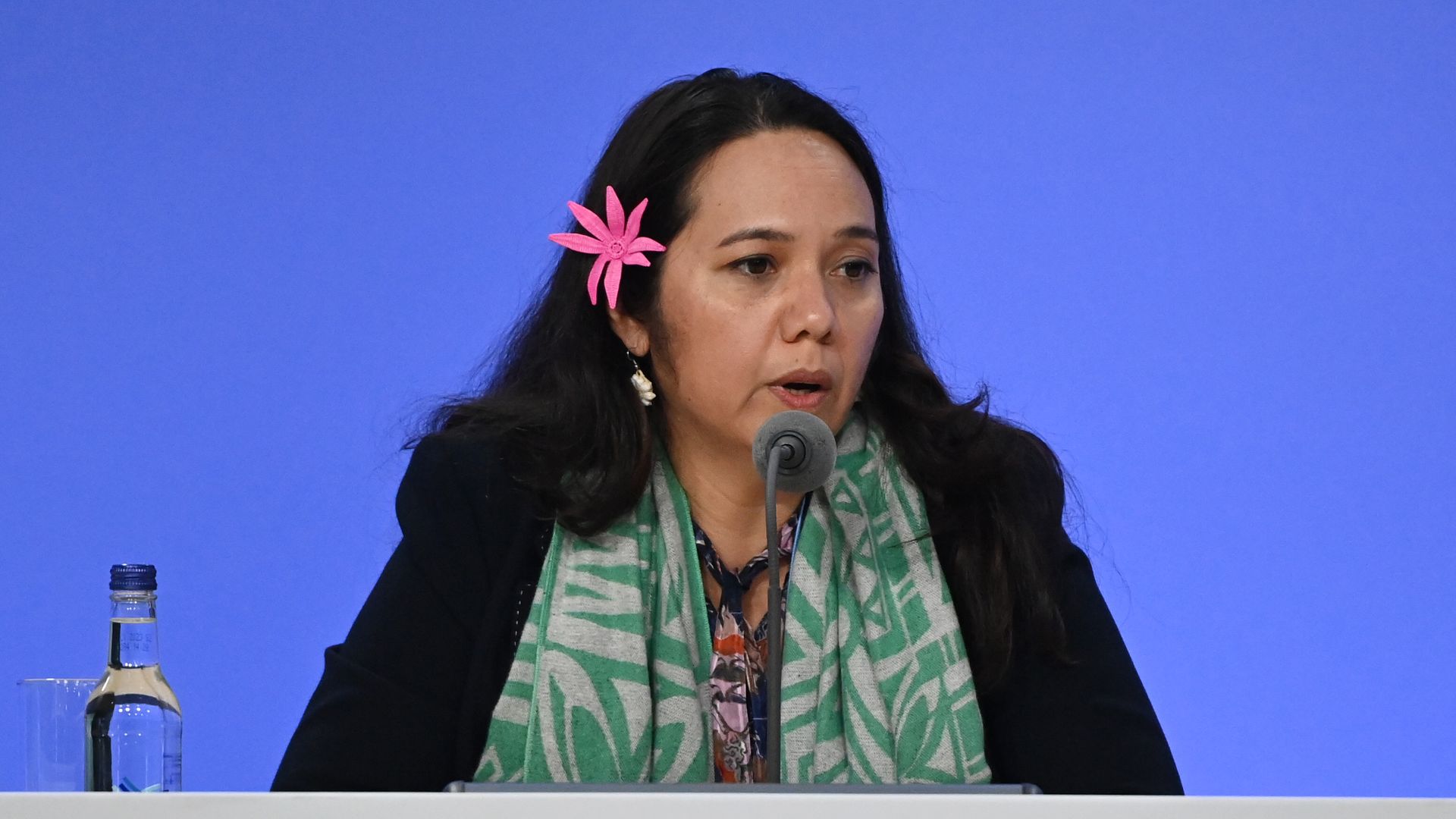 GLASGOW, Scotland — When Tina Stege, the Marshall Islands climate envoy, walks into a negotiating room, she carries a burden that most other negotiators here do not. Her task is ensuring the survival of her low-lying island nation.
What's happening: In an interview with Axios Thursday on the sidelines of the summit, a visibly exhausted Stege talked about what separates her thinking on the COP26 climate summit from the others' approach to these talks.
"This is a battle where I know there's going to be loss and there's going to be damage," she told Axios. "I go in there fighting for a lifeline. So it's not a negotiation for me. It's a necessity," Stege added.
Driving the news: As the climate talks here enter their final rounds with multiple consecutive late nights, Stege is among those urging fellow members of the High Ambition Coalition (HAC), which includes the U.S. and EU, to "hold the line" in fighting for an agreement that keeps the Paris Agreement's temperature target of 1.5°C above preindustrial levels within reach.
Two other critical goals: doubling climate adaptation funding and addressing finance for climate change-related loss and damage.
The big picture: The HAC is an unusually broad alliance, encompassing small island states and major industrialized nations.
The group released a statement of its priorities for the COP26 agreement that has gained dozens of signatories, putting leaders including President Joe Biden on record.
Context: It was the Marshall Islands that helped form the High Ambition Coalition during the Paris Agreement talks, when then-foreign minister Tony deBrum helped push the 1.5-degree goal to the top of the agenda, rallying a diverse alliance around common goals.
What's next: Stege told Axios she's seeking "the balanced Glasgow package." This would contain ambitious provisions on reducing greenhouse gas emissions and boost financing for developing countries to adapt to climate impacts.
Such an agreement would establish a mechanism to provide money for climate change-induced damage suffered by developing countries, which did not cause most global warming to date but are suffering outsized impacts.
​"We also see that ambition, on adaptation, ambition on finance, are the pieces of the puzzle that you know, are absolutely part of the whole, because you can't get to 1.5°C," Stege said.
"If you don't have the finance, and you can't live with 1.5°C in much of the world if you don't have the resources to adapt, right? So it really is a whole in order for people to survive," she added.
Stege said the Marshall Islands' message is that its survival may be on the line, but for other countries, they're already suffering increasingly devastating harms from climate change too, in the form of extreme weather events.
The bottom line: "It felt like moving mountains to get here. It really did. And we engage in the process because we have a voice here," Stege said, taking note of her country's strict, three-week quarantine requirements.
"We show up and we work 150% to let people know how important this issue is, how critical it is for our survival but also for their own safety."
Go deeper: Facing climate change threat, Pacific Islanders urge world to listen
Go deeper