Move against fossil fuels hangs on at COP26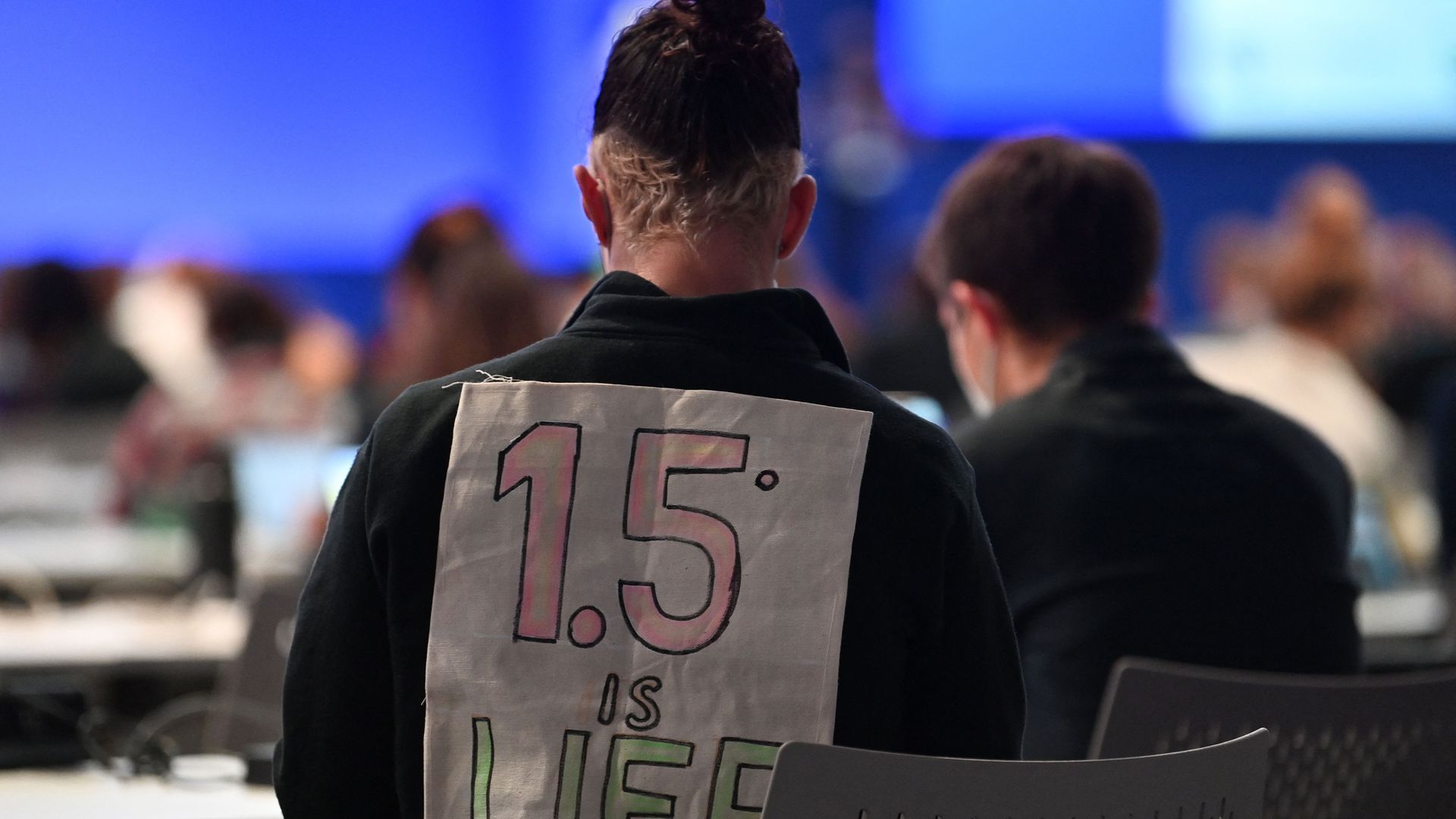 GLASGOW, Scotland — An explicit effort to push the global economy away from coal and phase out fossil fuel subsidies has softened but remains alive in the latest draft COP26 summit agreement.
Why it matters: The careful language of the nonbinding agreement is meant as a critical global consensus on the scope of actions needed to prevent global warming's most dire harms.
Where it stands: Friday morning brought revisions to the summit text ahead of fever pitch negotiations toward the end of COP26, which is scheduled to conclude within hours but will almost certainly bleed into the weekend.
Driving the news: The new language slightly tweaks the prior draft by now calling for countries to speed up the phaseout of "unabated" coal-fired power.
"Unabated" is a coded nod to the idea of using coal generation with carbon capture, even though that has yet to gain much real-world traction.
Meanwhile, it calls for phasing out "inefficient subsidies for fossil fuels," while the earlier draft didn't have the inefficient part.
The revised text is also more balanced between an emphasis on cutting emissions and providing more financial and technical assistance to developing countries in order to help them to better withstand climate impacts and compensate them for past damage.
The text pushes countries to revisit their emissions commitments by the end of 2022 and revisit 2030 targets throughout the 2020s.
It would also establish a "facility" on technical assistance for helping developing countries address damages already incurred by global warming, and calls for holding a workshop on loss and damage as well. In addition, it calls for a doubling of adaptation funding, to help countries withstand climate impacts going forward.
Yes, but: The latest draft does not go so far as to establish a standing fund for "loss and damage," a step the U.S. opposes, according to a State Department official in a briefing with reporters on Thursday.
What they're saying: "Friends, this is our collective moment for history," said COP president, U.K. politician Alok Sharma. "We must rise to the occasion."
The big picture: Outside and within the sprawling convention center where the negotiations are taking place, there is a sense of the high stakes involved as talks come down to the wire.
Protestors lined the streets outside, calling for climate justice and demanding a far-reaching agreement. Inside, weary negotiators mixed with others running from room to room, trying to settle key outstanding issues. Some slept on chairs.
Protestors from civil society groups marched through the building, shouting: "What do we want?" "Climate justice!" When do we want it?" "Now!"
Go deeper: What to know about COP26 in Glasgow
Go deeper