Nearly 1 million kids 5–11 on track for first week COVID vaccine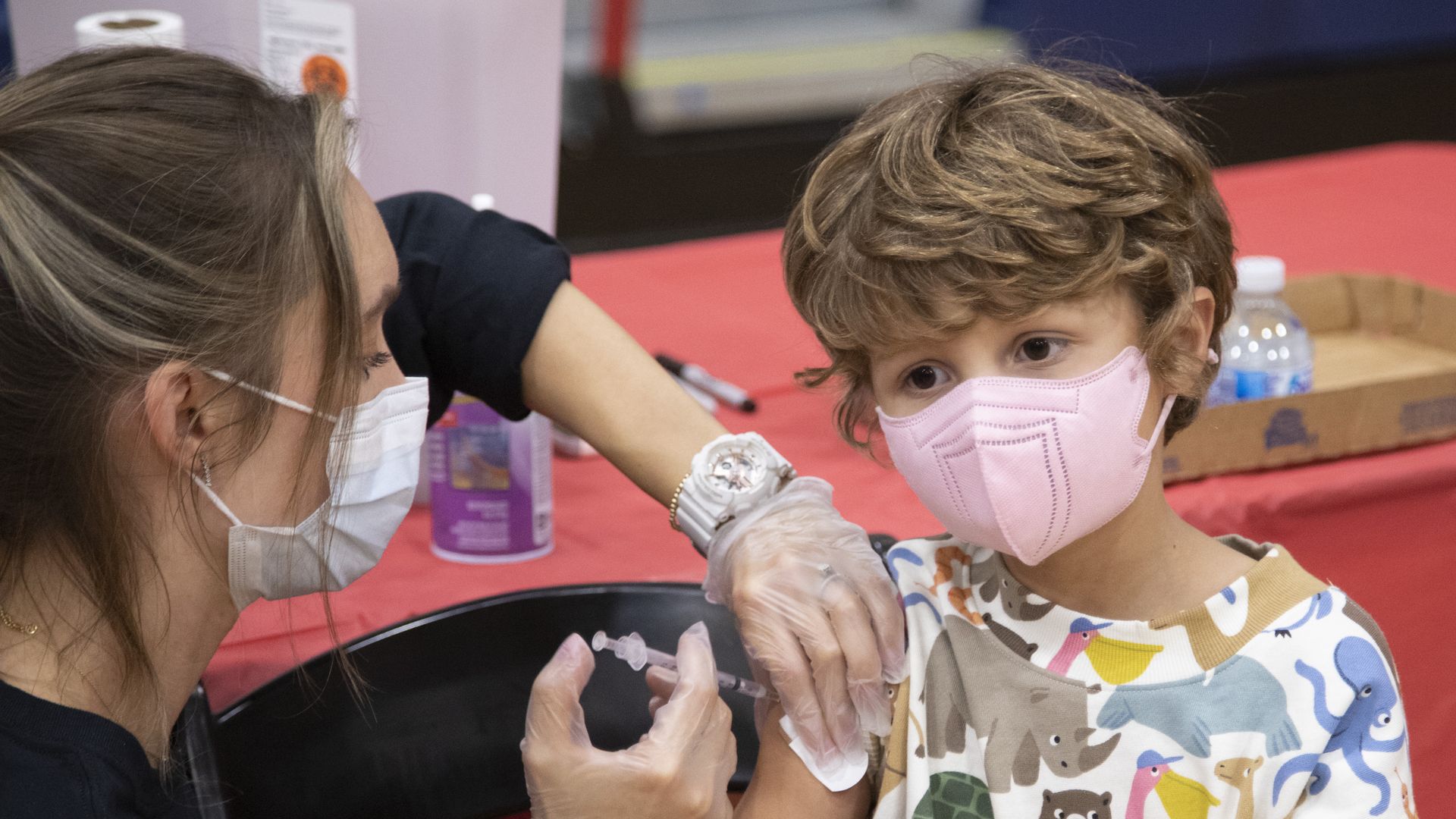 More than 900,000 children aged 5–11 will have received their first coronavirus vaccine dose by the end of Wednesday, according to the White House.
Driving the news: The CDC approved a two-dose series of Pfizer-BioNTech's COVID-19 vaccine for children 5–11 on Nov. 2, with some kids receiving their first dose the following day. First lady Jill Biden on Monday kicked off a "nationwide effort" to get more young children vaccinated.
Each of the shots administered to kids 5–11 will be about one-third of the size of the adult dose. The doses will be spaced three weeks apart.
NPR was first to report the 900,000 figure.
By the numbers: About 28 million children 5–11 are eligible to get vaccinated, White House COVID-19 response coordinator Jeff Zients said Wednesday.
At least 1.9 million 5–11 year-olds have had COVID-19, the CDC said last week.
What they're saying: "As we have discussed, our program for kids ages 5–11 is hitting full strength this week," a White House official said.
"Parents and families across the country are breathing giant sighs of relief. And we are just getting started."
The big picture: There are approximately 20,000 pharmacies, clinics, hospitals and physicians' offices administering the vaccine, and the White House said there are already 700,000 future appointments scheduled through pharmacies alone.
The White House said it is working with governors, health care providers and local leaders to "build on this progress."
Minnesota has set up 1,100 vaccination sites, including at the Mall of America, which can vaccinate 1,500 kids a day.
There are more than 1,000 clinics planned in schools, "including early morning hours before the workday and school day."
"Nationwide, 114 children's hospitals are now offering vaccinations and engaging their communities — with many hosting family-friendly vaccination events, featuring stickers, pets and stuffed animals," the White House added.
Go deeper