The hybrid future of conflict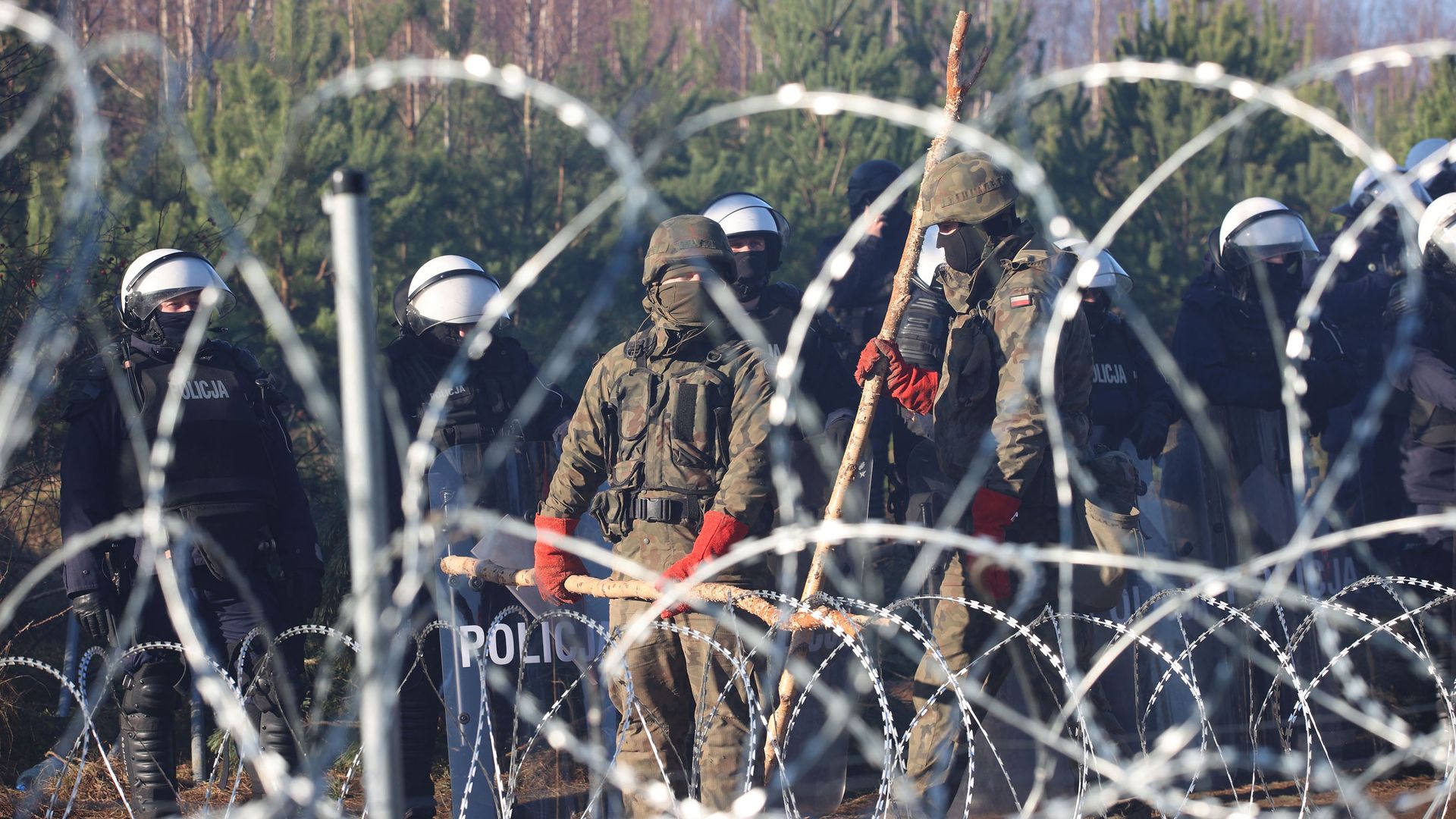 Two events over the past week — an attempted drone assassination and a partially engineered migrant crisis — show the changing nature of conflicts.
Why it matters: Outright wars between states remain extremely rare, but new technologies and strategies are enabling countries and groups to wage conflict by other, hybrid means.
Driving the news: On Sunday, Iraqi Prime Minister Mustafa al-Kadhimi survived an assassination attempt after armed drones targeted his residence in Baghdad.
Reuters, citing Iraqi security officials, later reported the attack was carried out by at least one Iran-backed militia, though likely without the sanction of the Iranian government.
In Poland, hundreds of migrants tried to storm the border from Belarus in what a Polish security official said was a campaign engineered by the Belarusian government as a "hybrid attack" against Poland.
The big picture: Both events demonstrate the new tools available to wage asymmetric, often deniable conflicts without the use of a single soldier.
The U.S. began the global war on terror with a near monopoly over armed drones, but today more than 100 militaries have some level of armed or unarmed drone capability as the technology has become cheaper and more widespread.
Drones — which put no soldiers at risk and often bear no identification — are particularly worrying as weapons of targeted assassination, especially as they become more autonomous.
German spokesperson Steffen Seibert has said Belarus — which has come under sanctions from Poland and other EU members — "instrumentalizes refugees and migrants" in an effort to destabilize the EU.
Of note: Belarus insists the migrants are merely exercising their rights as refugees, though it's worth noting that hybrid war — a blend of conventional and political warfare — is specifically meant to operate in a gray zone of plausible deniability.
The bottom line: In the future, the fog of war will only get denser.
Go deeper