Democratic senators push bill to halt deportations of U.S. veterans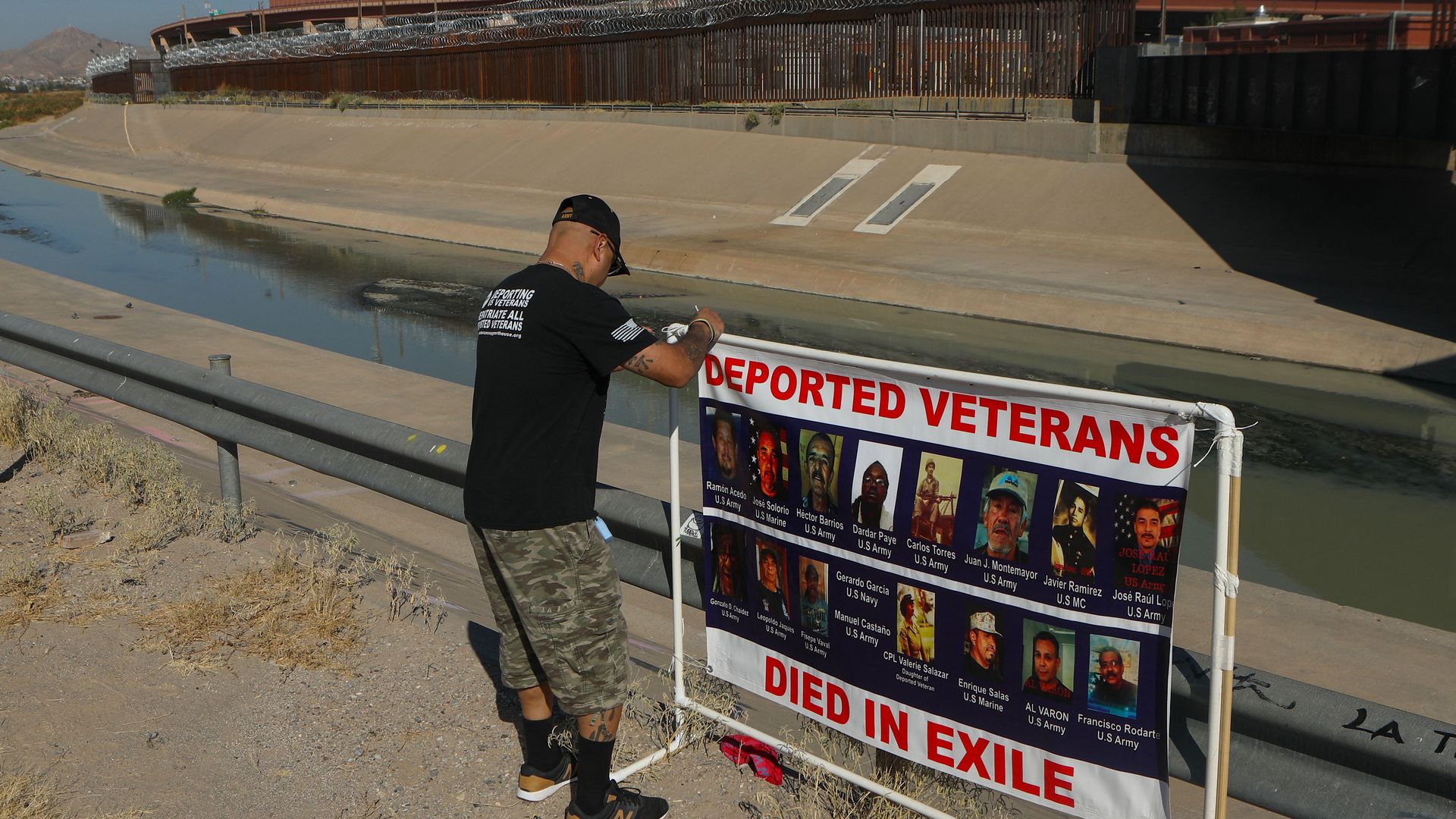 A group of Democratic U.S. senators announced Wednesday a bill that would stop the deportations of some immigrant veterans.
Why it matters: The proposal, similar to a House version, would help prevent deportations of noncitizen veterans, provide pathways to citizenship for some immigrant service members and their families and allow deported veterans to return home to the U.S.
The bill's introduction comes after the Biden administration announced in July a plan to allow immigrants who served in the U.S. military and were later deported to return legally to the U.S.
The U.S. Department of Homeland Security said it would halt all pending deportation proceedings against veterans or their immediate family members.
But, but, but: Rebecca Sheff, an attorney at the ACLU of New Mexico, said the Biden administration's order can be reversed by another administration and only new legislation can protect immigrant veterans long term.
The big picture: An estimated 1,000 U.S. military veterans — many Latino — live in foreign lands, their return to the country they defended in limbo because of their immigration status.
An immigration bill signed by President Bill Clinton in 1996, and aggressively enforced by President Barack Obama retroactively, sought to deport immigrant veterans even convicted only of misdemeanors like driving under the influence or disorderly conduct.
Many of the veterans targeted for deportation saw combat and have post-traumatic stress disorder.
Details: Under the new proposal, a Military Family Immigration Advisory Committee would make recommendations on whether noncitizen veterans or their families facing deportation should be granted a stay of removal, deferred action, parole or be deported.
The also bill would allow the Department of Homeland Security to transfer removal cases of immigrant veterans to the new committee for review.
In addition, it would include a pathway to citizenship for military service members, and their spouses and children through a joint program between the Department of Defense and the Department of Homeland Security.
What they're saying: "The United States has an obligation to support veterans and their families, regardless of immigration status," Sen. Alex Padilla (D-Calif.) said in a statement.
"Since the founding of our nation, citizens and non-citizens have served together in the United States military, fighting side by side in defense of our nation and our values. We cannot disregard their service and sacrifice."
Rep. Ruben Gallego (D-Ariz.), an Iraq War veteran, also said on an Axios Latino event Wednesday he was committed to stopping the deportations of veterans.
"Many of them are getting deported because of PTSD. A lot of them came back and self-medicated themselves because [the Department of Veterans Affairs] wasn't ready to accept them."
An emotional Gallego said the only VA benefit veterans get after they've been deported is that they get to return in a flag-drabbed coffin to be buried back in the U.S.
Don't forget: A VOCES/PBS documentary scheduled to air on most PBS stations this week focuses on two brothers, both Mexican immigrants, who fought in the Vietnam War on behalf of the U.S. and were honorably discharged. Now both face deportation because of minor crimes.
"American Exile" follows retired U.S. Marine Lance Cpl. Manuel Valenzuela and former U.S. Army Sgt. Valente Valenzuela as they fight removal orders and help other veterans who have been deported.
Go deeper