An unlikely college basketball powerhouse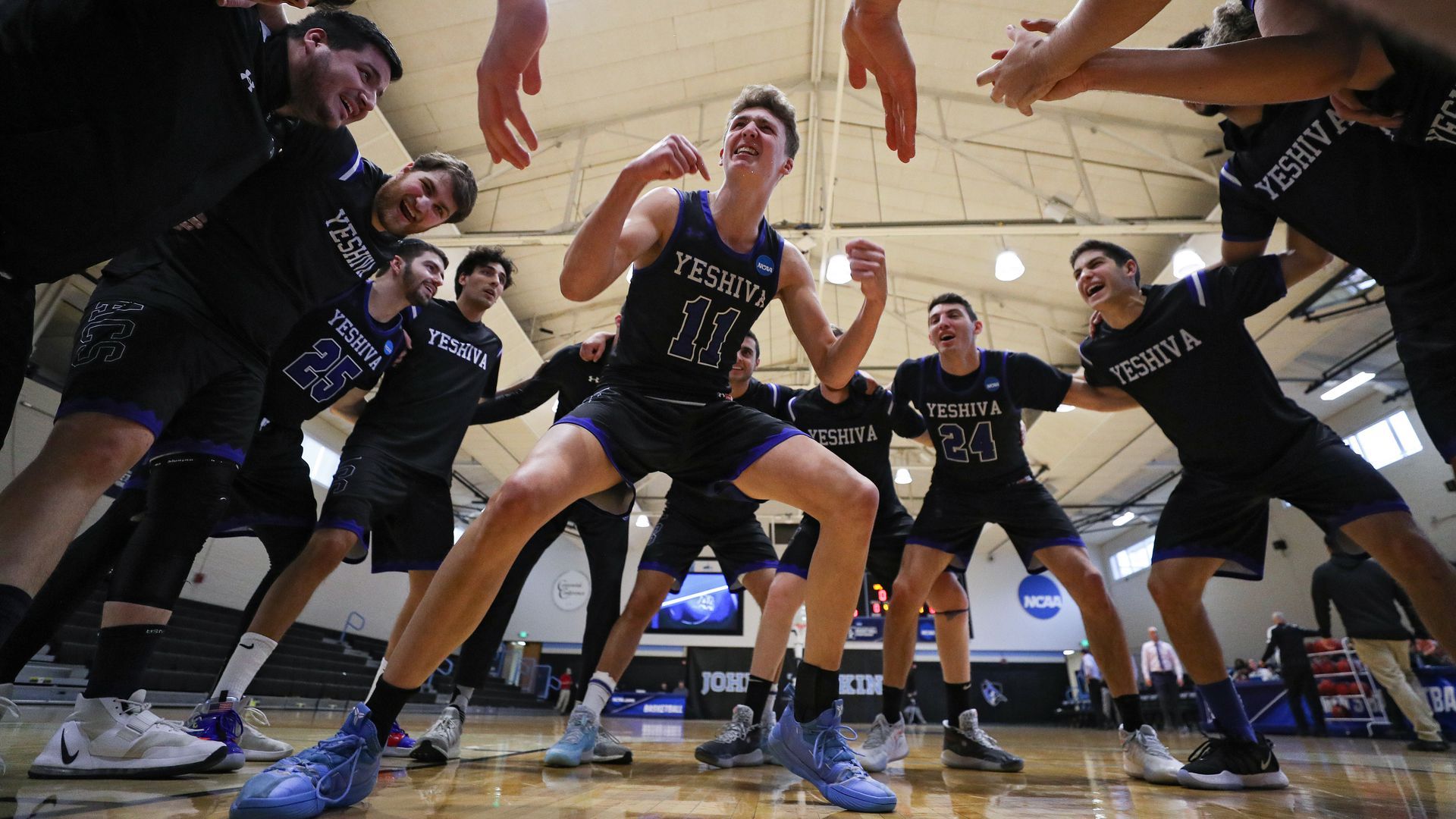 Yeshiva University brings a 38-game winning streak into its home-opener Wednesday night against Eastern Connecticut State.
Why it matters: That's the longest winning streak across all levels of men's college hoops, making the tiny Upper Manhattan institution an unlikely D-III powerhouse.
The backdrop: Yeshiva (~2,500 undergrads) began as a Jewish elementary school in the 1880s before becoming a rabbinical seminary and later an accredited college in 1928.
Students don't have to be Jewish, but most are, as the dual curriculum includes daily secular and religious studies, plus morning prayer.
The Maccabees play in the Skyline Conference, comprised of 12 small schools in New York.
The big picture: The story here is similar to that of D-II powerhouse Northwest Missouri State, which emerged from obscurity after hiring a former player as head coach.
Elliot Steinmetz, 41, played for Yeshiva from 1999-2002 and became coach in 2014. Their last winning season before his arrival was in 2007, but he's led them to winning seasons every year since.
In 2020, Steinmetz was named coach of the year, leading the Maccabees to the Sweet 16 before the pandemic wiped out the rest of the tournament.
"With most opponents, the guy with the ball is the danger. With Yeshiva, it's the four guys without the ball," said one opposing coach of Steinmetz's kinetic motion offense.
Between the lines: Every team needs its star, and Yeshiva has a particularly bright one in six-foot-seven-inch senior guard Ryan Turell.
Turell's career stats are eye-popping, averaging 23 points while shooting 44% from deep, but it was one game in particular that really put him on the map.
On March 6, 2020, Yeshiva played the first fan-less sporting event of the pandemic. When NBA execs tuned into the livestream to get a glimpse of bubbled basketball, they saw Turell drop 41 points (13-16 FG, 7-9 3PT).
Looking ahead: Duncan Robinson is the only current NBA player who started in D-III (Williams) before making the league. Turell hopes to join him there, while also becoming the NBA's first Orthodox Jew.
"I want to be a Jewish sports hero."
— Ryan Turell
Go deeper