Nap apps and smart bassinets hook new parents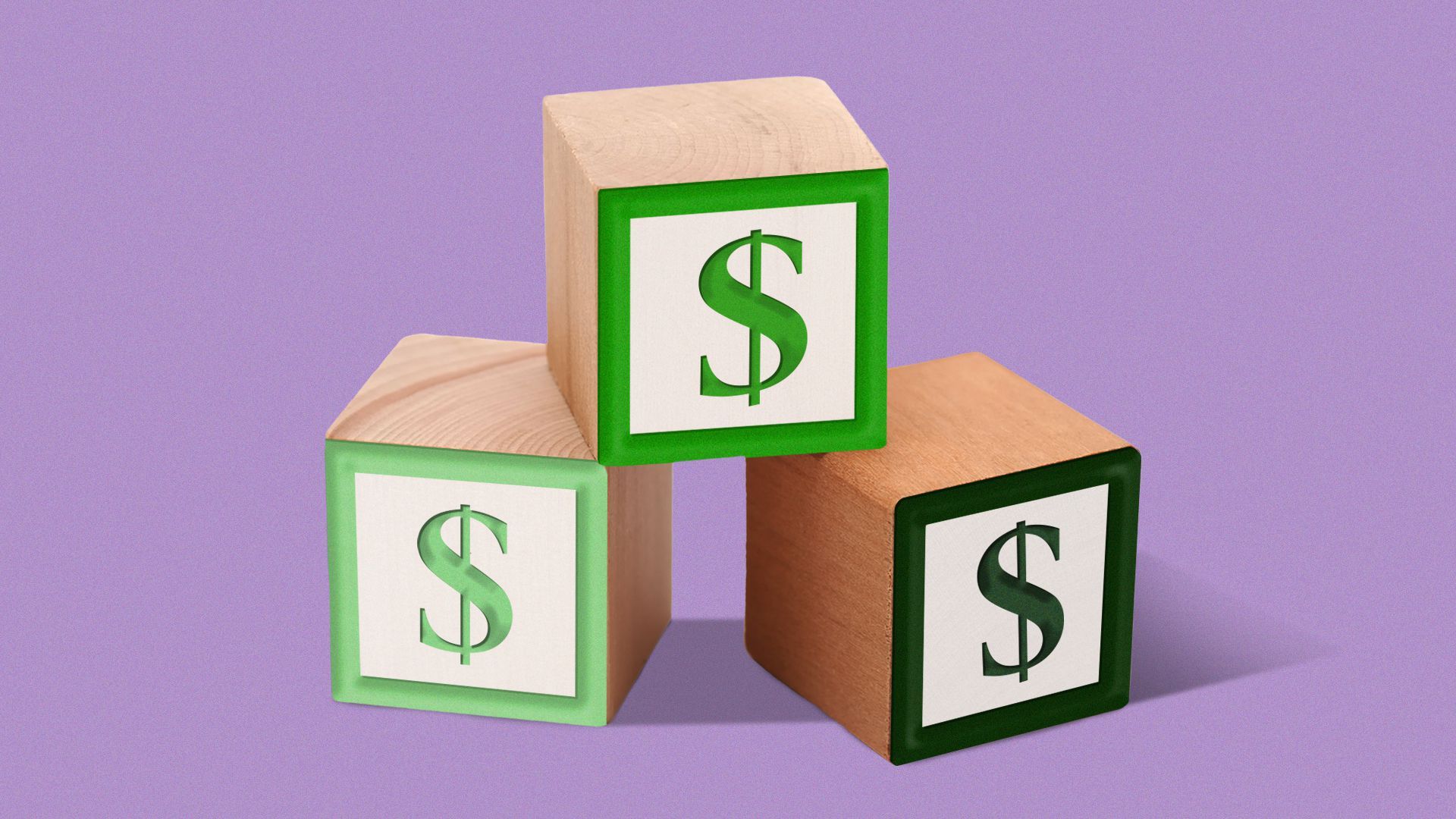 There's a booming market for startups with products that predict when newborns will nap — or that bring on the naps via data-driven rocking — as often frenzied parents turn to tech to help raise their children.
Why it matters: There have never been more "smart" products available to help parents and families welcome a child. But we're only beginning to understand the potential costs and benefits of using software to rear a new generation.
What's happening: An increasing number of parents are using apps and products to make sense of their babies' schedules — and to get them to sleep more. Investors are taking note, as some of these businesses grow their user bases and increase sales.
Huckleberry, an app which the company says has served 1.2 million families, tracks a baby's feedings, diaper changes, naps, medicine intake, growth and more. The company announced a $12.5 million Series A funding round last week led by Morningside Ventures, bringing their fundraising total to $16 million.
Happiest Baby Inc., makers of the Snoo "smart bassinet" that rocks and soothes fussy babies to increase sleep, is exploring an IPO and could be valued at about $1 billion, Bloomberg reported Monday.
Cradlewise, another "smart crib," just announced a $7 million seed round led by Footwork, TechCrunch reported Tuesday.
By the numbers: The past five years have seen the number of VC deals for U.S. baby startups grow from 32 in 2o16 to 59 in 2021, according to data compiled by PitchBook for Axios. Total deal value climbed from $182 million to $491 million.
PitchBook data shows baby food startups have had the most lucrative deals, along with BabyList, an online baby gift registry. Other high-grossing deals include organic formula companies, smart monitor device makers, baby clothing marketplaces and AI sleep tracking products.
What they're saying: Christina Farr, a former health tech journalist turned venture capitalist with Omers Ventures, said an increase of women and parents in venture capital is translating to more "family tech" and parenting apps getting funded.
"I think having more of those people, even though it's still a tiny drop in the ocean, probably switched on a lot of funds to thinking more about child care services for coordinating between kind families," Farr told Axios.
"Originally it was like [with investors]: 'people love it, but will they pay? And is there a market?'" said Jessica Toh, CEO of Huckleberry. "With the pandemic, it really brought to the forefront how important it is to help families. It changed the mindset."
Yes, but: Not all baby tech provides immediate relief for parents, and can provoke anxiety where there doesn't need to be any. And it can be expensive, further exacerbating inequities among parents of different socioeconomic status.
Technologies that track babies' breathing can stress out parents who don't have a medical need to do such tracking, said Leslie Shrock, author of the book "Bumpin': The Modern Guide to Pregnancy."
"A lot of those things just keep parents from sleeping," Shrock told Axios. "What I don't get excited about is parents who have no medical need micromanaging their babies."
Reality check: Though many apps are free, premium versions of apps with more services cost money, and monitors and smart bassinets are extremely costly. For example, the Snoo costs $1,595.
Huckleberry has a free version but its signature feature, predicting when a baby should nap, is only included in paid versions. The app also has a financial hardship program.
"Our mission is to be able to help parents relieve stress and serve as a second brain, rather than adding on more stress," said Toh. The company doesn't sell any ads to protect privacy, she said.
What's next: Farr said she thinks technology that manages family calendars and scheduling, along with child care apps, will grow in popularity.
"It's crazy to me we have this extensive system of organizing our lives when it comes to work, but none of it integrates to home," she said.
Farr said child care apps will grow, buoyed by women leaving the workforce in droves from lack of child care during the pandemic, and low spending from the U.S. government on child care.
My thought bubble: As a new mom and user of some of these apps and services, I vacillate between finding them eerily accurate and being stressed if I forget to input my baby's feedings or naps, worried I will get a notification that I've starved my child.
But when they have offered me an interesting insight or gave me a couple more hours' sleep, I am grateful.
Go deeper