Organ donation recovery rates worse for people of color, data show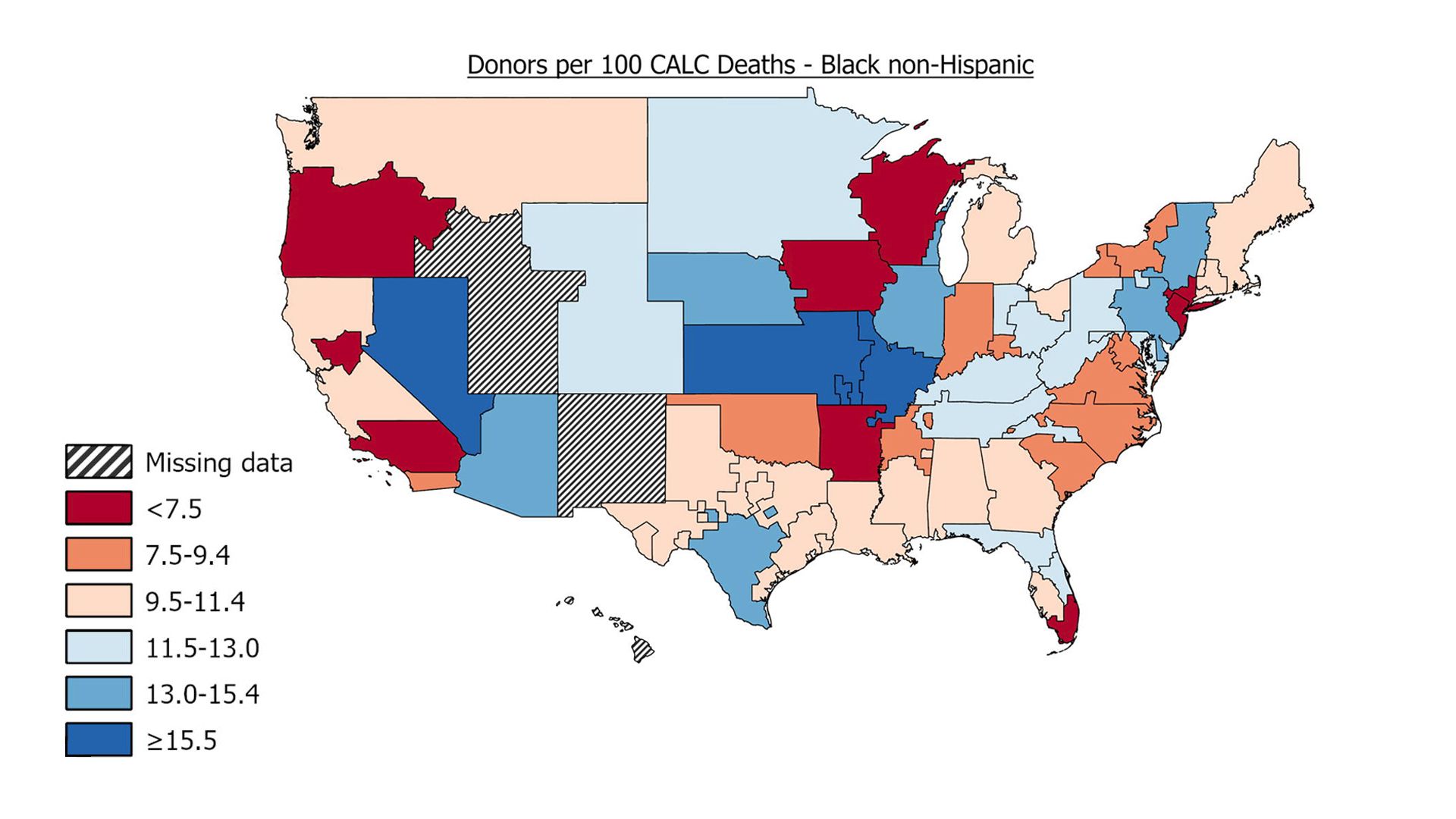 Organ donation success rates for people of color, especially for Black Americans, vary widely across the U.S. compared to white people, even in neighboring cities, according to an analysis of recently released 2019 CMS data.
Why it matters: Fewer Black donors correlates to fewer Black recipients, which has led to more Black dying on the organ transplant waitlist.
In the past, same-ethnicity donors and recipients have been found to be more likely to be clinical matches for transplant, authors in Health Affairs write.
"There are people who would medically benefit from a liver transplant or a kidney transplant who may not get to it because of either their personal or social, financial status or because of the conditions in their state. And so those things need to be addressed," Ray Lynch, transplant surgeon at Emory University and analyst of the latest dataset, tells Axios.
The big picture: The CMS data, which Lynch and others analyzed, is considered to be the first of its kind in showing how well an organ procurement organization (OPO) is doing in recovering organ donations by race and ethnicity.
Many OPOs with large numbers of people of color perform well. But gaps in community outreach and lack of cultural sensitivity by some organizations can be detrimental to families of color, Lynch said.
By the numbers: Overall, organ recovery rates for people of color across the U.S. is worse compared to white donors, with an eight-fold difference in the recovery of Asian donors and a 10-fold difference in Black donors, data show.
There are several organ procurement organizations in the U.S. that have the lowest-performing metrics for Black donors.
Iowa, for example, is nine times worse at recovering organs from Black donors than eastern Missouri despite being a neighboring state.
Los Angeles is half as likely to recover organs from Black donors than in San Francisco.
Be smart: Advocates and surgeons in the field see this as an outreach and education problem and not as an issue that certain races and ethnicities are more enthusiastic to be organ donors than others.
Go deeper