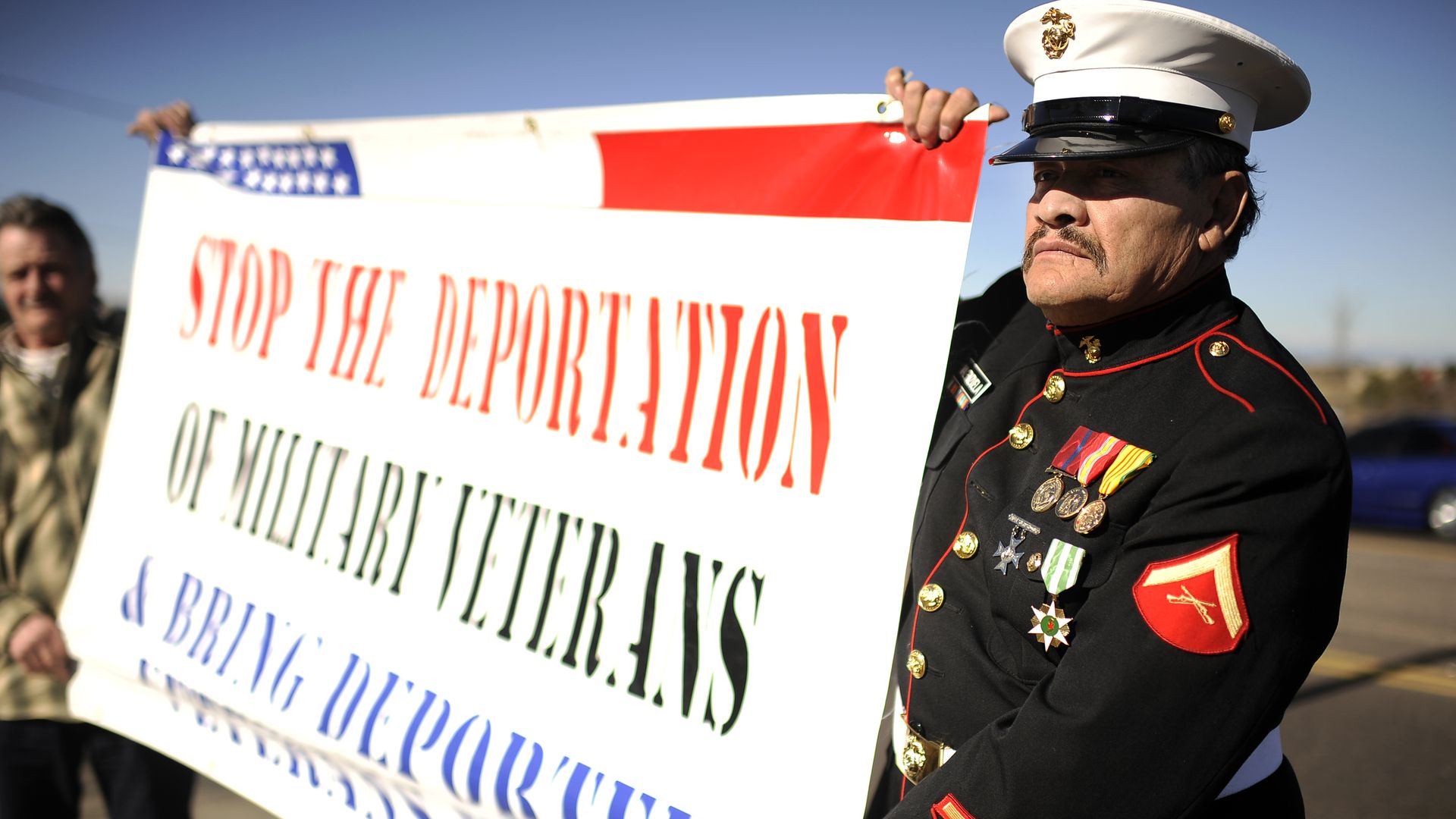 An estimated 1,000 U.S. military veterans — many Latino — live in foreign lands, their return to the country they defended in limbo because of their immigration status.
The big picture: A VOCES/PBS documentary scheduled to air on most PBS stations this week focuses on two brothers, both Mexican immigrants, who fought in the Vietnam War on behalf of the U.S. and were honorably discharged. Now both face deportation because of minor crimes.
"American Exile" follows retired U.S. Marine Lance Cpl. Manuel Valenzuela and former U.S. Army Sgt. Valente Valenzuela as they fight removal orders and help other veterans who have been deported.
As they tour the country, they meet families of veterans who faced deportation or whose loved ones now live in exile because of deportation.
Details: An immigration bill signed by President Bill Clinton in 1996 and aggressively enforced by President Barack Obama retroactively sought to deport immigrant veterans even convicted only of misdemeanors like driving under the influence or disorderly conduct.
Many of the veterans targeted for deportation saw combat and have post-traumatic stress disorder.
Governors can pardon immigrant veterans and pave the way for their return to the U.S., but the process can take years.
The intrigue: A U.S. Government Accountability Office report revealed that an estimated 92 veterans were deported from 2013 to 2018.
Yes, but: Groups representing deported veterans say that number is much higher and also doesn't take into account veterans who aren't allowed back into the country because of the 1996 law.
Many of them return to countries they left as children, where they don't know the language or struggle to get needed medication.
Veterans For Peace, a group that brings attention to deported veterans, says its networks have over 120 chapters across the United States and abroad.
What they're saying: "The veterans we see getting deported...they are all people of color," John Valadez, the director of "American Exile," said last week during a virtual panel discussion about the film.
"This new phenomenon (is) tied to changing demographics and the rise in white supremacy."
Valadez spent eight years with the Valenzuela brothers on the project.
Don't forget: In July, the Biden administration announced a plan to allow immigrants who served in the U.S. military and were later deported to return legally to the U.S.
But, but, but: Rebecca Sheff, an attorney at the ACLU of New Mexico, said the Biden administration's order can be reversed by another administration and only new legislation can protect immigrant veterans.
By the numbers: Hispanics are the fastest-growing population in the military, making up about 16% of all active-duty military, according to the U.S. Department of Defense.
It is not known how many of those Latinos serving are U.S.-born or immigrants.
Latinos make up 17% of active-duty members in the U.S. Army.
Nearly 1 in every 4 Marines today is Hispanic — over 52,000.
Over 67,000 Hispanics serve in the U.S. Navy — more than 16% of the fleet.
As of 2020, 15.6% of the 329,839 active-duty Air Force members are of Hispanic or Latino descent.
Be smart: Various versions of the DREAM Act proposed in Congress over the last 20 years have included a pathway to citizenship for undocumented immigrants through military service or college education.
Go deeper