Obama's COP26 wake-up call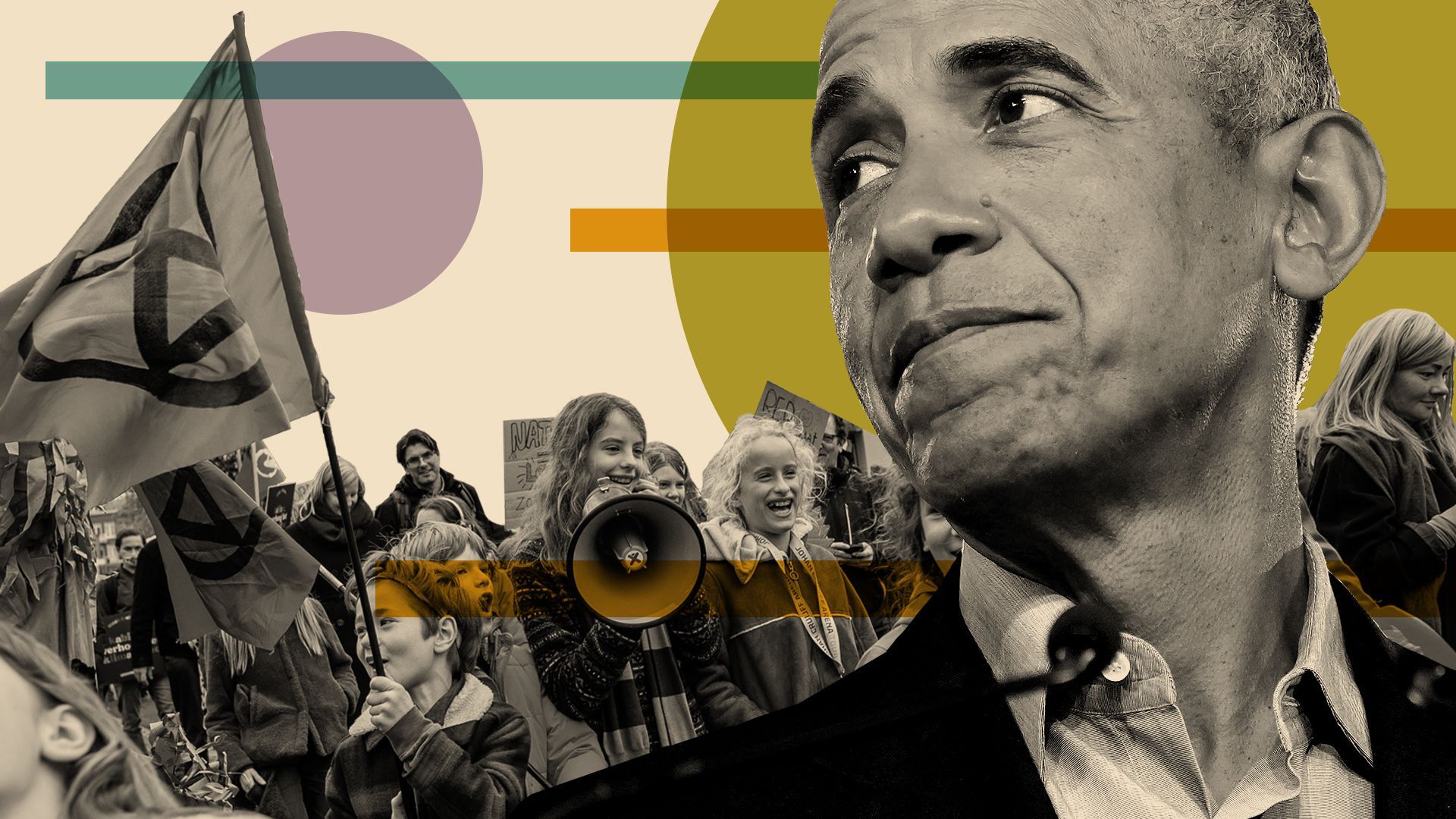 GLASGOW, Scotland — Depending on the final outcome of COP26, former President Obama's stemwinder of a speech here on Monday, along with other appearances through Tuesday, will either be viewed as successful calls to action or insufficient for moving climate negotiators who are too entrenched in their positions.
Why it matters: Obama's speech had three key elements worth paying attention to in order to fully understand the ultimate COP decisions at the end of this week (or early next, if the talks go into overtime).
Since Obama was president, fundamental questions have been raised about America's role in the world, including its reliability in multilateral forums like the climate negotiations.
In addition, young people have taken to the streets in growing numbers to protest the climate crisis, a trend seen again over the weekend in Glasgow and beyond.
At the same time, geopolitical tensions have coarsened America's relationships with Russia and China, in particular.
The speech was in many ways a chance for Obama to share his thinking on each of these topics.
The intrigue: Obama's decisions about who to meet with at COP26, including an intergovernmental alliance fighting for a more ambitious deal, says a lot about who he thinks top officials should be listening to.
Obama spent time at COP meeting with the most vulnerable nations to climate change, including the small island countries whose very existence is in jeopardy due to rising sea levels.
At the invitation of the State Department, Obama also met with members of the High Ambition Coalition, which includes the U.S. The coalition has called for a doubling of climate adaptation funding and the setting of new emissions targets as early as next year, rather than the currently planned date of 2025.
On Monday, the coalition added 13 new signatories to its COP26 statement, including Canada, Italy and Austria, bringing the total to 40.
Quick take: Obama's message was that climate change is an issue that should transcend geopolitical tensions, and he called out China and Russia for failing to set stronger emissions targets.
"It's not just that we can't afford to go backward. We can't afford to stay where we are. The world has to step up, and it has to step up now," Obama said.
Obama spoke to the hundreds of thousands of young people who joined climate marches over the weekend, telling them to channel their anger and frustration into action.
He also said simply preaching to the converted will not win lasting change. Only winning over some of those who disagree, or convincing the indifferent, will lead to systemic change on climate issues, he added.
"I want you to stay angry. I want you to stay frustrated," he said. "Keep pushing harder and harder for more and more, because that's what's required to meet this challenge."
What we're watching: Obama spoke at COP on the first day of the second week of talks, and on a day that was dedicated to "loss and damage," which has been a dealbreaker at past COPs, and adaptation finance.
There was progress on Monday on adaptation finance, with COP president Alok Sharma announcing that $232 million was committed to the adaptation fund, which helps developing countries adapt to climate impacts.
It remains to be seen whether Obama's call for swift action, and his lament that the ratcheting up of countries' emissions-cutting ambitions in the wake of the 2015 Paris Agreement has not "happened evenly," will be reflected in the final summit deal.
Go deeper