New report warns COP26 negotiators that new pledges are inadequate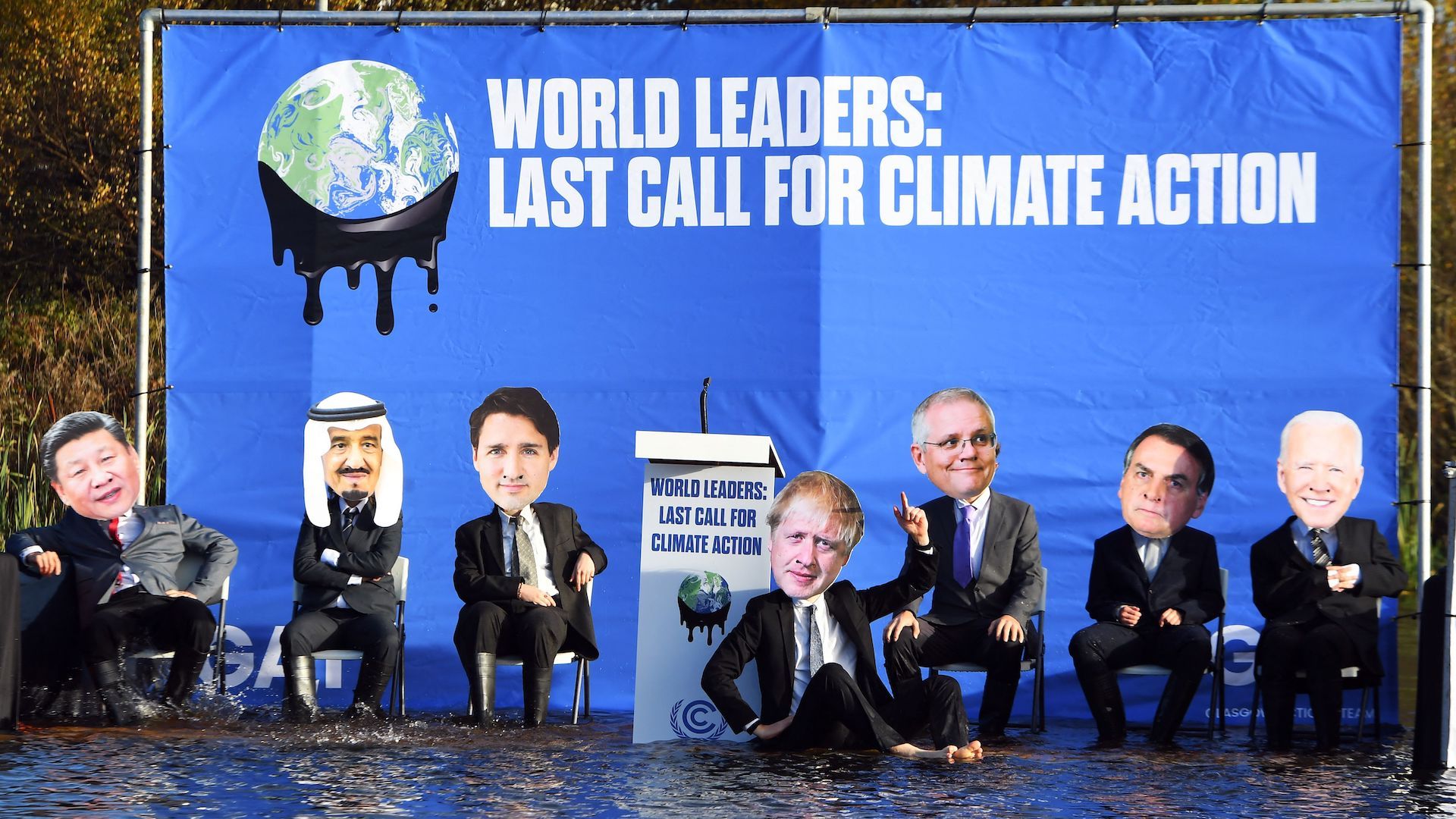 GLASGOW, Scotland -- A new analysis released during the COP26 climate summit finds that despite additional countries' pledges to cut greenhouse gas emissions by 2030 and reach net zero by 2050, nations are still on a course to be emitting twice the amount of greenhouse gas emissions in 2030 than would be consistent with the Paris Agreement's more ambitious temperature target.
Why it matters: As negotiators work this week to hammer out the text of a climate agreement, they are now more aware of the large gap that exists between commitments to date and what is needed to avert far worse climate change impacts.
Driving the news: The new analysis comes from the Climate Action Tracker, a nonprofit group that keeps tabs on nations' pledges to cut emissions and calculates the climate change that would result if those voluntary commitments are met.
The group found that the world is now on a path to warm by 2.4°C (4.32°F), when looking only at 2030 targets. However, based on a continuation of current policies (i.e. what's happening in the real world), the group found the globe will likely warm by about 2.7°C (4.86°F) compared to preindustrial levels by 2100.
Such warming would be inconsistent with the Paris Agreement's target of keeping warming to "well below" 2°C, with the stretch goal of limiting it to 1.5°C.
The negotiations in Glasgow are aimed in large part at keeping the 1.5-degree goal viable, with officials speaking of keeping "1.5 alive."
"Even with all new Glasgow pledges for 2030, we will emit roughly twice as much in 2030 as required for 1.5 [degrees]," the Tracker's analysis states.
The intrigue: The new numbers are already being discussed in Glasgow, adding additional urgency to the work of negotiators from nearly 200 countries.
"There have been obviously a number of reports that have come out over the past few days and I suspect there will be further reports that come out," COP President Alok Sharma said at a press conference Tuesday. "What I think they will be demonstrating is that there's been some progress but clearly not enough."
The bottom line: The net zero targets, which more than 140 countries have announced, are subjected to particular scrutiny in the Tracker's analysis, since most countries have not offered plans to get from where they are today to net zero.
"It's all very well for leaders to claim they have a net zero target, but if they have no plans as to how to get there, and their 2030 targets are as low as so many of them are, then frankly, these net zero targets are just lip service to real climate action, said Bill Hare, CEO of Climate Analytics, a Climate Action Tracker partner organization, in a statement. 
"Glasgow has a serious credibility gap."
Go deeper