Vaccine mandates inflame the culture wars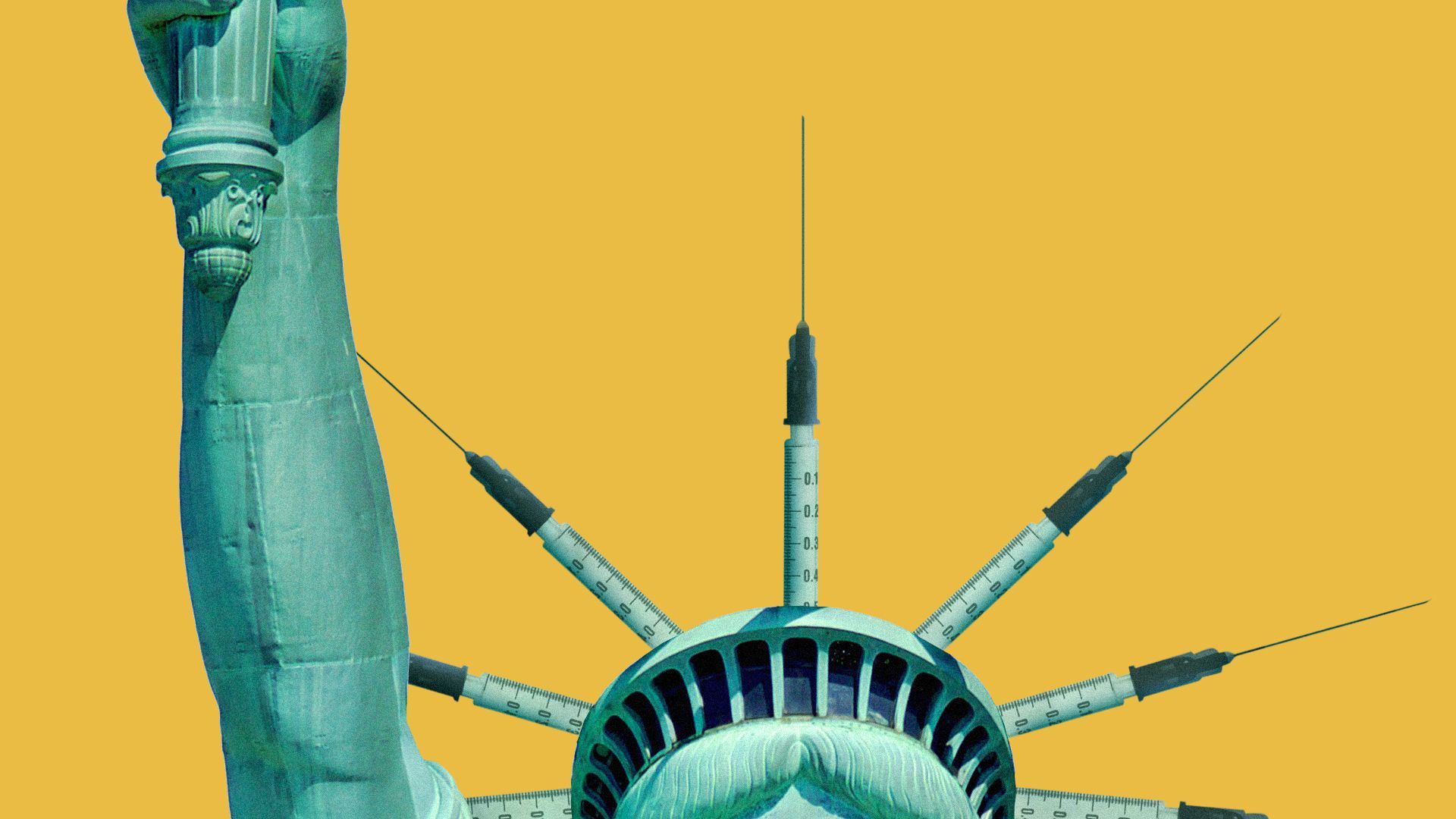 The brewing culture war over vaccine mandates now threatens to boil over after the Biden administration set a January deadline for all employers with more than 100 employees to require shots or regular testing.
Why it matters: The planned mandates — which also include even more stringent standards for health care workers —would impact more than 100 million Americans, or more than two-thirds of the workforce.
Driving the news: Lawsuits from 15 GOP-led states rolled in mere hours after the administration last week laid out Jan. 4 as the deadline for vaccine mandates at employers with more than 100 workers.
A federal appeals court on Saturday stayed enforcement of the Biden administration's private-employer vaccine mandate, contending it raises "grave statutory and constitutional issues"
Even a Democratic governor, Kansas' Laura Kelly, released a statement criticizing the mandates as not the "most effective" or "correct" for her state.
The other side: U.S. Surgeon General Vivek Murthy took to ABC's "This Week" on Sunday to defend the Biden administration's mandate plan as a workplace safety and economic issue.
"It's important we take every measure possible to make our workplaces safer," he said. "It's good for people's health, it's good for the economy, and that's why these requirements make so much sense."
But, but, but: NFL quarterback Aaron Rodgers took the mantle as a foil to employer vaccine mandates and COVID-19 protocol after it was revealed he was unvaccinated. He'd previously told reporters he was "immunized."
He defended his decision not to get vaccinated on talk radio over the weekend and said the protocols were aimed at shaming people. "They're purely trying to out and shame people," Rodgers said.
Now the Green Bay Packers are facing new scrutiny around how they handled their COVID-19 protocols aimed at keeping players and staff safe.
The big picture: A recent Axios-Ipsos poll found six in 10 employed Americans agreed their employer should require COVID vaccinations.
But they do not agree on what should happen for those who don't comply. Support for firing employees was low, at 14%.
Americans are torn on whether nothing should happen (25%), employers should place them on unpaid leave (23%), or require them to work from home or an alternate location (20%), the poll showed.
Between the lines: As Axios' Jennifer Kingson wrote, employer vaccine mandates have already impacted millions of workers, and — rather than leaving in droves — most have either decided to get the shot or have taken advantage of wiggle room offered by their employers.
But vaccine mandates are also sparking deep divides at some employers, as well as within families, as deadlines pass, the Washington Post reported over the weekend.
What we're watching: A mandated deadline for about 4 million federal workers — coming up on Nov. 22 — could give us a glimpse at how the broader mandates may play out.
And of course, we'll also likely see how this plays out in real time at Thanksgiving celebrations where many Americans will work out whether or not to have mandates of their own.
"People who get vaccinated can also be self-righteous, and some people who haven't been vaccinated can be belligerent," Noel Brewer, a professor specializing in health behaviors at the University of North Carolina at Chapel Hill, told the New York Times. "That could really be a combustible mix."
Go deeper