Obama at COP26: America is "back"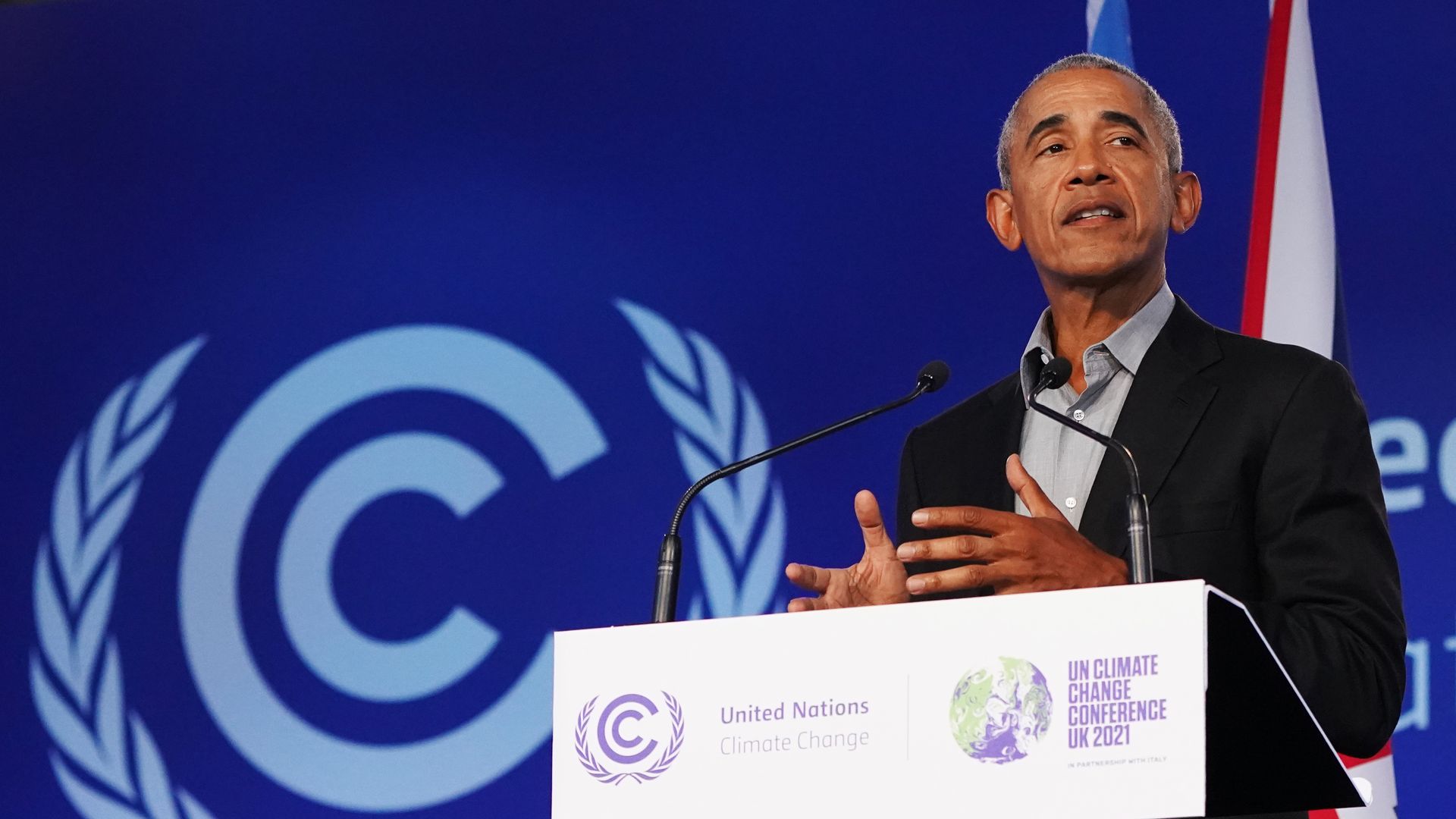 Former President Obama told the COP26 conference Monday that the "U.S. is back" and "once again engaged" in leading the fight against climate change, following four years of "hostility toward climate science" from the Trump administration.
Driving the news: Obama said he "wasn't really happy" with former President Trump's decision to pull the U.S. out of the Paris climate accord. But despite Trump's actions, Obama said, local and state governments, along with regulations from his administration, "allowed our country to keep moving forward."
"So despite four years of active hostility toward climate science coming from the very top of our federal government, the American people managed to still meet our original commitment under the Paris agreement," he said.
"[N]ow, with President Biden and his administration rejoining the agreement, the U.S. government is once again engaged and prepared to take a leadership role."
The big picture: Obama admitted there is still a lot of work to do. "Paris showed the world that progress is possible. ... That is the good news," he said. "Now for the bad news: We are nowhere near where we need to be."
Turning to domestic policy, Obama said he was "convinced that President Biden's Build Back Better [legislation] will be historic and a huge plus for U.S. action on climate change."
"But keep in mind Joe Biden wants to do even more. He is constrained by the absence of a robust majority that's needed to make that happen."
State of play: The former president, speaking directly to young people, urged them to vote for politicians who will stand against climate change: "[T]he cold, hard fact is we will not have more ambitious climate plans coming out of governments unless governments feel some pressure from voters."
"Don't think that you can ignore politics. You don't have to be happy about it, but you can't ignore it. You can't be too pure for it," he added.
Obama advised young people to pressure companies to take action against climate change: "Members of your generation have already shown you're willing to pay for products that you believe are responsible and responsive to the climate challenge and that you're also willing to avoid those companies that are actually making climate change worse."
He said that young people have the ability to reward companies who take action by telling them "they have a chance to win loyal customers and employees, and they conversely will lose customers and top-flight employees if they're not on the right side. That's part of your power, you need to use it."
The bottom line: "So to all the young people out there, as well as those of you who consider yourselves young at heart, I want you to stay angry. I want you to stay frustrated," Obama said.
"Keep pushing harder and harder for more and more, because that's what required to meet this challenge."
Of note: Obama's speech lasted for over 45 minutes, with the former president speaking longer than any current world leader who has addressed the summit so far.
Go deeper: What to know about COP26 in Glasgow
Editor's note: This story has been updated to correct a quote from Obama, who said young people have shown they are "willing to avoid those companies that are actually making climate worse."
Go deeper