Jan. 6 committee subpoenas high-profile Trump allies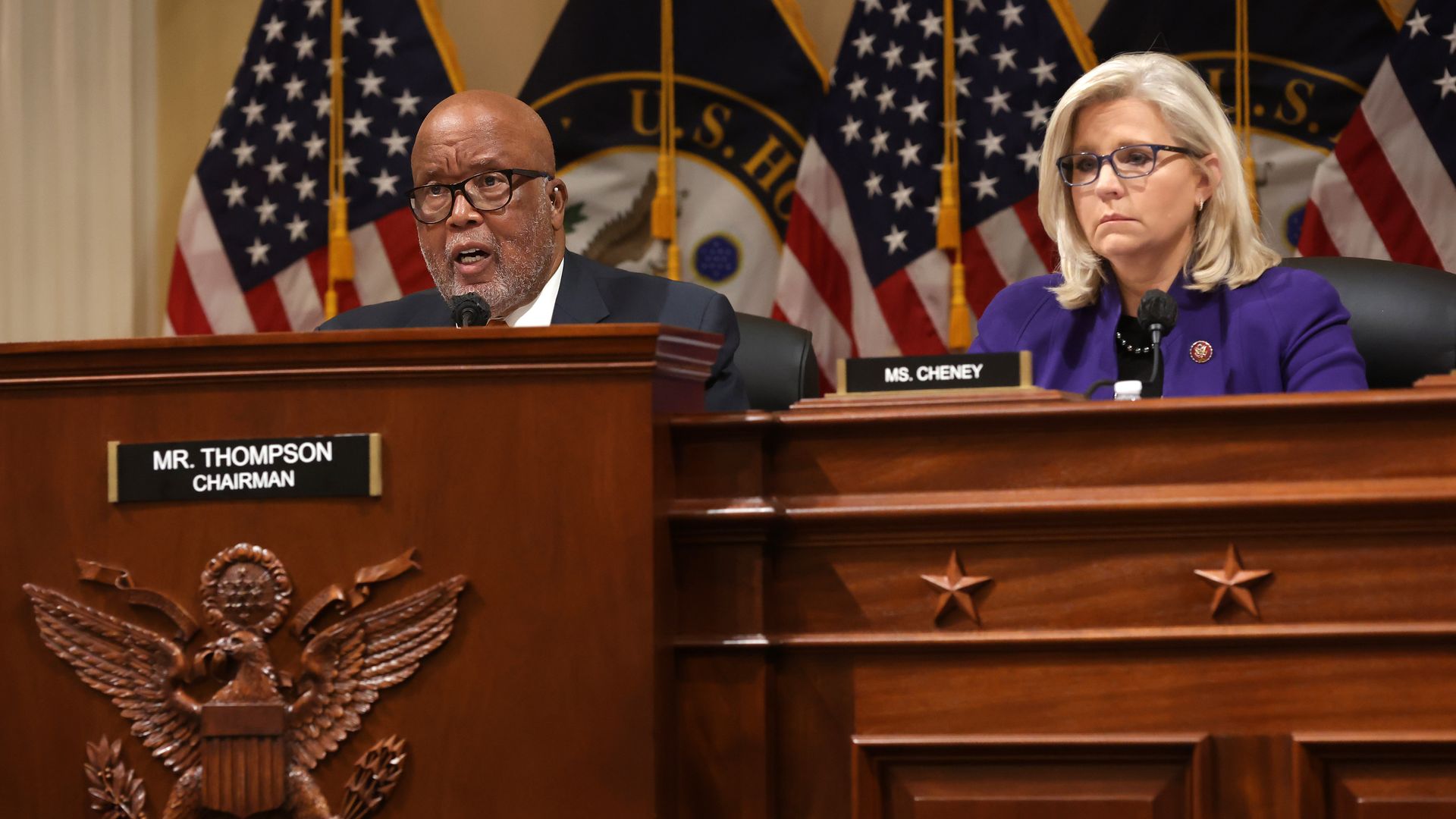 The select committee investigating the Jan. 6 riot on the Capitol has issued its latest batch of subpoenas, this time to prominent allies of former President Trump, many of whom were involved in efforts to stop the certification of President Biden's win.
Why it matters: The latest subpoenas include the president's former campaign manager and lawyer, among others, and provide insight into the scope of the committee's investigation and indicate that it is continuing to pick up steam.
The subpoenas were issued to Bill Stepien, Jason Miller, Angela McCallum, John Eastman, Michael Flynn, and Bernie Kerik.
The details: Notable among the recipients of the subpoenas is Eastman, a member of the then-president's legal team who reportedly tried to convince then-Vice President Mike Pence that he could overturn the election results.
The committee says that Jason Miller, a senior advisor to Trump's 2020 reelection campaign, publicly spread lies about the integrity of the election results. He purportedly participated in a Jan. 5 meeting during which Rudy Giuliani and Steve Bannon "discussed options for overturning the results" of the presidential election. Bernie Kerik was also in that meeting, according to the committee.
Michael Flynn reportedly attended a meeting in the Oval Office on December 18th, 2020 during which measures like seizing voting machines and declaring a national emergency around the election results were discussed.
The committee cites a phone recording left by Angela McCallum for a Michigan state representative. In the recording, McCallum tells the representative that he or she had the authority "to appoint an alternate slate of electors based on purported evidence of widespread election fraud."
Bill Stepien was Trump's campaign manager for the 2020 reelection. "The campaign reportedly urged state and party officials to affect the outcome of the November 2020 election by asking states to delay or deny certification of electoral votes and by sending multiple slate of electoral votes to the United States Congress," the committee writes.
Thought bubble: Besides Steve Bannon, a former Trump ally who refused to comply with the subpoena issued to him by the committee, witnesses are showing a willingness to testify, Axios' Zach Basu reported.
Four years of investigative stonewalling by the Trump administration had a demoralizing effect on Democrats, but the quiet compliance shows a committee investigation is still feared — and has some clout.
Recently, committee c0-chair Rep. Liz Cheney (R-Wyo.) told Politico that the committee had already interviewed over 150 people.
Editor's note: This story has been corrected to show Rep. Liz Cheney's correct party affiliation, R-Wyo., not D-Wyo. 
Go deeper