How autonomous trucks could fix our broken supply chains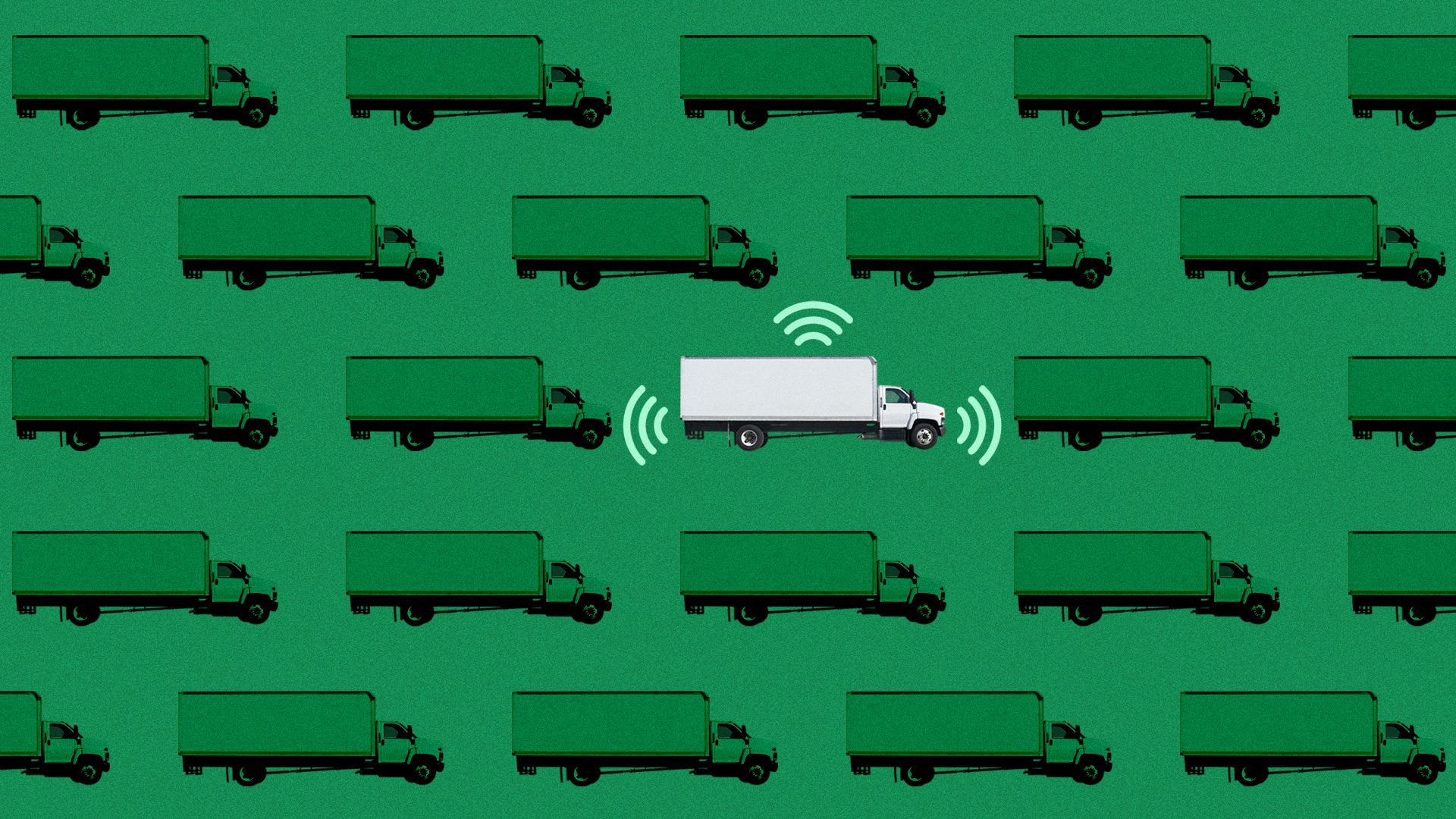 Driverless trucks can't arrive soon enough.
Why it matters: Ports are backed up and there aren't enough truck drivers to get all the containers where they need to be, leading to product shortages, inflation and stressed-out holiday shoppers.
Driverless trucks could theoretically be operating 24/7, moving freight from clogged ports to store shelves more quickly and safely, while cutting delivery costs and carbon emissions, too.
It'll be two or three years before autonomous trucks are ready for commercial deployment on U.S. highways. But the first data-driven studies from early pilot programs suggest they'll be substantially more efficient.
TuSimple and UPS, for example, say their self-driving test trucks achieved 13% fuel savings while racking up 160,000 autonomous highway miles in Arizona.
"To get 13% fuel savings is unheard of," TuSimple CEO Cheng Lu tells Axios — worth billions of dollars for the U.S. trucking industry.
Fuel accounts for 24% of the cost per mile for heavy-duty trucks, second to labor, at 42%, per the American Transportation Research Institute.
TuSimple's system drives more smoothly and efficiently than a human driver, Lu explains. "How you operate the truck has a very big impact on fuel economy. It's a great validation of the maturity of our technology."
Another study by Georgia Tech found that Ryder Systems' new autonomous transfer hub networks — combining self-driving trucks on highways with conventional trucking operations for the first and last miles — could save shippers up to 40%.
"Today I have to wait to get another driver. There's a lot of lost time in the transfer of goods," says Ryder executive vice president Karen Jones, who heads up new product development. "This has the promise to keep everything moving around the clock."
Reduced labor costs account for much of the savings, of course. But optimizing routes to reduce miles driven with an empty trailer is another big factor, the study found.
What they're saying: "The reality is that America simply does not have enough truck drivers," Don Burnette, founder and CEO of autonomous trucking startup Kodiak Robotics, tells Axios via email.
The U.S. driver shortage stands at 80,000 today, and is on track to double by 2030, according to the American Trucking Associations.
The shortage leaped during the pandemic, when demand for shipped goods soared just as the industry saw a surge in early retirements.
Some companies are even trying to bring in drivers from other countries.
Einride, a Swedish company, says its technology could make truck driving a more attractive desk job.
Where it stands: A handful of autonomous trucking firms continue to make progress toward highway deployment, including Waymo, Aurora, Embark and Kodiak.
What to watch: TuSimple signaled it is close to testing its trucks without a human safety operator on public highways before the end of this year.
Editor's note: This story was first published on Monday, Oct. 8.
Go deeper