Driverless trucks are making daily runs for Walmart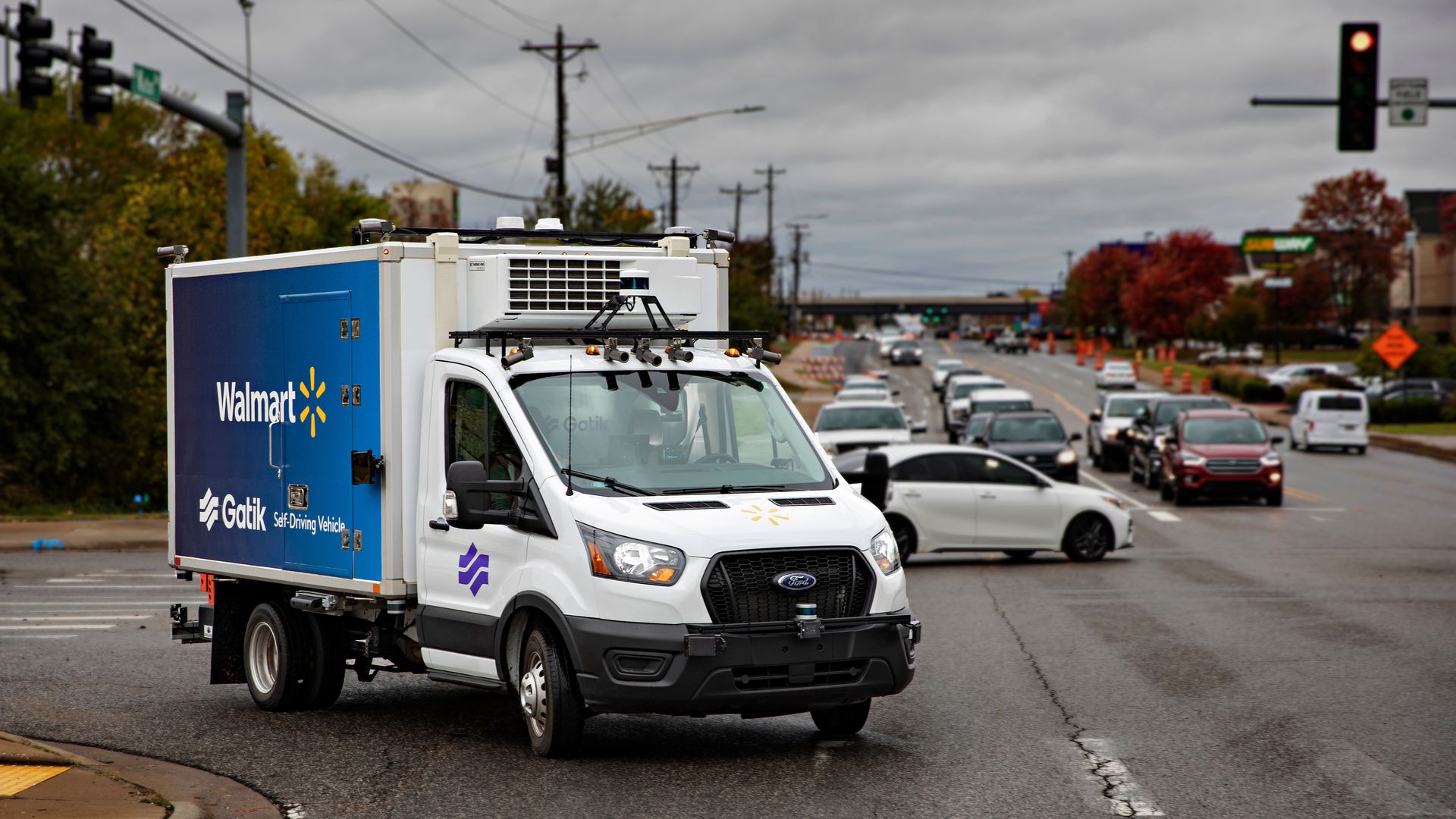 The country's first driverless trucks are now operating on local roads in Bentonville, Arkansas, shuttling merchandise for Walmart from a warehouse to a nearby store.
What's new: Walmart and its self-driving technology partner, Gatik, said today they had pulled the human safety driver from autonomous delivery trucks on a seven-mile route in the retailer's hometown — an industry first.
The big picture: Short urban routes are becoming more common as retailers like Walmart turn to hub-and-spoke distribution to fulfill growing online orders for same-day store pickup. Retailers need to be able to quickly move goods from micro-fulfillment centers to nearby stores.
Gatik has been developing self-driving technology incrementally, starting with this so-called "middle mile" of the supply chain — short, fixed, repeatable delivery routes.
What they're saying: "This milestone signifies a revolutionary breakthrough for the autonomous trucking industry," said Gautam Narang, CEO and co-founder of Gatik, based in Mountain View, California.
"Our deployment in Bentonville is not a one-time demonstration. These are frequent, revenue-generating, daily runs that our trucks are completing safely in a range of conditions on public roads."
Details: Four-year-old Gatik has been working with Walmart on middle-mile logistics in Bentonville since 2019, initially with both a safety driver and a second operator in the passenger seat.
Now, with permission from the Arkansas State Highway Commission, the trucks are operating with nobody behind the wheel.
For now, the passenger still rides along as an observer, with limited access to the controls, to stop the truck in an emergency. A chase vehicle follows behind to observe as well.
The trucks move customer orders from a Walmart "dark store" (or micro-fulfillment center) to a nearby Neighborhood Market.
The initial driving route was selected to minimize risk: It avoids schools and hospitals, and favors right turns over unprotected left turns— a common practice among UPS drivers too.
The bottom line: Autonomous trucks are beginning to roll out.
Go deeper