Negotiations at COP26 are about to get a lot tougher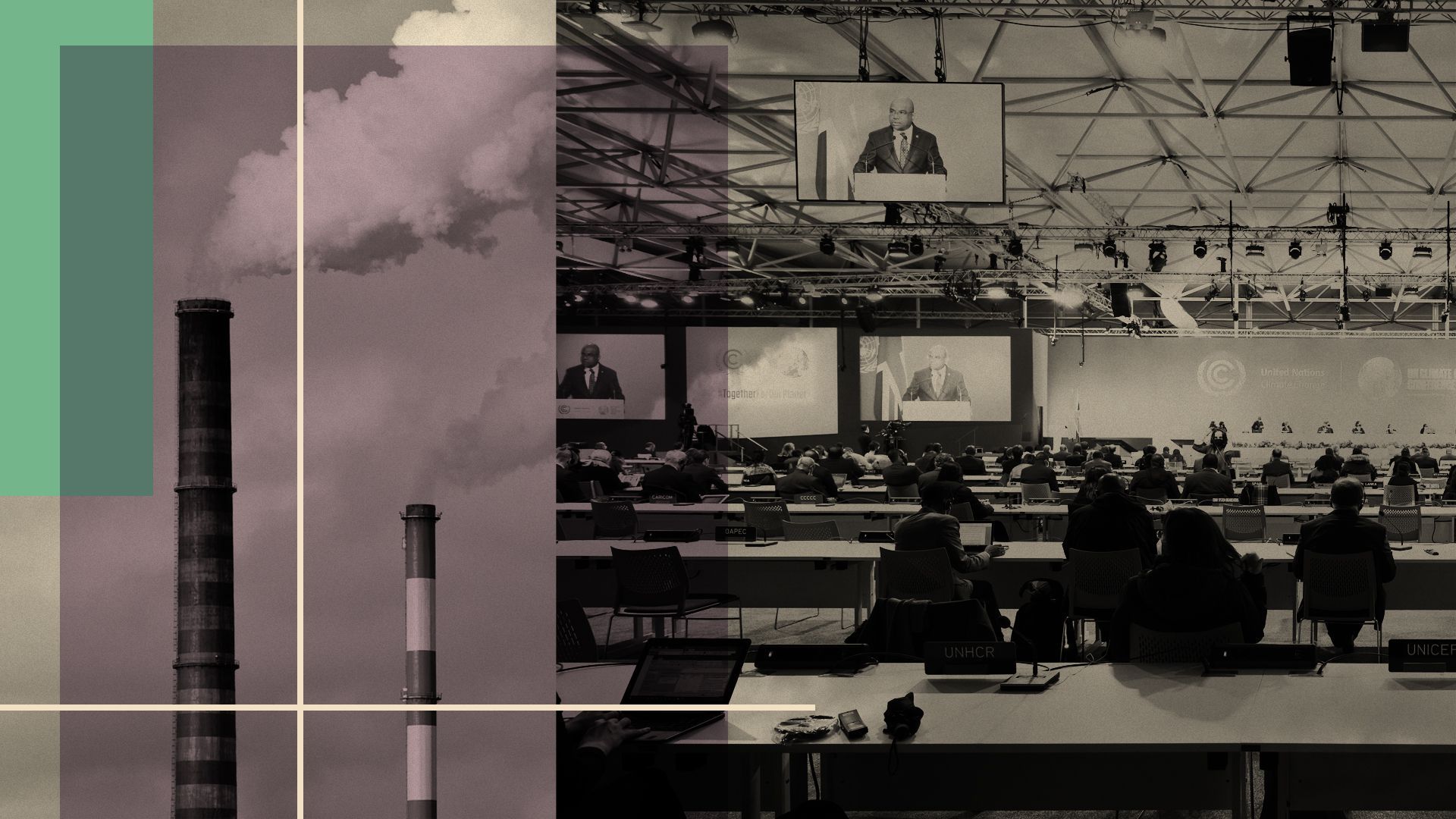 GLASGOW, Scotland — The drumbeat of public and private announcements during the first week of COP26, including big moves on deforestation and methane emissions, are now giving way to a more formal, contentious and political phase.
Why it matters: The summit is viewed as a key test of the notion that all countries of the world can work together through a voluntary system to rein in global warming before it worsens more significantly.
Driving the news: A list of the outstanding issues reads like a final exam at a diplomacy school, but in the end they boil down to two things: money and emissions targets, says Nigel Purvis, President and CEO of Climate Advisers, a public policy firm.
Details: Here are the four key issues to watch this week.
Emissions targets: The success of this COP will rest in part on what actions countries take to put in place a system that ensures that emissions pledges are made more consistent with the objectives of the Paris Agreement.
Current targets would see global average temperatures overshoot the Paris Agreement's most ambitious target of 1.5ºC of warming compared to preindustrial levels.
The U.S., along with other members of the High Ambition Coalition, is pushing for another emissions target review in 2023 and annually after that. However, this is not reflected in an early draft Glasgow outcome document that emerged from COP president Alok Sharma Sunday.
Revisiting targets in 2023 would be a departure from the Paris text, which calls for the next one to be in 2025. But with emissions rising again after a record, COVID-induced dip, waiting just two more years would put the world further off course.
Ministers and climate negotiators will also have to navigate a treacherous path to reach an agreement on rules to set up a carbon market, which would see countries and companies pay to reduce emissions by investing in projects elsewhere, in return for emissions reduction credits.
Some developing nations favor the creation of a small transaction tax to be imposed on transactions associated with this market, to help them adapt to global warming, which may not fly with developed countries.
The draft outcome text leaves a lot of room for details to be filled in this week.
Climate finance: With climate disasters mounting and the 1.5-degree goal slipping out of reach, developing countries are looking for additional financing commitments and mechanisms to be written into any Glasgow deal. This will be another flashpoint that proves tough even for high-level negotiators, especially since industrialized countries still haven't fully coughed up $100 billion per year in assistance that was first promised in 2009 for 2020.
Loss and damage: This COP is also addressing an issue that has long been treated as a no-go zone in climate negotiations: whether and how wealthy countries, whose emissions have mainly caused the ravages of ongoing climate change, should pay damages to the developing nations suffering from their effects.
So far, U.S. chief climate envoy John Kerry has acknowledged that loss and damage are occurring and that the U.S. has some responsibility for this. But he has been careful not to commit to any clear negotiating language on what an outcome should look like.
What they're saying: "In my mind, there's no way developing countries are letting this conference end without an updating of that pledge; a new target on finance," Purvis, a former climate negotiator at the State Department, said.
"The mood among developing countries is sour," said Mohamed Adow, director of the Nairobi-based climate think tank Power Shift Africa, in an email. "Real progress needs to be made on adaptation funding and the setting up of a loss and damage mechanism to address those growing needs."
"So far COP26 has been the 'two faced' COP. Rich countries say one thing in their press releases yet inside the negotiations they do the opposite. On finance they talk up the trillions that could be mobilized outside yet inside they can't even deliver the $100 billion they promised 12 years ago," Adow said.
Go deeper