Apple-Facebook fight moves to metaverse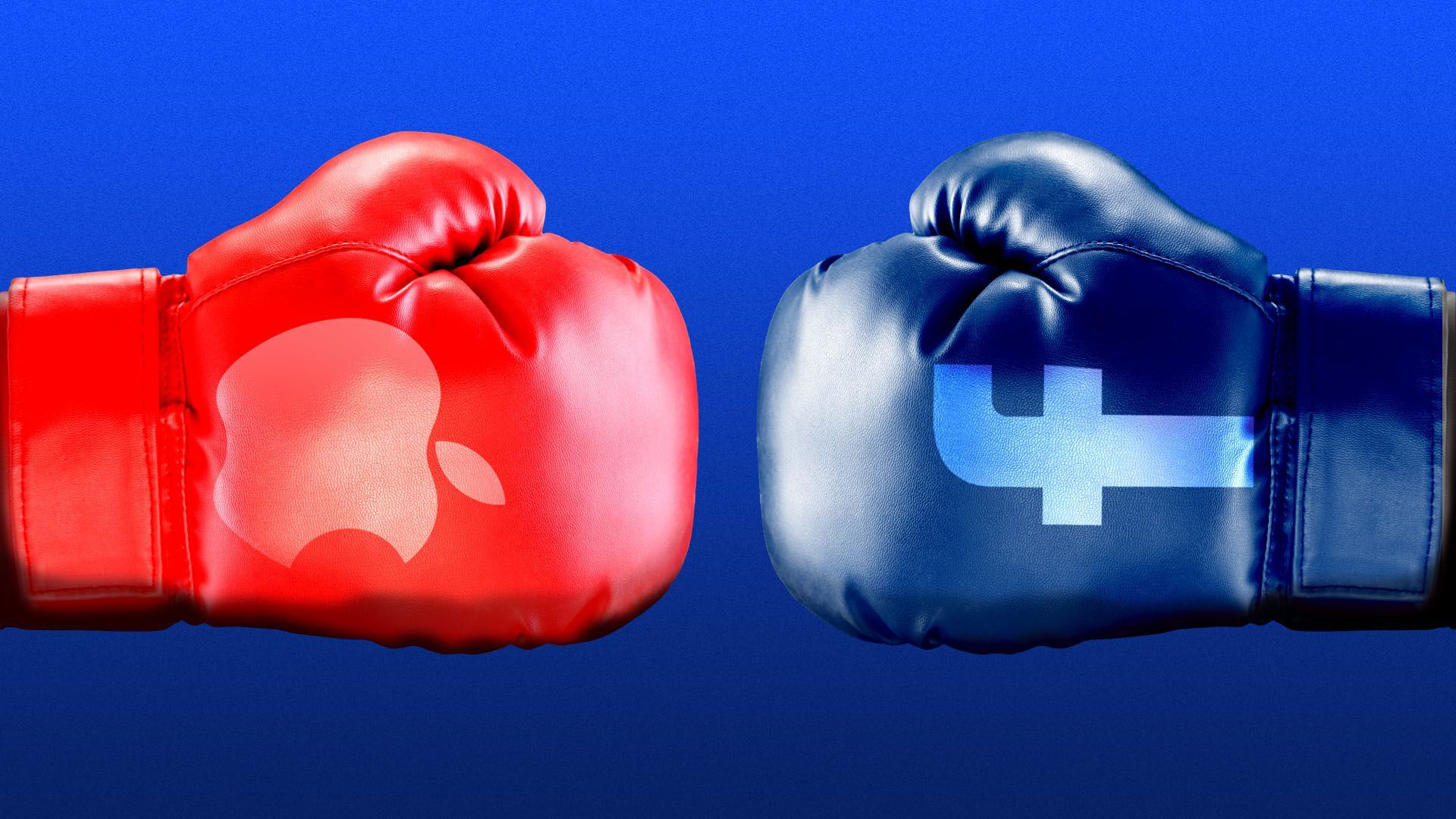 Facebook's pivot to the metaverse is also a move to check Apple in the tech industry's long-term game of "what's next."
The big picture: Tech's leaders view their story as a series of shifts from one dominant platform to another. Each transition is a moment of peril to incumbents and opportunity for newcomers.
Between the lines: Beltway insiders and Facebook critics like to position Facebook's name change and metaverse push as a hand-waving effort to distract the public from the firm's antitrust perils and from leak-driven stories about Facebook's responsibility for real-world harms.
But the view from inside the tech whale is different. To industry leaders, those headlines are the distraction, and the struggle to control the next platform — widely predicted to be some form of AR or mixed-reality — is the fight that matters.
Today, Mark Zuckerberg is leading the metaverse charge because he wants to make sure that Apple doesn't own whatever comes after the smartphone — which Silicon Valley assumes will be some mix of headsets and goggles, mixed-reality applications and remote presence.
Meta, formerly known as Facebook, is now investing heavily in all kinds of hardware — VR, AR, smart home devices and more — to try to make sure Apple doesn't own the next generation of devices. But first movers don't always win platform wars.
Apple's pattern is to let other companies rush to market with half-baked products only early adopters could love, and then swoop in at just the right moment to seize the public imagination and win a market's profitable high ground.
That's how it defined the smartphone era with the iPhone's 2007 release.
Facebook and Apple have long been at odds over privacy, ad rules and other concerns. The companies' conflict stretches back more than a decade, to when the mobile-device explosion the iPhone kicked off nearly boxed Facebook out of the future.
Back then, Facebook resisted building its own iPhone app at first, and ultimately had to resign itself to tenancy on operating system platforms controlled by other companies.
Nonetheless, its iOS apps topped the charts and its platforms became home to nearly 3 billion users.
Facebook prospered, but the era left deep scars, as Zuckerberg admitted in his presentation ushering in Facebook's rebranding as Meta:
"This period has also been humbling because as big of a company as we are, we've also learned what it is like to build for other platforms, and living under their rules has profoundly shaped my views on the tech industry."
"Most of all, I've come to believe that the lack of choice and high fees are stifling innovation, stopping people from building new things and holding back the entire internet economy."
Flashback: Apple's move in 2019 to lock out Facebook's employees from their own applications was a particularly humiliating moment for Zuckerberg and his team.
Yes, but: Even when today's tech giants are colliding, they're bound together as well.
Facebook owns three of the top-10 iPhone apps. Apple sells more devices because people want to use those apps. These companies may not like each other, but they will continue to cooperate whenever they can profit together.
Of note: Microsoft and Google also have major investments in AR and VR. Amazon is betting big on voice assistants and smart home gadgets.
Be smart: Sometimes the future unfolds the way the industry expects, and sometimes — as in the mid-'90s web explosion — the future takes everyone by surprise.
Go deeper