At least 8 dead after crowd surge at Houston music festival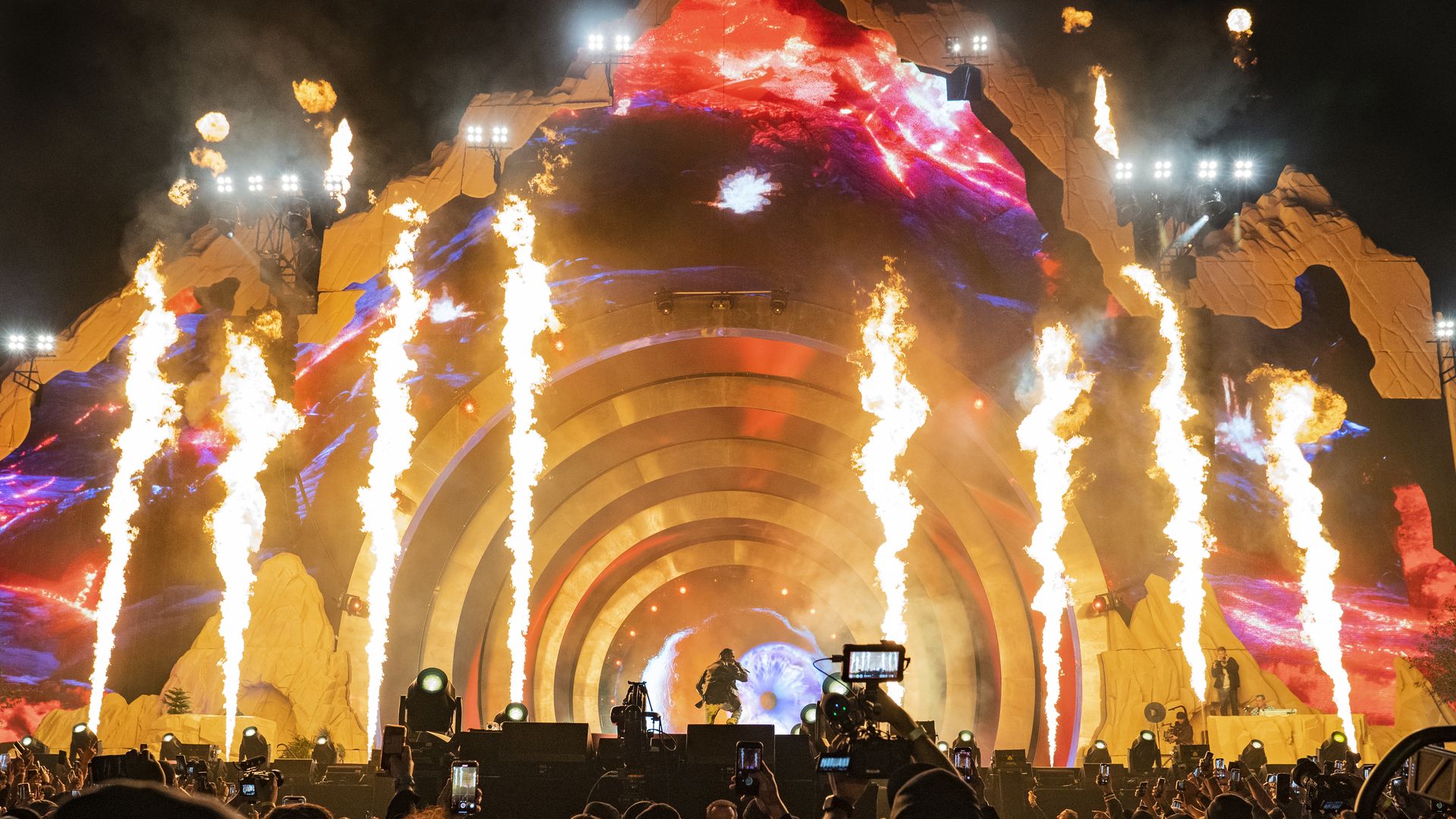 At least eight people were killed and hundreds more injured after a crowd at Houston's Astroworld music festival surged toward the stage Friday night, officials said.
Driving the news: The crowd surge, which officials described as a "mass casualty incident," happened just after 9pm local time as rapper Travis Scott performed. Houston fire chief Sam Peña said that people began to "compress toward the front of the stage, and that caused some panic" and overwhelmed security.
Police and security stopped the event "as soon as the situation got to the point where it was overwhelming the resources there," Peña said, but by then "the damage had been done."
Peña said about 50,000 people were believed to be in attendance at day one of the sold-out festival.
The festival runs from Friday through Sunday, but officials said the second night would be canceled, per CNN.
Details: More than 300 people were treated at a field hospital near NRG Park where the festival was held, according to Peña.
At least 23 people were taken to nearby hospitals, according to the fire chief. He also said that a 10-year-old patient was in critical condition at the last check.
What they're saying: "It seemed like it happened over the course of just a few minutes," said Houston Police Department executive assistant chief Larry Satterwhite, who was on duty at the event.
"Suddenly, we had several people down on the ground experiencing some type of cardiac arrest or some type of medical episode," he added.
"I started looking around and there's people on the ground, there's people looking at me like scared, eyes wild, like, 'please help me,'" Alleighya Odom, a concertgoer, told NBC. "There's people behind me crying because they're being stepped on."
"Nobody could dream of this. But we're here, and I think it's very important that none of us speculate. Nobody has all the answers tonight," Houston police chief Troy Finner said.
Scott posted to Twitter on Saturday that he was "absolutely devastated" by what took place and that he would work with the "Houston community to heal and support the families in need."
Gov. Greg Abbott said in a statement on Saturday, "What happened at Astroworld Festival last night was tragic, and our hearts are with those who lost their lives and those who were injured in the terrifying crowd surge."
Editor's note: This story has been updated throughout.
Go deeper