Trump DOJ official refuses to answer Jan. 6 questions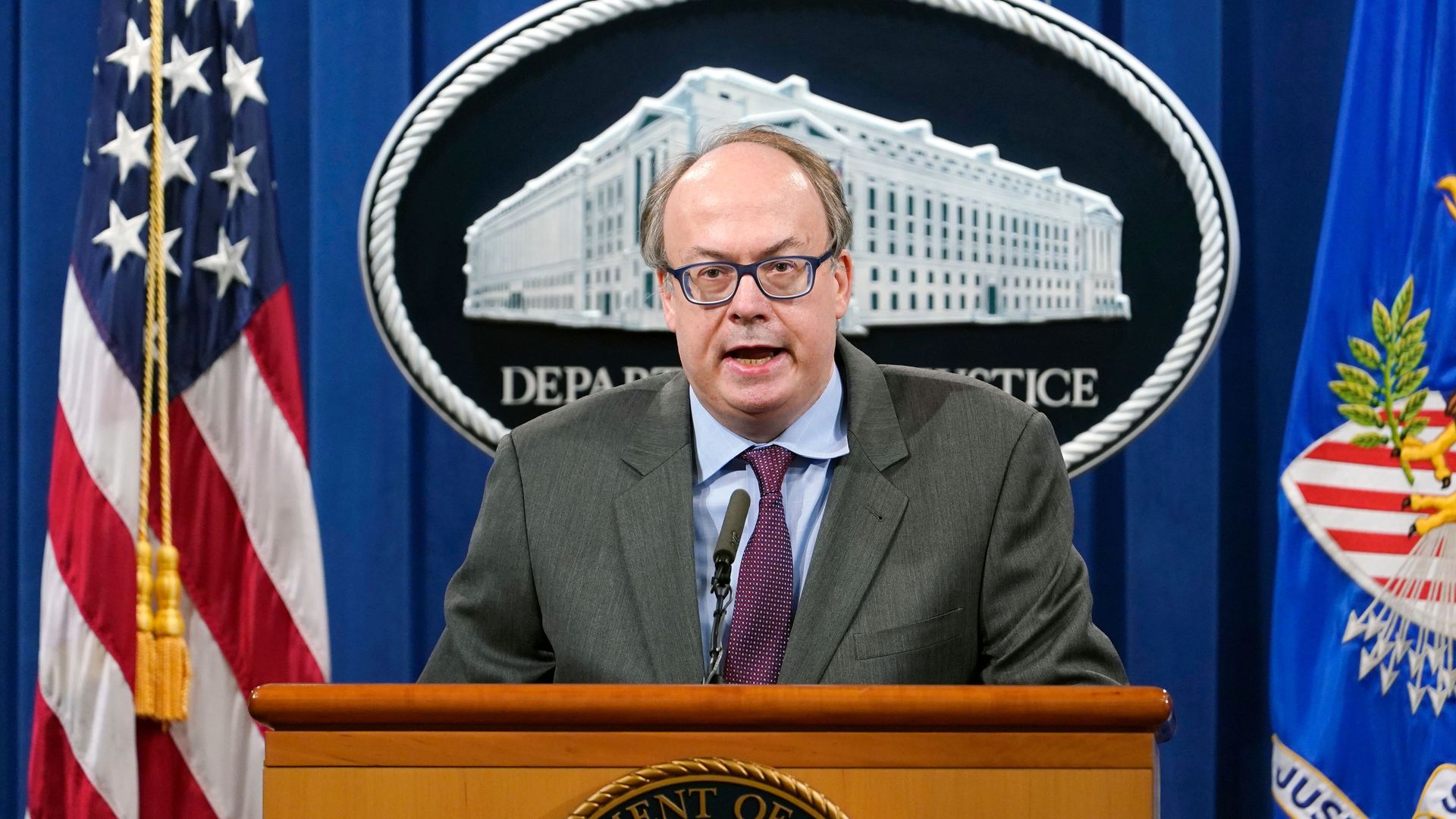 A Trump-allied former assistant attorney general, who reportedly helped the 45th president amplify false claims around the election, refused on Friday to answer questions in a deposition with the special House panel looking into the Jan. 6 insurrection, AP reports.
Why it matters: It's the latest blow to the committee, which has struggled to secure cooperation from Trump associates. Some have outright defied the lawmakers.
What happened: Jeffrey Clark said in a letter to the committee that he would not answer questions based on Trump's executive privilege claim, according to AP.
Clark was subpoenaed to appear before the select panel, but cut the deposition short and left with his lawyer after delivering the letter.
"Mr. Clark had nothing to do with the January 6 protests or the incursion of some into the Capitol," his lawyer Harry MacDougald wrote in the 12-page letter, a copy of which Politico obtained.
"It is improper to put Mr. Clark in a vise between this committee and its claimed enforcement powers on the one hand, and his constitutional and ethical obligations on the other, especially while there is a pending lawsuit to determine President Trump's privilege objections."
Rep. Bennie Thompson (D-Miss.), chair of the Jan. 6 committee, told the Hill that contempt charges are "under consideration."
A recent Senate report detailed Clark's role in Trump's pressure campaign, which included proposing a letter to state legislators encouraging them to delay certification of election results.
What he's saying: "Mr. Clark's complete failure to cooperate today is unacceptable," Thompson said in a later statement.
"It's astounding that someone who so recently held a position of public trust to uphold the Constitution would now hide behind vague claims of privilege by a former President, refuse to answer questions about an attack on our democracy, and continue an assault on the rule of law."
"As prescribed by the House Rules, I have considered Mr. Clark's claim of privilege and rejected it," Thompson added. "We need the information that he is withholding and we are willing to take strong measures to hold him accountable to meet his obligation."
Clark's lawyer did not immediately return a request for comment.
The big picture: Former President Trump has sued the committee and National Archives, asserting executive privilege in a bid to block the release of records from before and during the insurrection.
The committee voted to hold Steve Bannon in contempt last month for refusing to comply with a congressional subpoena.
More than 60 former lawmakers have signed on to a legal brief asking a federal judge to dismiss Trump's attempts to shield Jan. 6 investigators from probing his White House records.
Go deeper