Packers QB Aaron Rodgers confirms unvaccinated status after positive COVID test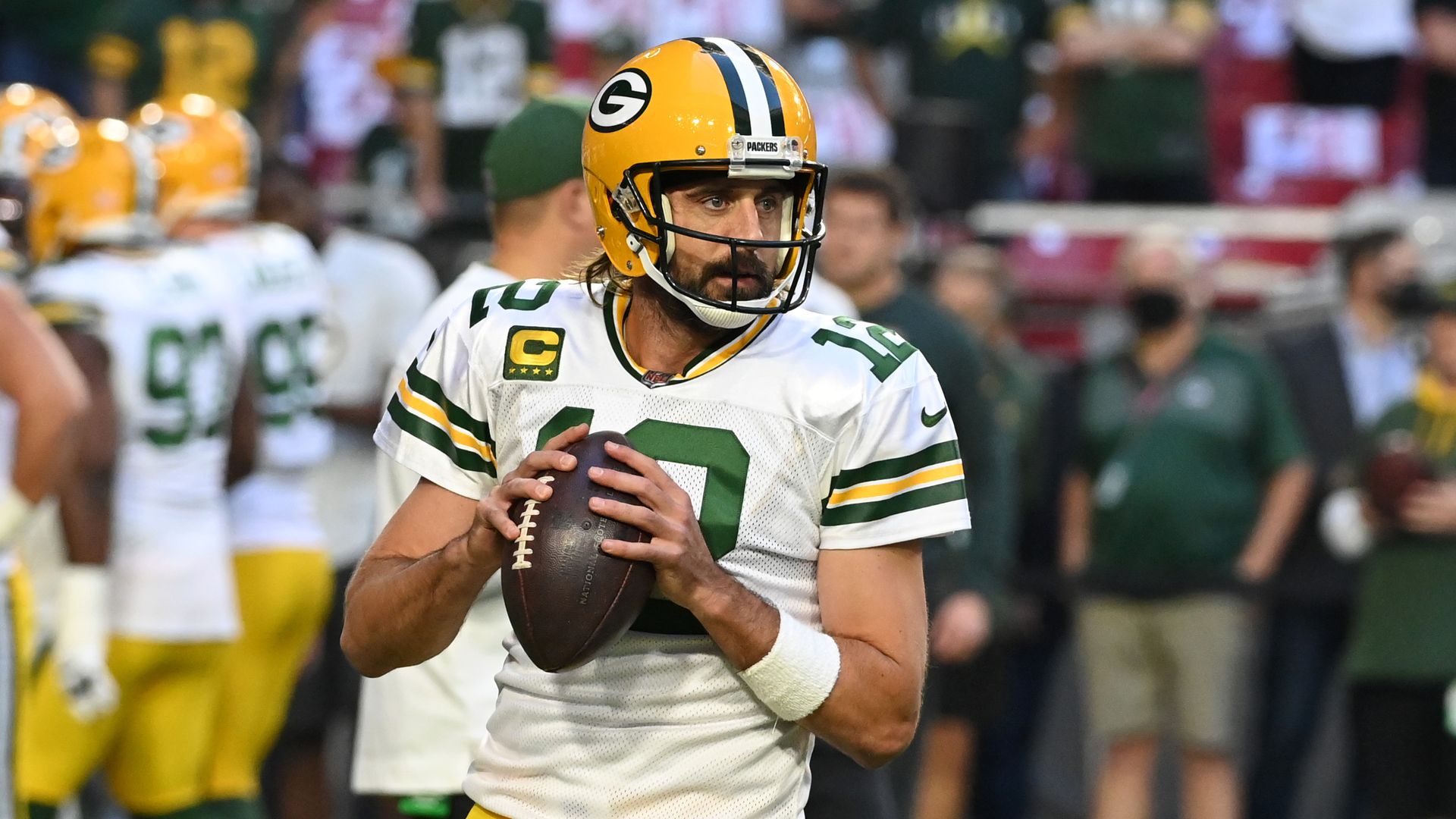 Green Bay quarterback Aaron Rodgers made his first public comments on Friday since testing positive for COVID-19, confirming that he is unvaccinated and addressing the backlash he has received.
Driving the news: The 2020 NFL MVP, who will miss Sunday night's game against the Kansas City Chiefs, had previously told reporters that he was "immunized" against the virus.
"Yeah, I've been immunized," Rodgers said in August when asked if he had been vaccinated. "There's guys on the team that haven't been vaccinated. I think it's a personal decision. I'm not going to judge those guys."
On Friday, he maintained that he "didn't lie in the initial press conference."
Background: The NFL has been encouraging players and coaches to get vaccinated since before the season started.
The league's COVID-19 protocols require unvaccinated players to follow stricter rules than vaccinated teammates, and players could be fined more than $14,000 per violation.
Support staff, including coaches and trainers, should be vaccinated against COVID-19 "unless they have a bona fide medical or religious ground for not doing so."
Rodgers is just one of about 5% of the league's players considered unvaccinated, according to the AP.
What they're saying: Rodgers clarified his past statements on the "Pat McAfee Show" and said that his teammates had been aware of his vaccination status.
"I am somebody who's a critical thinker," Rodgers said. "I believe strongly in bodily autonomy and the ability to make choices for your body."
"I am not a COVID-denier," he added. "I just wanted to make the best choice for my body."
What's next: The earliest Rodgers could return would be Nov. 13 before the Packers' game against the Seattle Seahawks.
The quarterback, who has been experiencing mild symptoms and must isolate for 10 days, would need to test negative twice 24 hours apart and be symptom-free before he's cleared to return, per The Athletic.
Go deeper