New Klobuchar, Cotton bill could block Big Tech mergers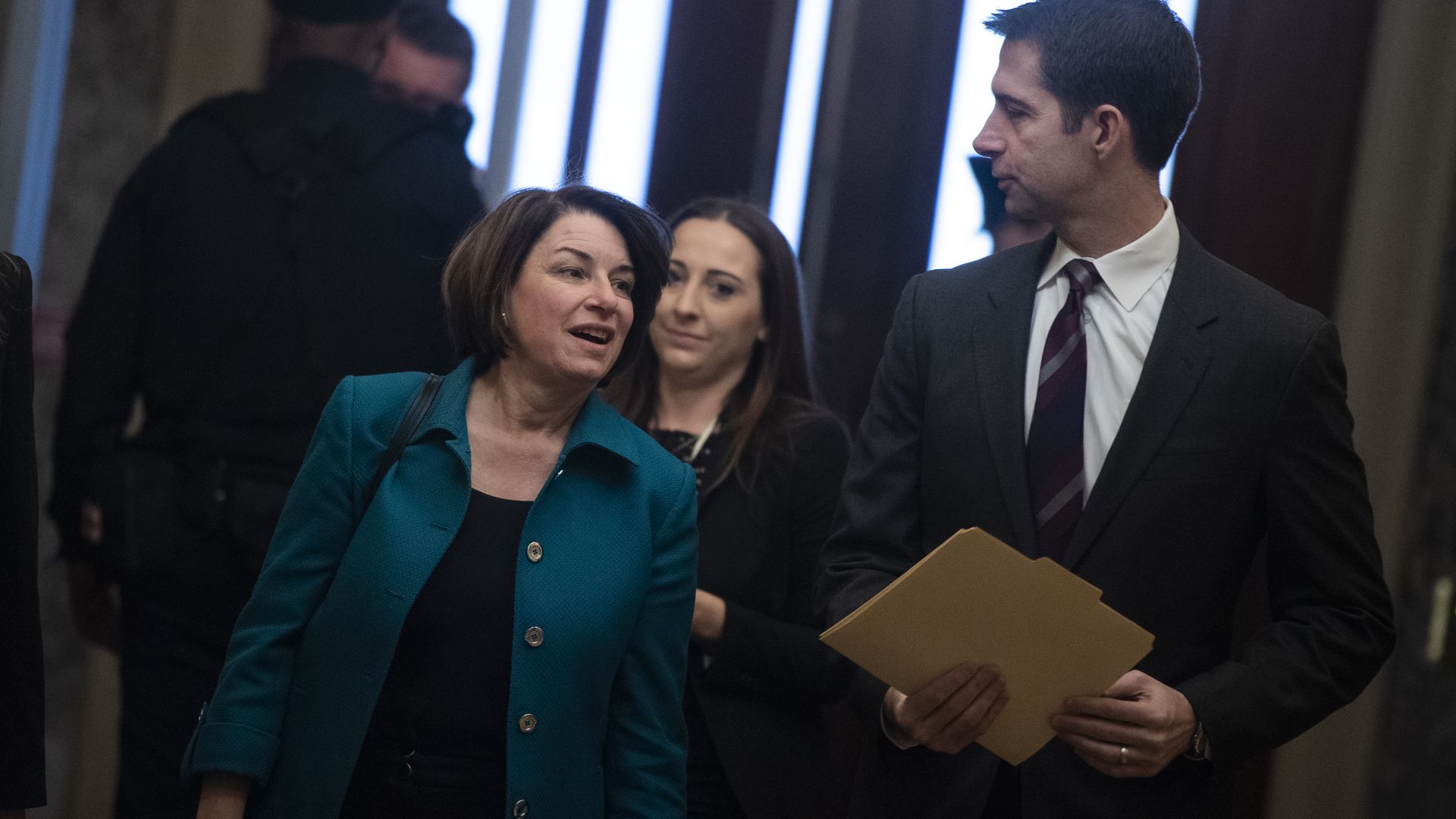 Sens. Amy Klobuchar (D-Minn.) and Tom Cotton (R-Ark.) introduced a bill Friday that would make it more difficult for Big Tech to acquire rival companies and would force them to prove proposed mergers aren't anticompetitive
Driving the news: The Platform Competition and Opportunity Act is a Senate companion bill to a similar House bill of the same name. It's motivated by a belief that acquisitions like Facebook's parent company Meta buying WhatsApp and Instagram has been bad for consumer choice and competition.
What they're saying: "Big tech firms have bought up rivals to crush their competition, expand their monopolistic market share and to harm working Americans," Cotton said. "That's bad for America."
The bill would give enforcers, like the Justice Department, more authority to stop acquisitions by "dominant platforms" of competitors, or acquisitions that would expand a firm's market position.
Specifically, it would apply to acquirers with market caps in excess of $600 billion, as calculated when the bill becomes law (via a 180-day trading average). An aide to Cotton says this was designed to specifically to target the largest U.S. tech companies — including Amazon, Apple, Facebook, Google and Microsoft — while exempting other companies (Walmart, Visa, etc.) whose market caps may someday surpass $600 billion.
It would also shift the burden of proof to a company that wishes to buy or merge with another to show it's not anticompetitive.
Klobuchar, who previously introduced another antitrust bill with Sen. Chuck Grassley (R-Iowa) and chairs the antitrust panel of the Senate Judiciary Committee, said the bill "will put an end to those anticompetitive acquisitions by making it more difficult for dominant digital platforms to eliminate their competitors."
The big picture: The bipartisan bill shows there continues to be an appetite for antitrust action to reel in Big Tech companies in Washington, as the Senate takes up work done by the House Judiciary Committee.
The House bill was passed out of the House Judiciary Committee in June, along with five other antitrust and competition related bills.
Yes, but: Congress is having trouble getting anything over the finish line lately. If this bill has a chance of hitting the floor for a vote, many other legislative priorities, like infrastructure and President Biden's economic plan, will need to be resolved.
Go deeper