NYC to expand debt relief for cab drivers after 2-week hunger strike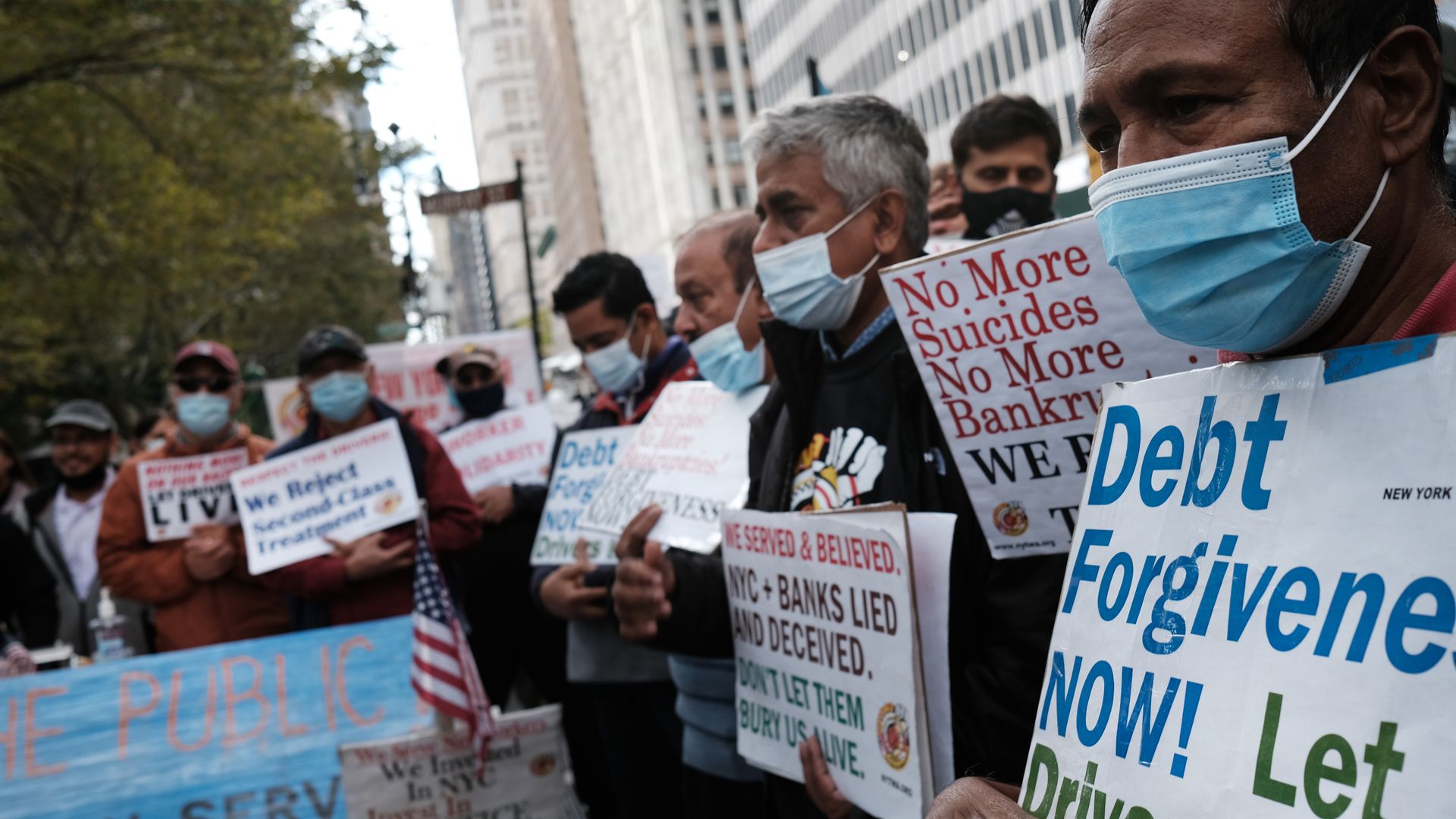 A deal with New York City's largest taxi loan holder will rescue thousands of cab drivers facing financial ruin after being forced to take on crushing debt due to exploitative practices.
Why it matters: New York officials reached the agreement after a two-week hunger strike by members of the city's largest taxi drivers union, who called on the city to expand a debt relief program for drivers.
How we got here: To operate a cab in the city, drivers have to purchase a medallion. But about 20 years ago, some industry leaders began to artificially inflate the price of medallions, which the city regulates, a 2019 New York Times investigation found.
That meant drivers who wanted to own their cab had to take on increasingly large loans over the years — reaching $1 million at one point — "while lenders pocketed hundred[s] of millions of dollars," per the Times.
After the market crashed in 2014, thousands of drivers faced crushing debt and the loss of their livelihoods. The crisis drove several drivers to die by suicide.
Driving the news: Marblegate, the city's largest taxi loan holder, has agreed to cut back the amount each driver owes, from an average of roughly $500,000 per driver to $170,000, per the Times. The lender will also reduce payments to a maximum of $1,122 per month.
As part of the deal, the city will pay Marblegate $30,000 for each driver and assume responsibility for repaying the loan if a driver ever defaults.
Mayor Bill de Blasio's office said it will work with other lenders to achieve the same terms, "which would effectively amount to the bailout that drivers have sought since the debt crisis jumped into the spotlight in 2018," the Times notes.
"Taxi workers have worked tirelessly to make New York City the most vibrant city in the world, and we refuse to leave them behind," de Blasio said in a statement.
Worth noting: The 25,000-member New York Taxi Workers Alliance (NYTWA) that staged the hunger strike is mostly comprised of people of color and immigrants.
What they're saying: "Today marks a new dawn, a new beginning for a workforce that has struggled through so much crisis and loss," NYTWA Executive Director Bhairavi Desai said in a statement.
"Today, we can say owner-drivers have won real debt relief and can begin to get their lives back. Drivers will no longer be at risk of losing their homes, and no longer be held captive to a debt beyond their lifetime," added Desai, who also thanked Sen. Chuck Schumer (D) for facilitating the deal.
"The city we love had our back and so today we can say, we have won!"
"It's upsetting that it took this much pain" for the city to recognize the workers' needs, but it's also "so powerful and inspiring to see ... these drivers' willingness to stand up for one another and to put their bodies on the line for each other," New York Assemblymember Yuh-Line Niou (D), who participated in all 15 days of the hunger strike, told Axios.
The deal shows "we can actually prevent and stop and also help" when predatory lending is at play. "We still need to continue this fight at the state level," she added.
If you or someone you know may be considering suicide, contact the National Suicide Prevention Lifeline at 1-800-273-8255 (En Español: 1-888-628-9454; Deaf and Hard of Hearing: 1-800-799-4889) or the Crisis Text Line by texting HOME to 741741.
Go deeper