The jobs impact of Biden's vax and testing mandate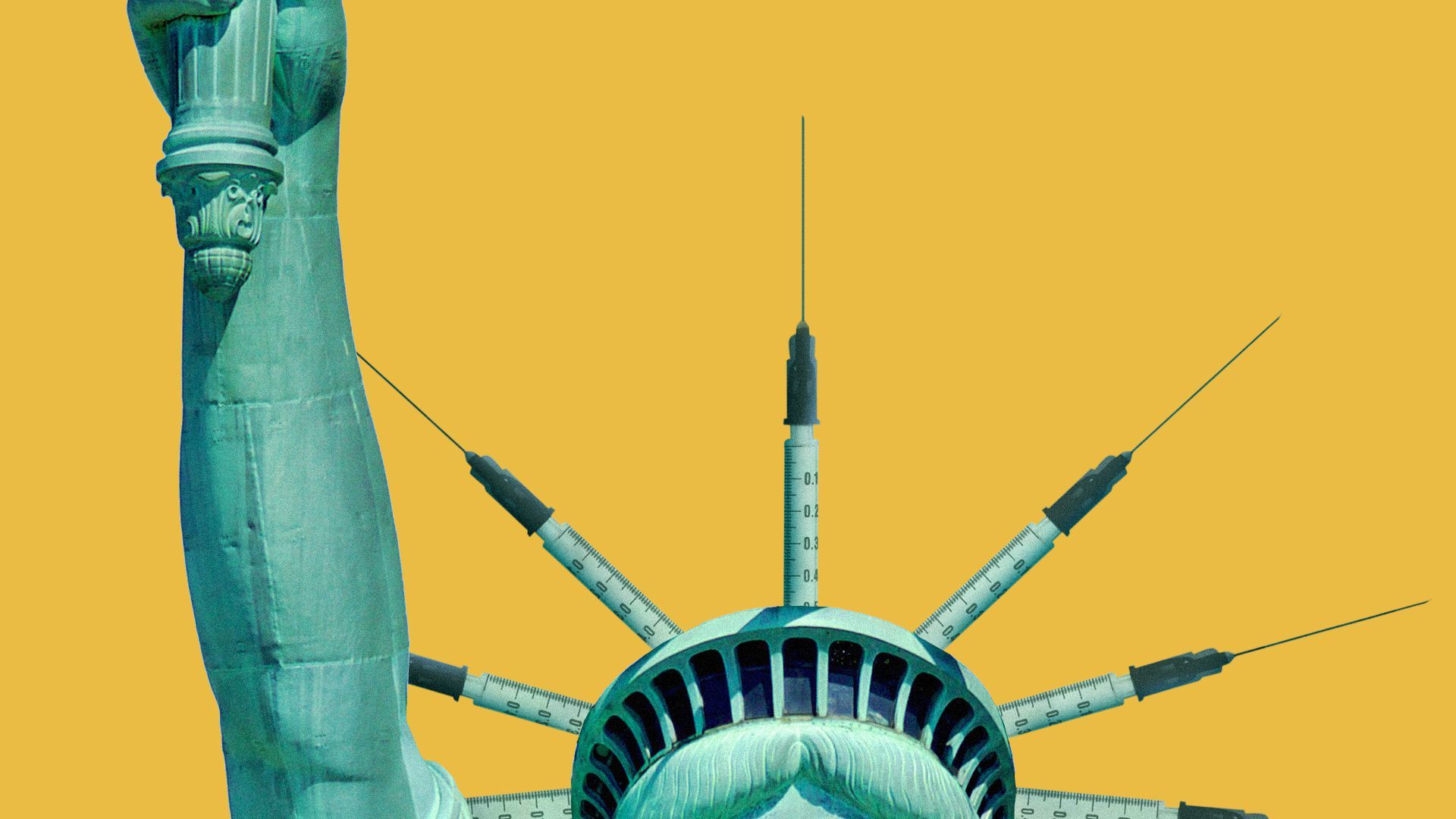 The White House on Thursday unveiled rules requiring people working for private companies with at least 100 employees to be either fully vaccinated or tested weekly for COVID-19.
Why it matters: This should significantly increase the number of vaccinated American adults, thus reducing death and virus transmission. It also could create a relatively small group of workers who are voluntarily unemployed.
The mandate goes into effect on Jan. 4, so long as it survives legal challenges.
It states that relevant employers are required to provide for weekly testing of unvaccinated workers, but that they may bill workers for those tests. Violations can result in hefty fines.
By the numbers: The White House says the rule will cover around 84 million workers, while the CDC reports that the current percentage of fully vaccinated U.S. adults is 69.8%. That could mean that over 25 million Americans aren't in current compliance, but the math is very fuzzy.
Employment and vaccination rates vary significantly by age, as younger Americans are more likely to work but less likely to be vaccinated. Therefore, the 25 million could actually be undercounting. Plus, the CDC doesn't break out the percentage of vaccinated workers vs. vaccinated unemployed.
The 18+ vax rate rises to 80.2% for those who have received at least one dose, and it's safe to assume many of those people already plan to get a second dose before these mandates go into effect. Were all of them to do so, the 25 million falls to 16.6 million.
The biggest variable is how many unvaccinated American workers will get jabbed before the Jan. 4 deadline.
The White House claims that existing private and public sector mandates increased vaccination rates past 90%.
Notable examples include United Airlines, which had a 59% employee vaccination rate that rose to 99% after implementing a requirement, and Tyson Foods, which rose from 45% to 96%.
If we were to take the 96% figure, that original 25 million workers falls to around 3.4 million workers (or about 2% of the total U.S. workforce). At 99%, it would be under 1 million workers. The truth is likely somewhere in between.
Those left out: Some of these unvaccinated workers will quit and find new jobs with smaller private employers who aren't subject to the mandate. Others will submit to weekly testing, so long as they can afford to do so, or leave the workforce entirely.
That last possibility may lead to a decrease in the labor force participation rate, which already is quite low, but that could be offset by Americans returning to what they view as safer workplaces.
Go deeper