Health systems' trouble with vaccine mandates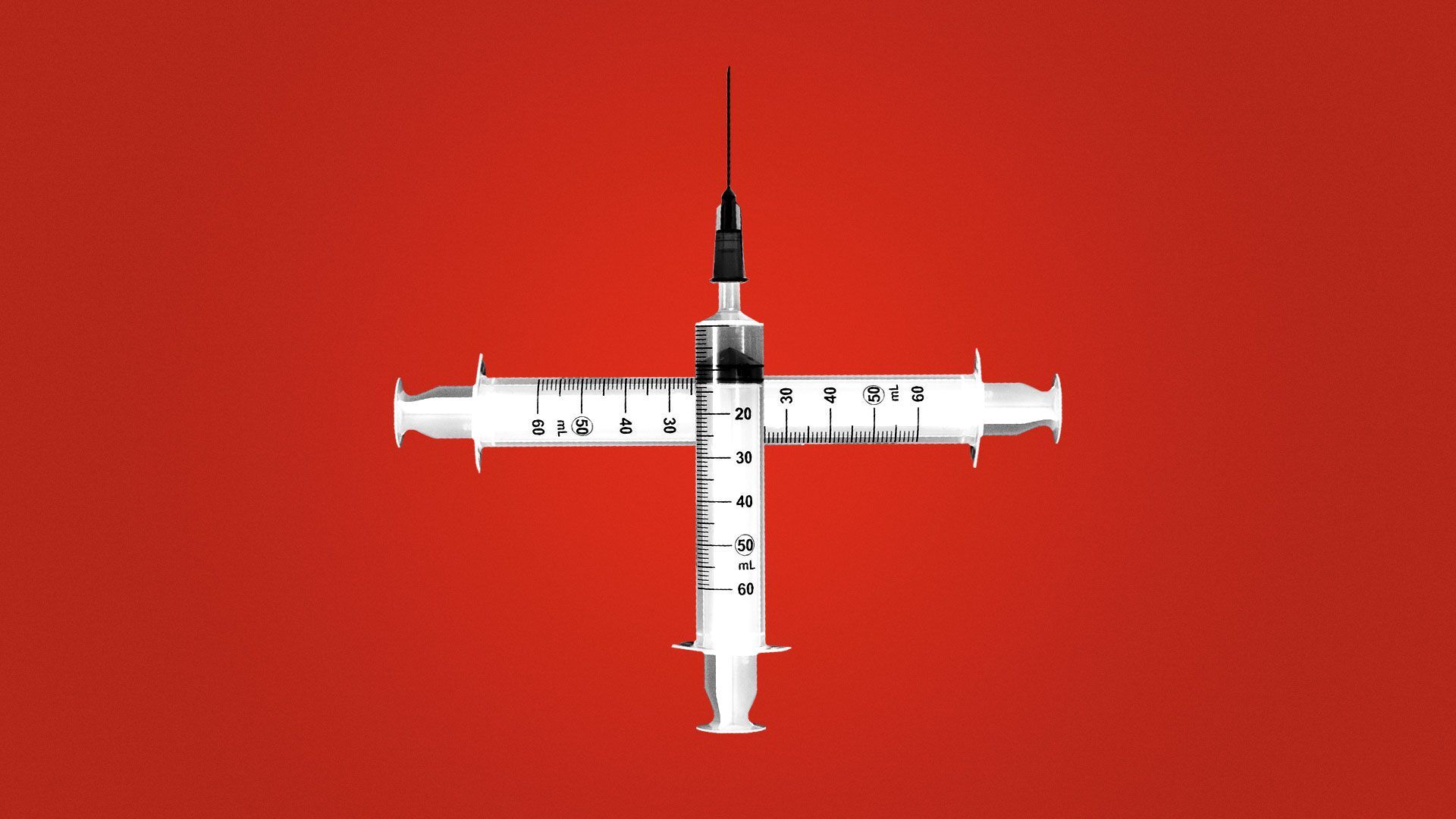 An estimated 40% of U.S. health systems have instituted COVID-19 vaccine mandates, and though many are reporting high compliance, the requirements are exacerbating workforce shortages and threatening operations in others.
Why it matters: As a federal deadline requiring health care workers to get vaccinated approaches, some officials warn it could hurt health care delivery at small and rural hospitals.
"It's a moment of dread for the vast majority" of rural hospitals, Carrie Cochran-McClain, chief policy officer for the National Rural Health Association, told Axios.
"I don't think I'm being extreme when I'm saying it could mean some facilities will have to close their doors."
Where it stands: Health systems across the country have reported that only handfuls of workers — often around 1% to 2% of their workforces — chose to leave due to mandates.
But many of them also reported medical or religious exemption rates of closer to 4% to 6%.
For instance, UCHealth in Colorado terminated 119 workers out of its workforce of more than 26,000 people, Colorado Public Radio reported. But it also granted exemptions to 1,100 workers, or about 4% of its workforce.
Henry Ford Hospital in Michigan said 400 workers out of 33,000 employees left their jobs rather than get shots. But 1,900 workers, or nearly 6%, got exemptions, the Detroit Free Press reported.
MercyOne, in central Iowa, reported 94% of its workers had complied with the hospital system's policy by either getting vaccinated or an approved exception. But they couldn't estimate how many received exemptions, the Des Moines Register reported.
In that sense, hospitals do want clarity around federal vaccination rules "to ensure there are a consistent set of guidelines for how those exceptions get applied," Akin Demehin, a director of policy at the American Hospital Association, told Axios. "Hospitals want to be on the same page."
The bottom line: The pain has not been felt equally, Cochran-McClain said.
Regions of the country where there is more vaccine hesitancy may struggle with losing more workers. Some service lines may be forced to close or limit access, Cochran-McClain said.
For example, an upstate New York hospital shut down its maternity ward after six workers opted to quit rather than be vaccinated. While that single instance was widely reported, it was no isolated event.
"I just spoke to a hospital administrator yesterday and a significant portion of their lab techs chose not to be vaccinated and now they can't provide lab services," Cochran-McClain said.
What they're saying: "It's really important for us that folks understand, at least from our association and our members' perspective, we are very pro-vaccine," she said. "The challenge is, we're applying this to communities that are already facing severe workforce shortages."
What to watch: With federal rules coming that will mandate vaccinations among health care workers, administrators at many rural hospitals will be closely watching whether they'll include testing exceptions and other flexibilities.
Go deeper