Biden sets a hard deadline for vaccine mandates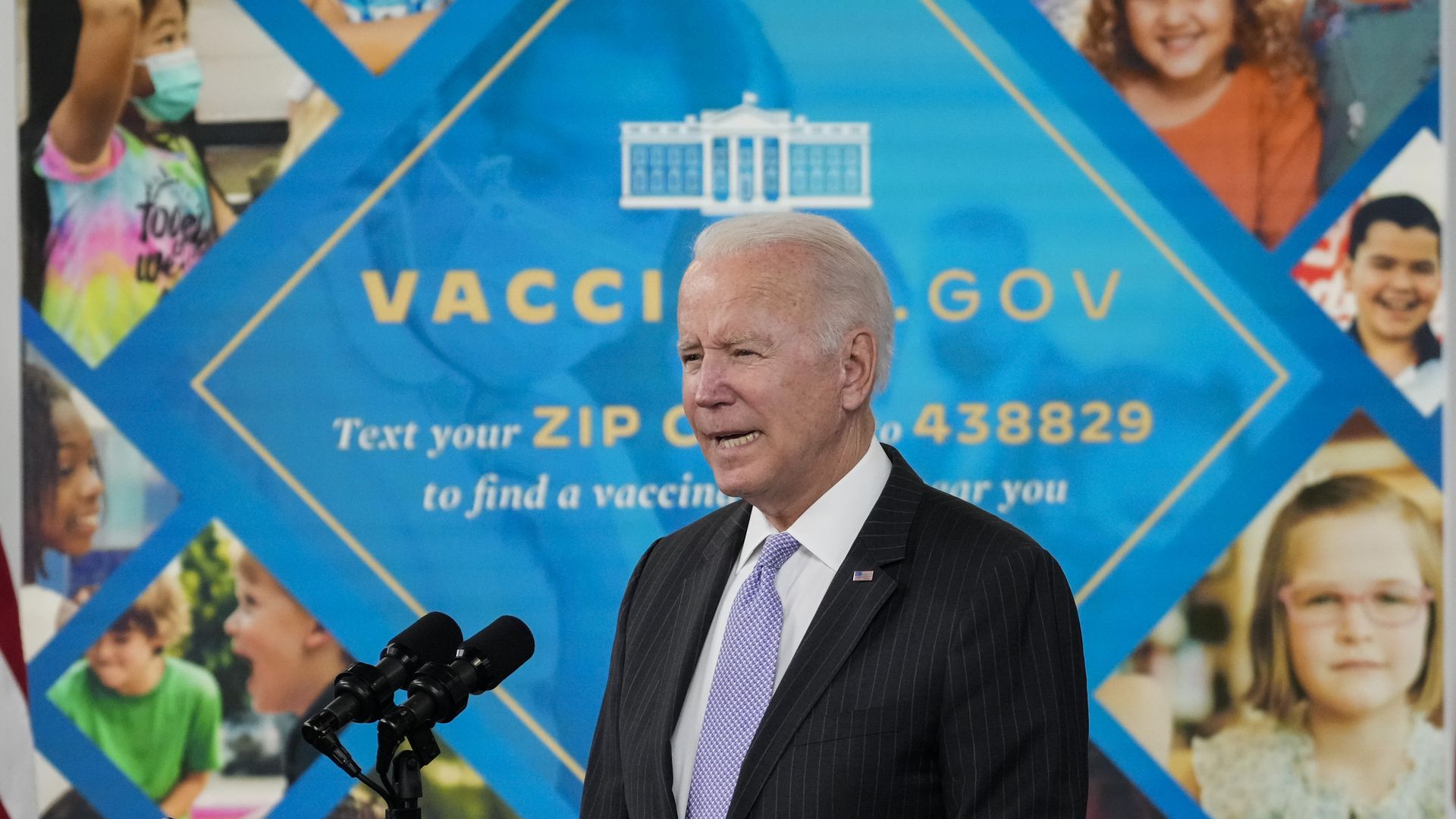 President Biden will announce Thursday that certain employers must ensure their workers are fully vaccinated or tested weekly by Jan. 4, 2022, or face federal fines starting at nearly $14,000 per violation, according to senior administration officials.
The big picture: The Department of Labor's Occupational Safety and Health Administration (OSHA) will enforce the COVID-19 Vaccination and Testing Emergency Temporary Standard, which affects about two-thirds of all U.S. workers.
Some businesses and hospitals have already started to enforce vaccination requirements, with so far minimal non-compliance.
Details: Employers with 100 or more workers must implement a mandatory vaccination program and/or mandate weekly testing and masks for those who refuse the vaccine. Two doses of either Pfizer or the Moderna shots or one dose of Johnson & Johnson's vaccine will be acceptable.
OSHA will largely rely on complaints to investigate violations, administration officials said.
Fines for violating the vaccination rules could start at $13,653 each and go as high as $136,532 per violation if employers are found to be willfully non-compliant or repeat offenses. The amounts are in line with violations for other rules the agency enforces.
The 21 states with their own health and safety oversight will have 30 days to adopt OSHA's standard or align with their own similar standards, officials said.
Employers should also give paid time for workers to get vaccinated or recover from any side effects. Companies are able to bill employees for COVID testing, however.
Health care systems and facilities will not have a testing option, but like other businesses will have to submit medical and religious exemptions. Cutting facilities out of the Medicare and Medicaid programs for refusal to comply is a "last resort," one senior administration official said.
"Our goal is to bring health care facilities into compliance and termination really would only occur after providing a facility with an opportunity to make corrections and come into compliance if they chose not to do so," the official added.
By the numbers: More than 222 million people in the U.S. have received at least one dose of the vaccine. About 70% of adults are fully vaccinated, per the CDC.
State of play: Biden in September said lower vaccination turnouts over the summer pushed the administration to draft up the OSHA vaccination rule.
Dozens of GOP senators publicly challenged the rule on Wednesday.
Context: Previously, some federal contractors were expected to enforce a vaccine mandate by Dec. 8, which has now been pushed back to Jan. 4. Officials would not comment on whether the date was pushed back due to the holiday season or worker shortages, but said the delay was meant to "align" with health care facilities and U.S. employers.
"It's not a reason to wait of course. We know that vaccines help reduce absenteeism," a senior administration official said.
Worth noting: Commerce Secretary Gina Raimondo told CBS' "Face the Nation" over the weekend that delaying the establishment of vaccine mandate deadlines until after the holidays would be a "big mistake."
Editor's note: This story has been updated with additional details. It has also been corrected to reflect that businesses could face fines starting at nearly $14,000, not tens of thousands of dollars as previously stated.
Go deeper