Bored Ape Yacht Club's misadventures with NFTs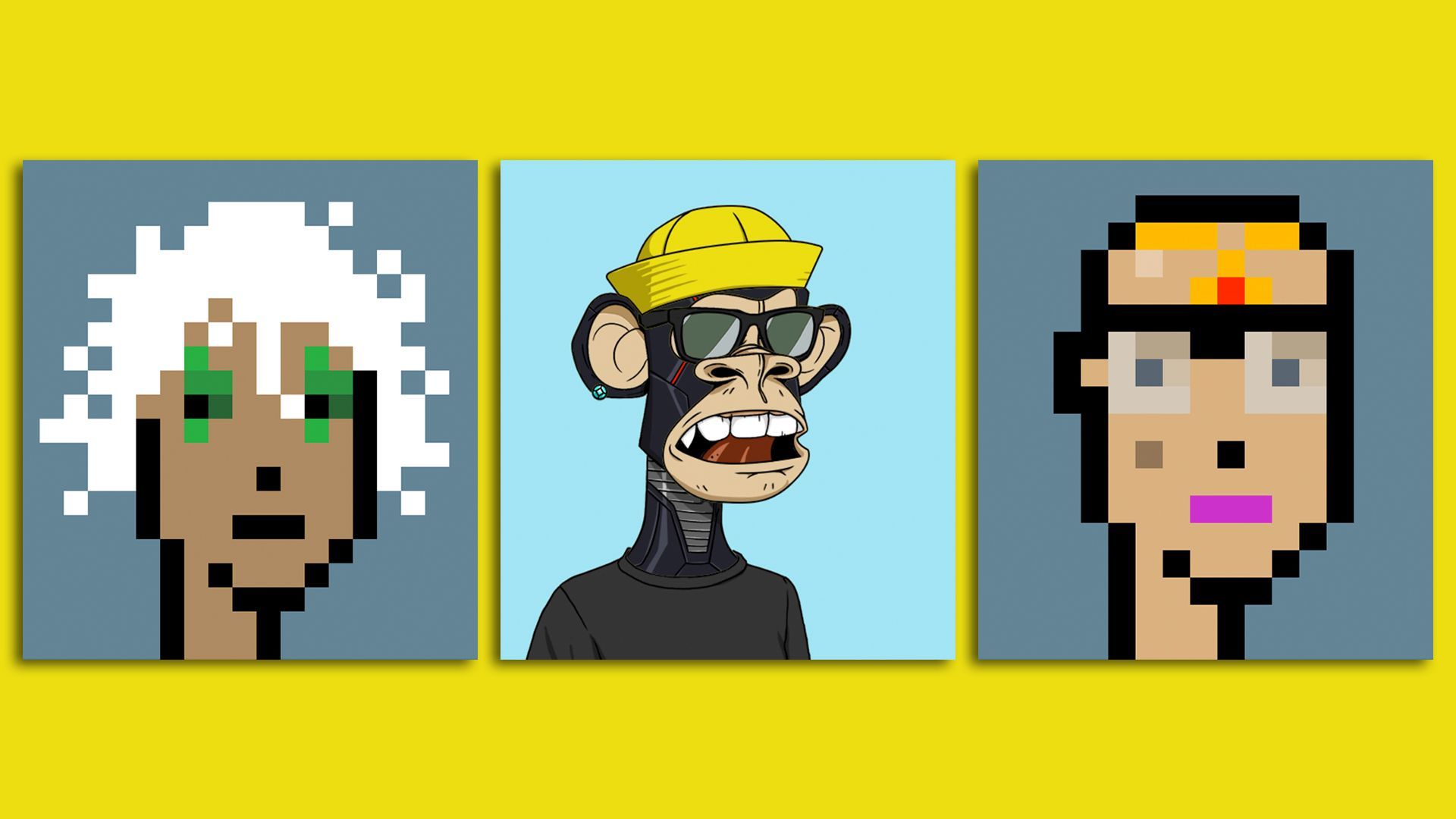 It's Ape Fest this week in New York, which is about as edifying as you'd expect.
Catch up quick: Bored apes (2021) are the buzziest current exemplar of community-based NFTs, which have replaced art-object NFTs as the hot part of the crypto market for people looking to get rich quick. They're the latest in a line of such projects that dates back to CryptoPunks and Crypto Kitties, both of which launched in 2017.
What they're saying: "The project's name, Bored Ape Yacht Club, represents a club for people who got rich quick by 'aping in' — crypto slang for investing big in something unsure — and, thusly, are too bored to do anything but create memes," writes Rolling Stone's Samantha Hissong.
By the numbers: Bored apes have gone from nothing to a billion-dollar ecosystem in less than a year, with one ape selling for $3.4 million at Sotheby's.
The 277-year-old auction house called its image "an NFT with historical significance," on the grounds that only 100 apes have gold fur.
Driving the news: Three apes, including number 9564, were stolen last weekend, and the major NFT marketplaces all decided that they wouldn't allow those apes to trade on their platform. 9564 (a/k/a Kit) was later reunited with his former owner.
Between the lines: While apes were busy being bored, two CryptoPunks traded for improbable amounts.
CryptoPunk #9998 was sold for $532 million by the owner to himself, in a trade facilitated by an enormous flash loan — a loan that, by the magic of crypto, automatically repays itself, and therefore carries no credit risk.
CryptoPunk #7557 sold for $19,400, which is a tiny fraction of what any other CryptoPunk has traded for of late. It seems that the owner, intending to put the NFT up for sale for 4,444 ETH, instead typed in 4.444 ETH, and it got snapped up very quickly.
The big picture: While the rest of the art world is getting dragged reluctantly into increased transparency, NFTs remain a caveat emptor world where nobody knows who they're dealing with — or how clean their money might be.
Go deeper