Youngkin wins Virginia governor race in upset for Democrats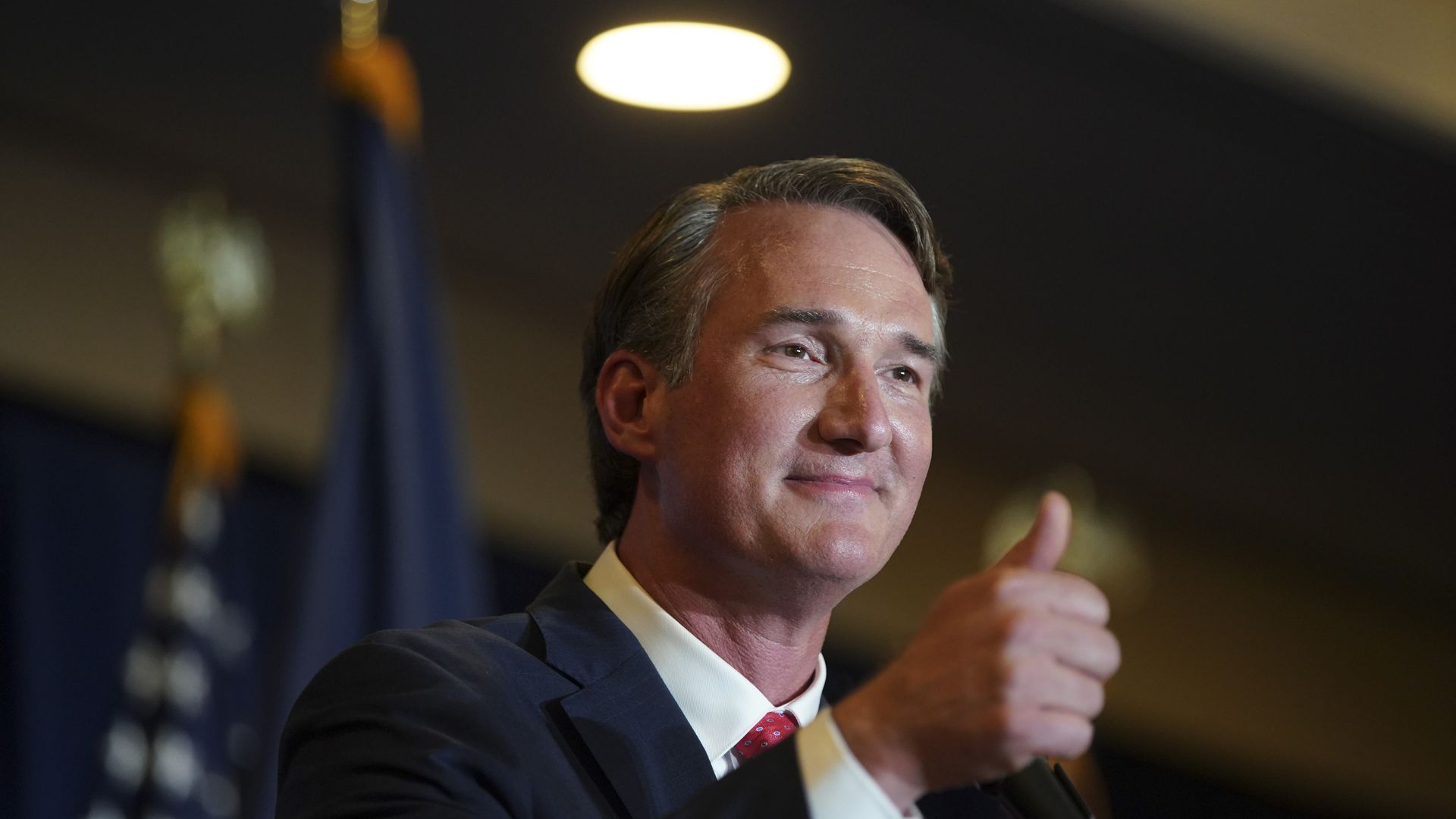 Republican Glenn Youngkin defeated Democrat Terry McAuliffe in the Virginia governor's race, AP called, an upset that serves as a major warning sign for Democrats heading into the 2022 midterms.
Why it matters: Youngkin's win could foreshadow the outsized role that debates over schools may play next year and reflects GOP voters' motivation around culture wars, Democrats' enthusiasm gap and independents' resistance to the leftward shift of the party.
Youngkin created a new template for Republican candidates running in competitive races in the Trump era.
It also reflects the impact of the falling poll numbers of President Biden, who had won the state in 2020 by 10 points.
"Clearly, the president's drop in favorability made it very difficult for the Democratic nominee to stay above water," Democratic Congressman Gerry Connolly told Axios at Terry McAuliffe's Election Night event in Tysons, as returns showed the former governor trailing.
What he's saying: Youngkin vowed in his victory speech at a hotel in Chantilly, some 25 miles west of Washington, D.C., early Wednesday to invest the "largest education budget in the history of the Commonwealth" and oversee "the largest tax refund in the history of Virginia."
He said his office would eliminate grocery tax, "suspend the most recent hike in the gas tax," double standard deductions and cut taxes on veterans' retirement income, saving families in the state $1,500 in the first year.
McAuliffe conceded to Youngkin in a statement on Wednesday morning.
"We must protect Virginia's great public schools and invest in our students. ... We must protect voting rights, protect a woman's right to choose, and, above all else, we must protect our democracy," McAuliffe said.
"While there will be setbacks along the way, I am confident that the long-term path of Virginia is toward inclusion, openness and tolerance for all."
"Congratulations to Governor-Elect Glenn Youngkin on his victory."
Between the lines: While this could serve as a roadmap for some GOP candidates seeking to distance themselves from Donald Trump without alienating their base, there are two important qualifiers:
Youngkin, the former co-CEO of The Carlyle Group, is a multimillionaire who could rely on his own fortune more than most candidates.
And Trump lost Virginia to Joe Biden last year by 10 percentage points.
How it happened: Youngkin walked a tightrope between praising former President Trump to draw in voters from his base while also keeping him at an arms' length to appeal to independents.
"I brought together Forever-Trumpers and Never-Trumpers, sitting in the same audience, excited about what we're doing," Youngkin told Axios in a late September interview.
McAuliffe, who served as Virginia's governor from 2014 to 2018 and is a former governor and national party leader, sought to damage Youngkin by tying him to Trump.
After a misstep in a debate in which he said parents shouldn't be telling schools what to teach, McAuliffe tried to regain the narrative on education near the end of the race and win back key support from suburban women.
Bringing in a stream of Democratic surrogates, including President Biden and former President Obama, didn't sufficiently turn out Democratic voters without Trump on the ballot.
McAuliffe hoped he would be able to run on Democrats passing President Biden's infrastructure and social net spending package, but party infighting and another vote delay proved the effort unsuccessful.
Editor's note: This article has been updated with comment from Youngkin and a statement from McAuliffe.
Cuneyt Dil contributed to reporting.
Go deeper