Immigrants could help fill America's millions of job openings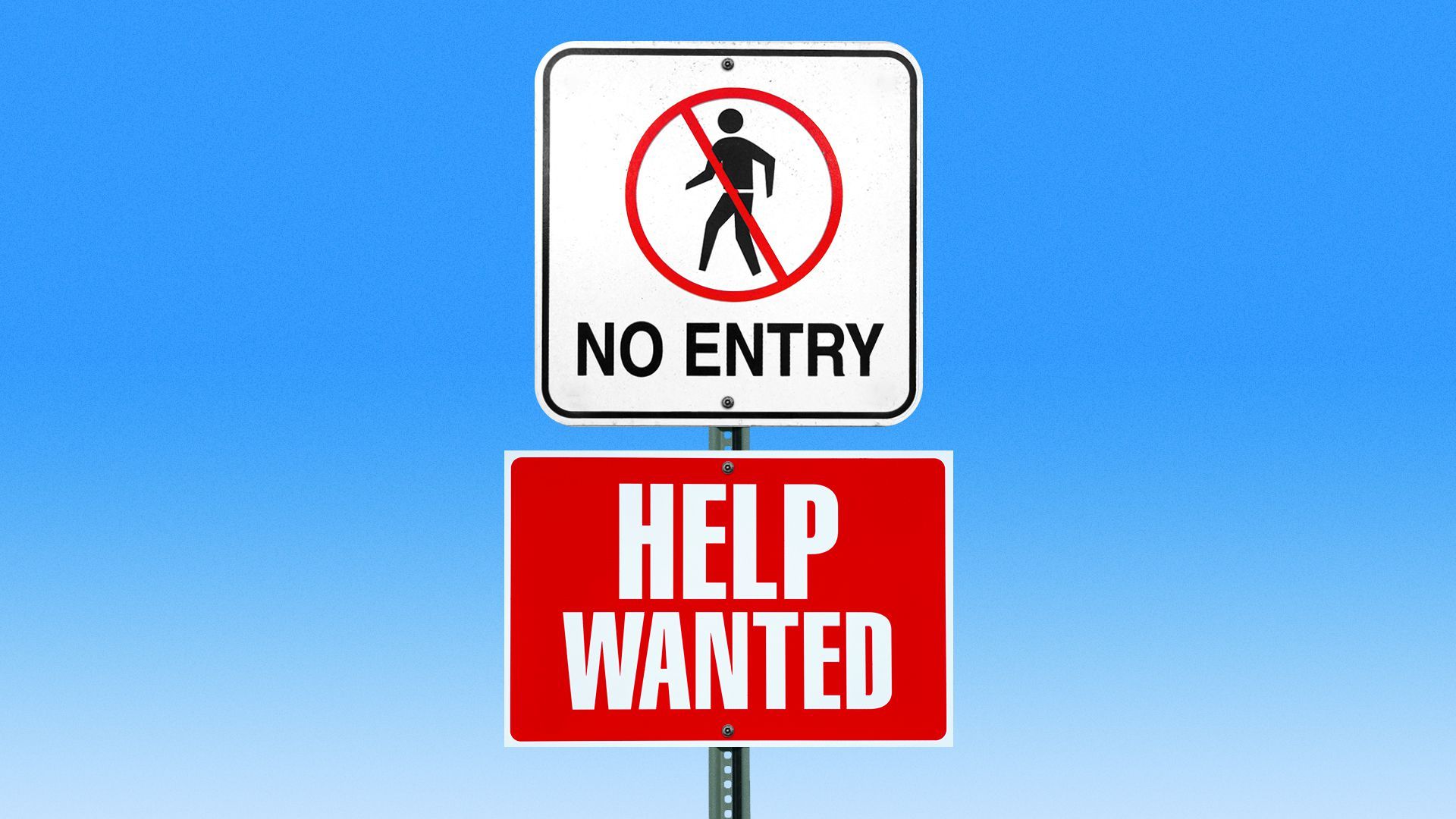 Returning to pre-pandemic levels of immigration could help put the U.S. on a path back to its pre-pandemic labor force, easing the staffing shortages that are holding back parts of the economy.
The big picture: The U.S. has 3 million more open jobs now than it did before the pandemic. Companies across the country are struggling to hire enough workers to meet demand. More immigration would help, experts say.
"Immigration to the US has slowed. … And that's exacerbating the labor shortage problem that we have," Joseph Lavorgna, Americas chief economist at Natixis, tells Axios.
By the numbers: In 2019, just over 1 million people obtained lawful permanent residency in the U.S. That number declined to 707,000 in 2020.
Meanwhile, the U.S. issued about 4 million nonimmigrant visas last year — half as many as it issued in 2019, and down from over 10 million back in 2016. Some of these visa holders can work in the U.S., and many ultimately go on to receive green cards (all green card holders are eligible to work).
Restoring pre-pandemic immigration levels certainly won't address the entire labor shortage — but it would make a dent. And for the business owner in need of crucial labor, it would make all the difference in the world.
Where it stands: The U.S. labor force participation rate has only recovered about half of what it lost at the onset of the pandemic.
For a variety of reasons — early retirements, lack of childcare, people moving to different locales and overall YOLO mentality — Americans are not filling the job market's record 10 million open positions.
Immigrants who want to come to the U.S. are often willing to take on some of the jobs that Americans don't want to do. And companies need that right now.
Details: The H-2B visa lottery encapsulates the desperation of business owners.
There are 66,000 H2-Bs available per year for non-agriculture seasonal workers. It's an expensive and onerous process for U.S. employers to enter the lottery, said Michael Clemens, director of migration, displacement, and humanitarian policy at the Center for Global Development.
All these employers must attest that there are no Americans available to do the work.
And yet, in the lottery that covered April to October of this year, there were 98,000 employers vying for the 33,000 available visas. (The Department of Homeland Security later added another 22,000 visas, due to the high demand).
"An unfilled position is somebody who owns capital, wants to make an investment that is going to add value to the economy and generate employment, and they can't do it," Clemens says.
Some of the sectors with the highest rates of unfilled positions are those in which immigrants are typically heavily represented, like transportation and hospitality, he adds.
The impact: These unfilled jobs have ripple effects throughout the economy.
For example, filling the missing childcare positions would enable more parents to rejoin the workforce.
More truck drivers, port and warehouse workers would help ease supply chain bottlenecks, greasing the skids of the entire economy.
Yet: There's simply no policy tool to allow for more non-seasonal, non-skilled workers as the economy's needs evolve, Clemens notes.
The bottom line: "People have this idea that desirable immigrants are nuclear physicists, and Silicon Valley tech entrepreneurs. But Silicon Valley itself runs on immigrant childcare workers, cleaners, security and construction workers. Silicon Valley doesn't exist without them," he adds.
Go deeper